What does Google do when it has already conquered the internet? It tries to take over the sky.
Unmanned drones provide a cheap, environment-friendly and time-saving means for delivery.Introducing 'Project Wing', a delivery drone platform, by X (an Alphabet company), for commercial applications.
Google has been secretly working on Project Wing since 2012 and has gone through several iterations for its drone design – from a single wing aircraft that had V-TOL capability to its latest design of a traditional fixed-wing aircraft with more than a dozen helicopter-like rotors. It has a winch mechanism with claws that it uses to lower and drop a payload at a designated GPS drop point. It is also equipped with sensors that help in collision avoidance and protect it from other drones and foreign objects in its path. These drones can fly at a speed of 120 kilometers per hour and are currently limited to an altitude of 500 feet.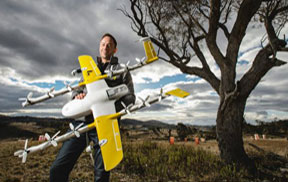 Project Wing co-leader James Ryan Burgess testing project wing in Australia
X is developing a software platform for Unmanned Aircraft Systems (UAS) that will allow it to plan complex flight paths for drones. The UAS Traffic Management (UTM) platform is built around the core principles of real-time route planning for multiple nearby UAS, alert notifications on unexpected changes in the route or aircraft, and airspace notifications to avoid FAA no-fly zones and safety-sensitive areas. In June 2017, NASA and FAA convened several nationwide tests where these principles were tested successfully, alongside two Intel Aero Ready to Fly Drones and a MAAP operated DJI Inspire.
Moving forward on testing drones for goods delivery, in October 2017, X conducted operationally complex deliveries directly to customer homes. X partnered with two Australian businesses – GuzmanY Gomez, a Mexican taqueria and Chemist Warehouse, a pharmacy chain – to deliver burritos and OTC medicines. A lot of factors were tested including package size, variable product size, and shape, number of items per delivery, workflow integration etc.
Although air traffic regulations for unmanned vehicles are still taking shape, customers are eagerly looking forward to the benefits of drone delivery. Especially for elderly people, people with limited mobility and for those living in remote locations, drone delivery of goods may prove to be a life changer.
Author: Mohit Khuntia