With its first headquarters in Seattle, Amazon has already shown how the e-commerce giant can affect a city's financial health. According to Amazon, for every $1 it invested in Seattle, the city earned an additional $1.4. Of course, there are many who complain that Amazon's presence has led to higher floor rate and gentrification in the Seattle area, but that is the price one must pay for development.
With the vision to expand, Amazon is in search for a new location for its second headquarters in North America. As per its RFP, Amazon has created a guideline for what the city needs to have in order for it to be a viable option.Amazon has shown a preference for metropolitan areas, with a stable business-friendly environment. Put simply, areas that will give Amazon substantial tax breaks. Amazon, further expects the area to have higher education institutions for getting the right talent since it will be hiring 50,000 employees over the next few years. The area will also need to be within 45 minutes to the closest airport and have a mass transit system along with access to state highways within 2 miles. AnAmazon HQ will create substantial financial and development opportunity for the area, but one must also consider how the special state subsidies and tax breaks will affect the already present local businesses.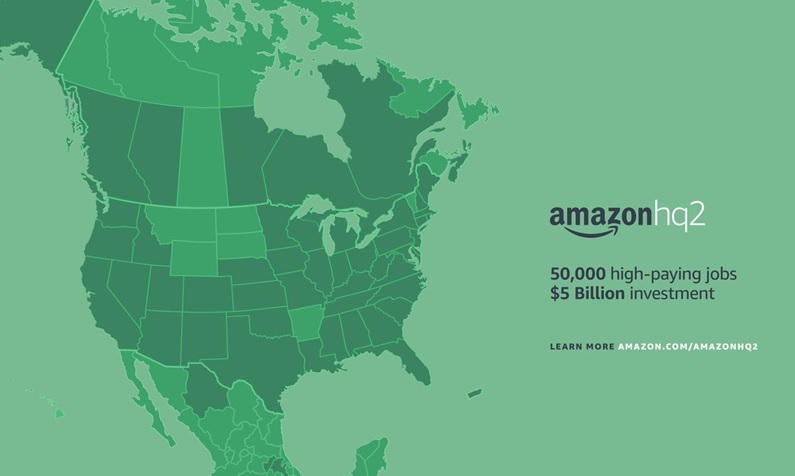 Apart from Montana, North Dakota, South Dakota, Wyoming, Vermont, Hawaii and Arkansas, cities from all American states have bid for the proposal. Amazon received 238 proposals with cities trying to go the extra mile to get Amazon's attention.
Kansas City, Missouri's mayor gave 5-star reviews to a thousand Amazon products. Tucson, Arizona delivered a giant, 21-foot cactus to Amazon CEO, Jeff Bezos, which was later donated to the Desert Museum.
Birmingham, Alabama planted three huge replicas of Amazon delivery boxes around the city and encouraged residents to post pictures with the hashtag 'BringAtoB'.Frisco, Texas has offered to build its entire city around Amazon.New York City used Amazon's signature orange color to light up its landmarks on October 18. Stonecrest, Georgia offered to rename itself 'Amazon' along with providing 345 acres of land for the headquarters. While from Pittsburgh, Pennsylvania, the famous Primanti Brothers offered a free sandwich to each of the 50,000 Amazon employees.
With so many factors to consider, the decision makers at Amazon have a tough road ahead. Moody's Analytics evaluated the cities on 6 factors – Business environment, Human capital, Cost, Quality of life, Transportation, and Geography – to come up with a list of the top 10 contenders for Amazon's second headquarters.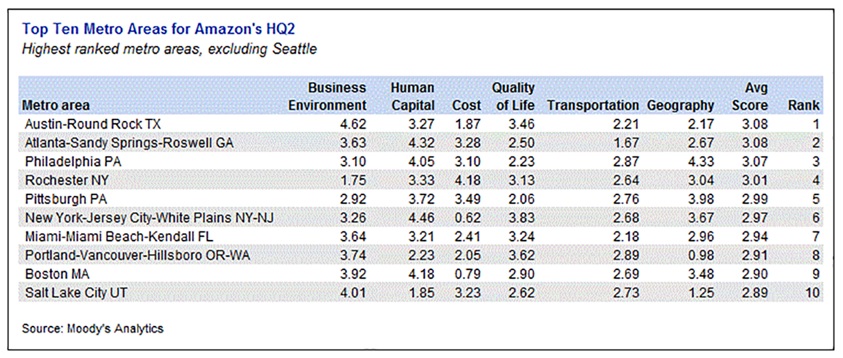 Moody's pick is Austin, Texas. With companies like Dell, Samsung, Apple and IBM, Austin is a major IT hub. It is also home to Whole Foods, Amazon's latest acquisition. The availability of an educated and skilled labor force, low cost of living, good quality of life and its central location, make Austin an exceptional candidate for Amazon's next headquarters.
Author: Mohit Khuntia