Myopia, also known as nearsightedness, is a very common eye condition which has become more prevalent in the recent years. At present, around 30% of the global population is suffering from myopia, and this number is expected to increase to 50% (nearly 5 billion people) by 2050.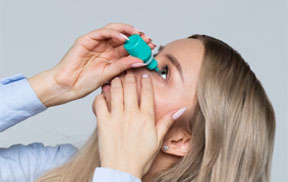 Scientists are now seeking solutions from the field of Nanotechnology. Israeli researchers at the Bar-Ilan University & Shaare Zedek Medical Center have developed 'Nano-Drops' with the intent of correcting and restoring vision by rectifying refractory problems. The patented technology will be able to replace multifocal lenses, in turn enabling people to permanently dump their eyeglasses. The invention involves three basic steps:
Patient's eye refraction is measured via a smartphone application.
A laser pattern is created which is projected on the patient's corneal surface as part of a brief surgical procedure.
Nano-drops containing nanoparticles are sprayed into the eye that ingress disruptive areas on the upper part of the cornea and corrects the refractive index.
Nano-drops are a breakthrough with tremendous potential in the market. Clinical testing on humans is expected to be carried out this year. As of now, trials have been conducted on pig eyes rectifying diopters of both myopia and presbyopia.
Uncertainties regarding the frequency of application, the duration for which the effect lasts, optimal dosage, toxicity issues in humans and other questions need to be addressed before the researchers launch these Nano-drops in the market.
Author: Chetan Marwah & Team