The Indian Oral care sector is divided into five distinct categories, namely, toothpastes, toothbrushes, tooth powders, mouthwashes and others. Of these, toothpaste is the largest and fastest growing category, accounting for more than 55% of the market.
With a surge in demand for all natural and herbal products, traditional toothpaste manufacturers are feeling the burn, as new products are being launched in this category.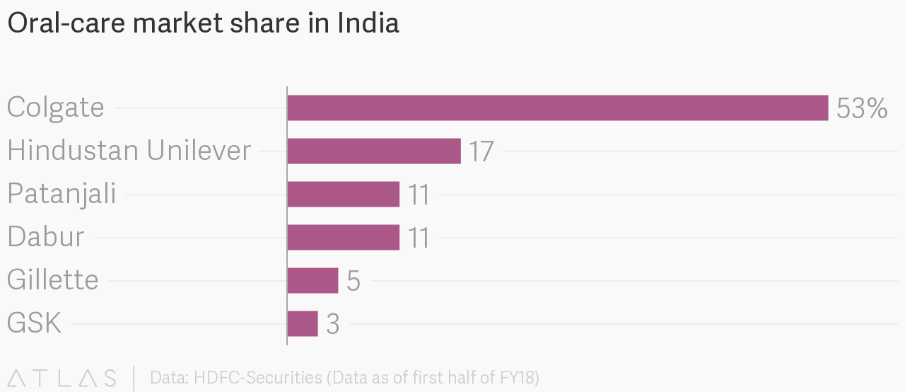 As of January 2018, Patanjali and Dabur still sell four out of five products in the herbal and Ayurvedic toothpaste category. With an overall market share of 53% in the oral care category, Colgate owns only 35% of the market in the herbal and Ayurvedic category. Faced with strong competition from Patanjali and Dabur, Colgate launched Swarna Vedshakti in September 2017. However, Colgate and HUL need to seriously up their game if they want continued market dominance.
In the toothbrush segment, manually operated toothbrushes still possess the majority market share. However, electric toothbrushes are slowly gaining market due to an increased interest from the urban population.
The market for tooth powders is declining as consumer preferences are shifting from tooth powder to toothpaste in urban as well as rural areas.
The mouthwash segment is gaining momentum in urban areas due to changing lifestyles, as well as a need for better oral hygiene. Although Colgate leads the toothbrush, toothpaste and tooth powder categories, Johnson & Johnson is the dominant player in the mouthwash segment
Currently, the major growth hurdles facing oral care manufacturers are low consumer awareness and willingness in the rural areas. The rural consumer still prefers to use neem twigs, salt, ash, etc., for oral care. At the same time, the urban consumer is driven by the need for innovative, high quality and affordable products. As a result, on one hand, companies need to spend a lot of marketing effort in educating rural consumers on the importance of good oral hygiene. Whereas, on the other hand, they need to continuously spend on R&D and product development to keep up with the evolving interests of the urban consumer.
Author: Swati Pawar