A patent is a set of exclusive rights given to creator/inventor to exclude others from making a duplicate copy of his/her findings viz. to exclude others from selling, making and using for limited time (usually 20 years). Patents can be granted in different countries, each having slightly different rules or legal formalities. Now if one wants to have legal protection over his invention in multiple countries, it would require him to file multiple patents for each country or region. It may cause duplication, to avoid this duplication, a concept of patent family was introduced to reduce multi-national results of one invention. Therefore, a group of patent documents that share same inventive concepts and technical details is known patent family. The basis of creation of patent families is the shared priority data so that all patent documents that are to be included in family are technically equivalent.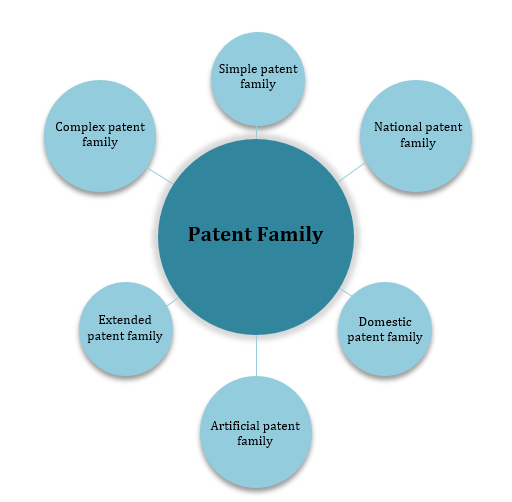 Comparative analysis of Different Patent Families: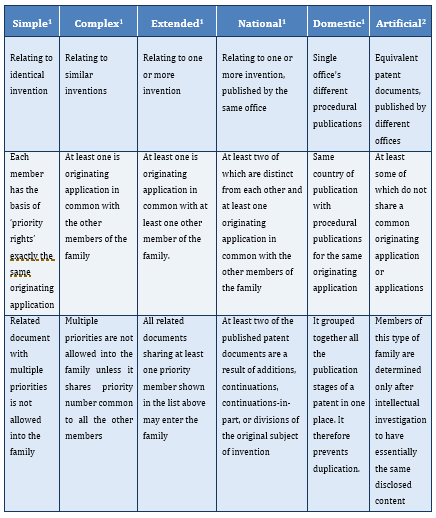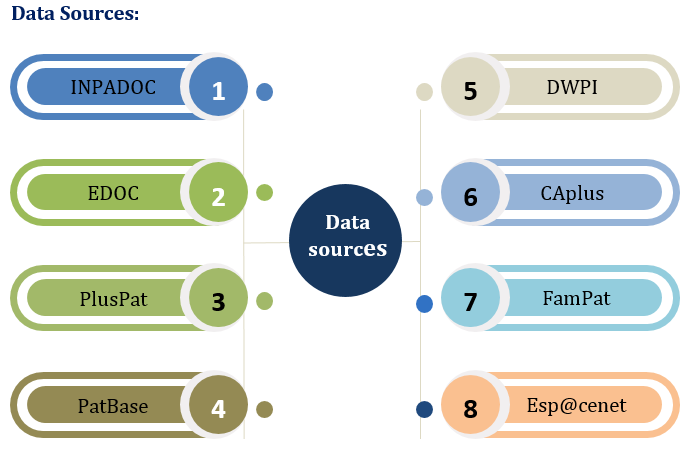 INPADOC:
International Patent Documentation Centre was founded in 1974 by an agreement between Austrian Patent Office and World Patent Organization. Its purpose is to collect and document patent families
A new family member must share at least one priority document with at least one other patent in the family. Therefore, a document's INPADOC patent family means that it is an extended patent family
To reduce the re-classifying of older records, EPO worked on older documents without proper priority data, associating them using inventor and subject matter information to create artificial patent families
Due to their extensive family building rules INPADOC families can become quite large, chemical and biological subject fields tend to generate largest INPADOC families
The field of genetic engineering is known to have INPADOC patent families reaching thousands
The updating of INPADOC database mainly dependent on national patent office, which may not be able to provide regular updates. Another difficulty of relying on national patent office for the raw data is the quality of data. This leads to data error
This patent family data product is available to commercial patent information providers; it is the basis for many patent family databases
Derwent World Patents Index:
Uses human indexers to add abstract, indexing codes and re-written titles
Patents records are organized into intellectually created families, so that each family represents single subject invention
Creation relies on priority data
It is a simple patent family but systematically identifying non-convention equivalents which can make it as artificial patent family
DWPI database can never be current as all the new basic documents with unique priority data needs to be indexed before feeding them to database
CAplus:
Collection of records produced by Chemical Abstract Service (CAS) for the patent invention in chemical field
Contains re-written abstracts and human-indexed content
The new basic records are added to the database, but no additional indexing is done
Collection is an extended patent family
EDOC/EPODOC:
European Patent Organization's Search Documentation System
This family structure formed the basis of PlusPat file
EPO's internal patent examiner database
EDOC first consisted of application, priority and publication numbers. EPODOC then added abstracts, titles, inventors and applicants
In 1990 EPODOC was merged to INPADOC to serve internal database. Questel re-launched the commercial version of EDOC as PlusPat
It uses INPADOC as the source.
FamPat:
It is a simple patent family database
It is enhanced with key contents like: Object of invention, Advantages of the invention and drawbacks of the previous one and Independent claims
It includes EPO's family rules along with the enhanced contents
It also includes: First page information, Classification nodes, Patent and non-patent literature citations, Full specifications, claims and detailed legal status information
PlusPat:
It is precursor to FamPat database
It grouped all the publication stages of a patent at one place. It therefore prevents duplication
It is also known as the domestic patent family
PatBase:
It takes aggregated family data as the meta-record
Instead of indexing it focuses on loading full text data of an individual publication record to increase the chances of being found on search
It uses extended INPADOC patent family
Esp@cenet:
Used to provide representative family members that constitute entire family record in English wherever possible
To search for equivalent records from other countries to match the technical content of the record undertaken
It is a simple patent family
EPO/DOCB is used as the database source
Comparative Analysis of Different Data Sources: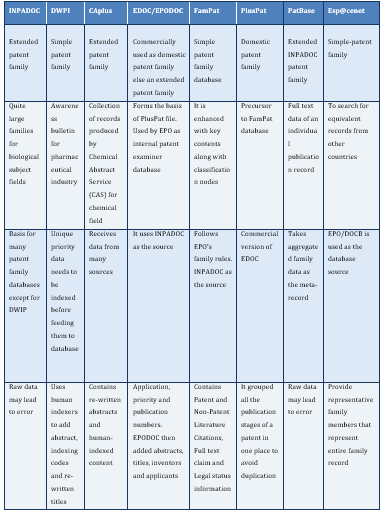 Author: Mr. Ravi Shankar, Dr. Neeraj Maurya