Blockchain Technology in Autonomous Vehicles
Blockchain technology, popularized by the introduction and use of cryptocurrencies such as Bitcoin is now being touted as the next big thing in the Automotive Industry. The term "blockchain technology" typically refers to the transparent, trustless, publicly accessible ledger that allows secure transfer of ownership of valuable units using public-key encryption and proof of work methods.
With autonomous vehicles just around the corner, data security related to such vehicles is one of the most talked-about matters of concern. Hence, blockchain technology comes in as an obvious answer to that question. Major industry leaders and automotive suppliers are now sensing the rapid change this technology will bring, and they are preparing to adapt to this change.

According to a study by IBM published in 2018, 62% of automotive executives are convinced that blockchain will be disruptive for the automotive industry by 2021, and the same study also found that 54% of Auto Pioneers plan to implement their first commercial blockchain network at scale within the next three years.
Source: https://www.ibm.com/downloads/cas/WN5RKW2D
As such, we are seeing growing new communities related to blockchain technology and mobility. Such as, Mobility Open Blockchain Initiative (MOBI) – it has partnered with big names such as automakers: BMW, GM, Honda, Hyundai, and Renault, Tier 1 Suppliers: Bosch, ZF, and Denso, Blockchain Experts: CPChain, Blockchain Acceleration Foundation and Bigchain and MNC's such as Cognizant, Accenture, etc.  They are creating simple standards, and digital ways of identifying cars, peoples and trips, of paying for mobility services, and securely exchanging and monetizing data in ways that preserve property rights and privacy.
Source: https://dlt.mobi/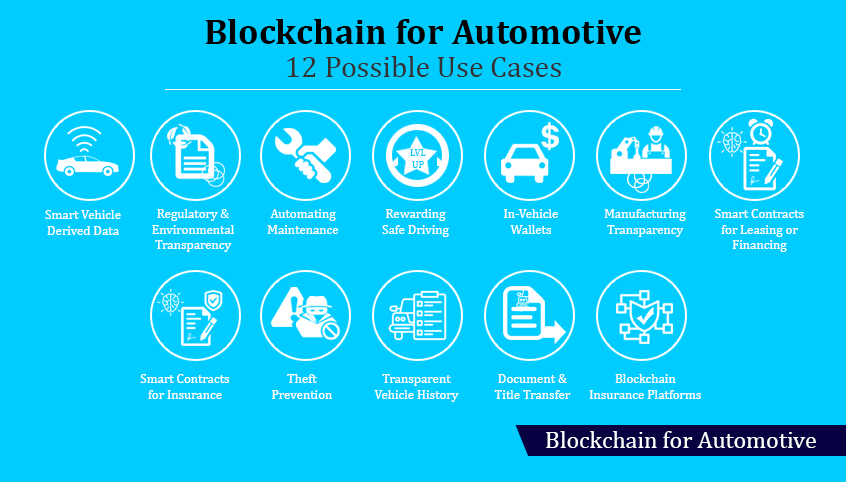 What does blockchain technology have to offer in the automotive sector?
Supply chain management
In this century car manufacturers are forced to offer a large range of vehicle models and options, as an example, one single model of a premium German automobile brand can reach up to 1017 possible variations. In this case, the manufacturing plant must coordinate effectively between multiple suppliers, third-party logistics and transportation company to ensure delivery of parts and optimised levels. The automotive supply chain complexity consists of; numerous types of parts, hardware, software and firmware suppliers, distributors, dealers and much more. This enormous product variety creates complexity and pressure for logistics. This is where blockchain can reduce the laborious task of managing the entire automotive supply chain.
The common problem is parts being lost in delivery, stolen, replaced, or damaged, etc. A blockchain-based system would enable the manufacturer greater transparency of accurate information; improving just-in-time logistics, reduce large orders and raising inventory turns.  Various blockchain technologies could also be applied to improve security, identity and reduce counterfeit in the supply chain.
Vehicle safety and data security
According to a patent(KR20190100092A) filed in South Korea by LG Electronics Co., Ltd., which is based on an authentication value, where matching is done between the user authentication value and the caller authentication value of the vehicle. This would decrypt the encrypted blocks associated with the passenger information received from the infrastructure device located in the pre-driving path using the passenger's key value. It would also determine the travel setting of the vehicle and travel according to the travel setting. This invention is related to an Artificial Intelligence (AI) module, an Unmanned Aerial Vehicle (UAV), robot, augmented reality(AR), a virtual reality(VR) device and 5G service. It is also important to note since blockchain's strong cryptographic roots cannot be reverse engineered, it is effective against potentially deadly cyber-attacks.
Source: https://patents.google.com/patent/KR20190100092A/en?q=blockchain+technology&q=autonomous+vehicles/
Buying or selling a car
Blockchain-based registries would ease the verification of the vehicle's history (e.g. whether it has been in an accident); therefore allowing, major transparency when purchasing a car. Another benefit would be having an overview of the vehicle parts, where the users could look up the origin of the car parts, previous repairs & maintenance and solve repair-related problems.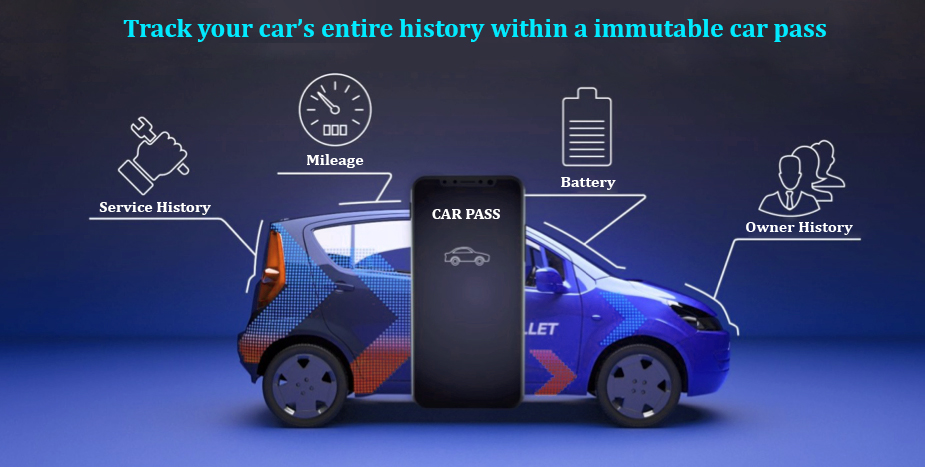 Mobility 3.0
The concept of Mobility-as-a-Service (MaaS) is quite popular, where basic ride-sharing and car-sharing services are provided as a service. With changing times, upcoming mobility services will leverage disruptive technology to involve the concept of fully integrated platforms and fractional ownership.
The timeline of development has been segregated into three segments where Mobility 1.0 was about ride-hailing, ride-sharing and car-sharing. The next segment, Mobility 2.0 was based on integrating public transport systems with websites, google maps, etc. The latest and newest segregation Mobility 3.0, which is based on Fractional Ownership, Autonomous Vehicles and Blockchain integration.
The concept of car sharing is familiar but sharing the ownership is rare, and companies such as Ernst & Young has introduced the Tesseract platform, which promotes a transparent digital record of fractional ownership of assets. In this system, vehicle and trips are automatically logged on the blockchain; instantaneous and immutable transactions are automatically settled between owner, operators and third-party service providers through a single-source, usage-based payment plans through crypto-currency.
Other companies such as SecuRyde introduced an online-based application which enables ride-sharing industry customers to request rides using autonomous vehicles. The system uses blockchain technology with a decentralized computing system, which allows for identity verification between the user and vehicle securely and anonymously, preventing fraudulent payments for rides. It also promotes ride-sharing and autonomous vehicle industries.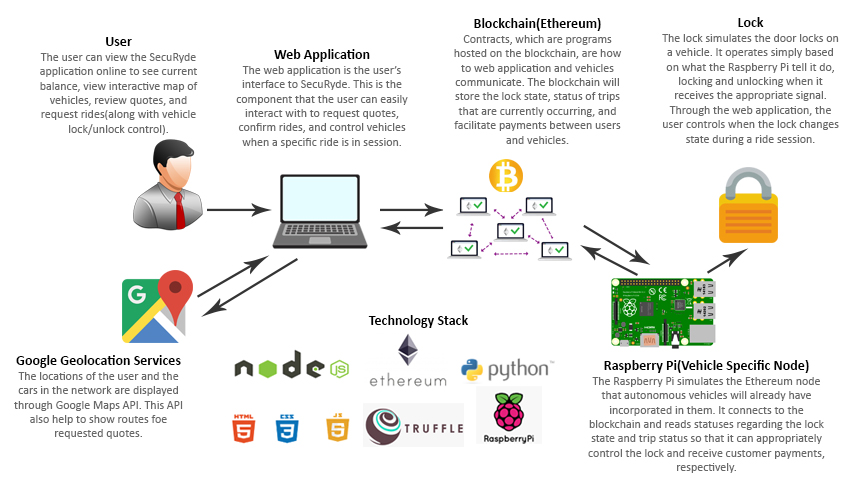 Auto Finance
Blockchain can be beneficial to the automotive industry in many ways by using smart contracts and IoT. Dealerships can automate several processes involved in car sales, services, warranty claim processing and much more. It would help the buyer and seller to avoid intermediaries or third parties in transactions or insurance claims, which would result in reduced transactional costs. The decentralised ledger technology could help in building a state of peacefulness in customers, manufacturers and service centres with its transparency and immutability. The blockchain technology would have an immense effect on the following;
Underwriting,
Credit Bureau Reporting,
Dealer inventory identification and tracking,
Collateral assessment,
Leasing, titling and registration,
Account histories, origination and service information
Loss mitigation and recovery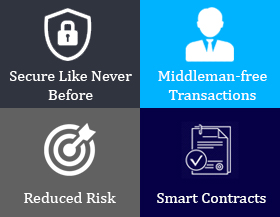 Car Wallet
Although, Cryptocurrency payments between people and organisations have been powered by decentralised ledger technologies (DLT) such as Ethereum Blockchain. DLT's are not suitable for Machine-to-Machine (M2M) transactions, as M2M transactions happen much more frequently, and decentralised ledger platforms carry transaction fees. Moreover, M2M transaction has high data volume and very low resource requirements with demand for low latency. Companies such as ZF Friedrichshafen AG, Daimler, DXC Technologies, etc are working towards a solution to integrate blockchain technology in M2M transaction.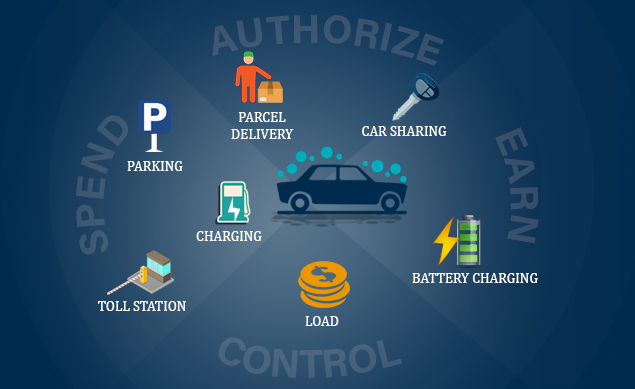 Source: https://car-ewallet.de/
Car e-wallet, which is a subsidiary of Automotive Supplier ZF Friedrichshafen AG collaborated with UBS and the Innogy Innovation hub, creating a cutting-edge payment system based on blockchain to ensure security and ease of payment for electric car charging while on the go. Additionally, this solution can handle many other mobility-related payments, such as parking fees, highway tolls, or car-sharing. This will also allow users to pay for highway tolls on-the-go.
Source: https://car-ewallet.de/
Daimler, which is the parent company of Mercedes has partnered with a European blockchain Start-up RIDDLE&CODE to provide a hardware car wallet solution known as Mobility Blockchain Platform (MBP), in essence, a digital wallet for cryptocurrency, to give the vehicle a network identity that enables it to handle transactions automatically. This platform will enable one-click customer verification and transaction for commuters. The MBP is a decentralised software platform that makes it possible to offer and manage Mobility-as-a-Service (MaaS) with end to end encryption. Its scope ranges from the customer journey through to fully digitalised contract processing, including the financial posting of the transaction in real-time, according to a media statement released by Daimler.
Source: https://www.riddleandcode.com/use-case-n16/
DXC Technologies, a company formed from the merger of Hewlett Packard Enterprise Service and Computer Science Corporation (CSC) are exploring a No-fee M2M micropayment with a solution that uses IOTA. The system allows electric vehicles fast, secure, frictionless payments to charging stations, and make payments for maintenance and insurance via M2M transactions. According to Daimler's blog this DLT is based on Tangle, which is being developed by an open source community.  It is a "No-fee" transaction and payment settlement platform with secure data transfer, as it is quantum secure (secure again quantum computer attacks) and is designed for low network latency.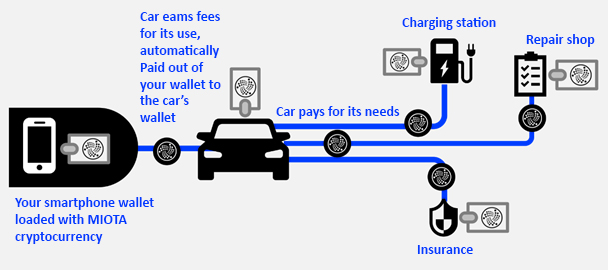 Source: https://blogs.dxc.technology/2019/01/29/machines-that-pay-each-other-using-digital-wallets/