Overview
A Flexible Display is a display which is flexible in nature; differentiable from the more prevalent traditional flat screen used in the most electronic devices.
It enables a new intuitive user interface, suitable for simple operations in application software and opens up new possibilities for flexible displays to be used as user-interface devices.
Applications
Smart Card, Electronic Paper
Mobile Communication
Personal Computer/Portable Displays/E-Reader
Large area Display
Wearable Electronics
Automotive Application
Non–Display-Type Application (Toys, Plastic Art, etc.)
Electronics Billboards
Trends and Market
Key Players
Key Assignees
Samsung
LG
Apple
Wohan China Star Optoelectronics Technology
BOE Technology
Key Universities
The University Of Illinois
The University Of California
Arizona State University
The University Of Michigan
Nanjing Tech University
Key Inventors
Xia Chuanjun
Drzaic Paul
Zhang Zhen
MA Bin
Yeager Walter
Samsung has a large number of share for patent filing in 2017 i.e. 33% of the total patent filed for flexible display. After this LG has the second number in patent filing share in 2017 i.e. 26 % of the total Filing of the patent.

Samsung Galaxy X has a foldable 4K Display so that the resolution would remain high even when the phone was folded.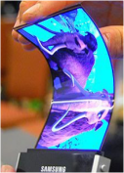 Technology and Geographical Filing Trends 2017