What is Green IT?
Green IT is the practice of environmental friendly computing for reducing carbon emission in the environment. The aim of the Green IT is to minimize the negative impact of IT operations on the environment by designing, manufacturing, operating and disposing of computers and computer-related products in an environmentally-friendly manner.
Green in IT?
Going Green is becoming very important as we are approaching an alarming condition due to increase in carbon emission day by day. Like any other resource usage, IT resources also cause carbon emission. As the use of computer equipment is increasing day by day, so carbon emission due to computer equipment also increasing.
Facts About Green IT
Computer technology use accounts for 2% of anthropogenic CO2
A typical desktop PC with a 17-inch LCD monitor requires about 145 watts – 110 watts for the CPU and 35 watts for the monitor.
If left on 24×7 for one year, this same computer will consume 1,270 kilowatt hours of electricity – 1,715 pounds of carbon dioxide into the atmosphere.
Green IT of Computer Life Cycle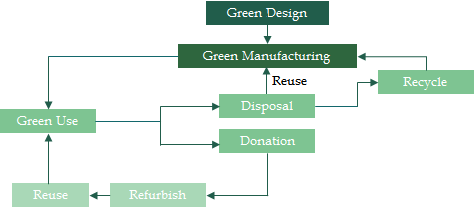 Green IT certifications
Green Computing Initiative (GCI)
CompTIA Strata Green IT
Information Systems Examination Board (ISEB)
Singapore Infocomm Technology Federation (SiTF)
Australian Computer Society (ACS)
International Federation of Global & Green ICT (IFGICT)
Advantages of Green IT
Conserving resources means less energy is required to produce, use, and dispose of products.
Saving energy and resources saves money.
Green IT even includes changing government policy to encourage recycling and lowering energy use by individuals and businesses.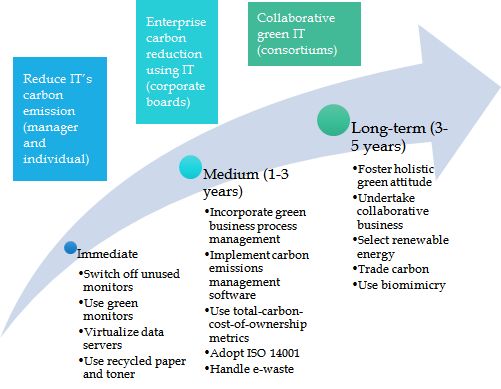 IP Trends 2017 – Green IT
 Insights
There is different way for achieving "Green IT" as mentioned below:
Recycling – Recycling equipment, which are not in use, helps in keeping harmful materials (lead, mercury, and hexavalent chromium) out of landfills. It also helps in saving further energy and emissions by replacing equipment which otherwise manufactured. In 2017, 15% were filed for recycling equipment for Green IT.
Biodegradable Material – By using biodegradable materials in manufacturing equipment, carbon emission in degrading factory wastes of equipment decreases. In 2017, only 2% were filed on use of biodegradable material in equipment for Green IT.
News & Updates, 2017 – Green IT
Supermicro Expands Silicon Valley Manufacturing HQ – March 8, 2017
Super Micro , Inc. has opened its new resource-efficient LEED Gold Certified distribution and final assembly center in California's
Silicon Valley, which includes clean fuel-cell electricity generation on-site.
The new 182,000-square-foot facility is the first of five new 21st century production hubs within Supermicro's Green Computing Park
that supplement the existing 1.5 million-square-foot, worldwide headquarters, product-development and manufacturing space.