Global Bio-Plastic Market: Global Market Analysis and Future Growth Trends

Published Date: November, 2018

||

 Pages: 120
Bioplastics include both biodegradable and non-biodegradable polymers that are manufactured from natural sources. The use of bioplastics is being encouraged consistently, in obtaining natural polymers from agricultural, cellulose or potato and cornstarch waste. The production and practice of bioplastics are considered as a sustainable solution due to low emission of greenhouse gases. Aspects such as eco-friendly properties, upsurge in consumer awareness, growth in environmental apprehensions, and favorable government guidelines drive the growth of the bioplastic market. However, high production cost and comparatively lower performance standards than synthetic plastics restrain the market growth to a certain extent.
According to the study conducted by Ingenious e-Brain; the market growth of the bio-plastic market is rapidly increasing with the market estimated to grow from USD X.XX Billion in 2018 to USD XX Billion by 2025, at a CAGR of XX%. This is due to the growing consumer preference towards eco-friendly materials and growing innovative technologies to produce bioplastics. Furthermore, the increased consumption and demand for packaged food and the need for sophisticated packaging for the growing middle class are adding up to the growth of the global bio-plastic market.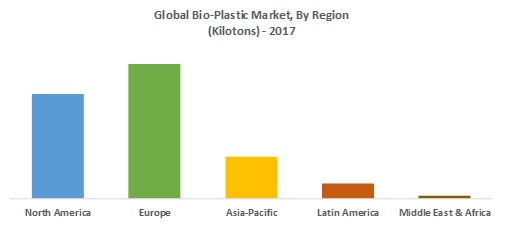 This report provides an in-depth analysis of the global bio-plastic market with a key focus on various bio-plastic materials. The report segments the market on the basis of material (Aliphatic and Aromatic Co-Polyesters (Bio-PET, PEF, PEN, etc), Bio-PE, Bio-PP, Bio-PA, Bio-PBS, starch blends, regenerated cellulose, moulded fibres, water-soluble polymers (such as casein, gelatine, xanthan gum, guar gum, carrageenan, and pectin, etc)); On the basis of Application (Food Packaging, Bottles, Engineering Plastic (Automotive), Household product, Agriculture, Pharmaceutical, Construction, Others). Furthermore, this report provides in-depth analysis of these segments based on regions and its key countries (North America, Asia-Pacific, Europe, MENA, Latin America).
The report provides the market size of all the segments in terms of Value (US$ Billion), Volume (kilotons (KT)) and Cumulative Annual Growth Rate (CAGR) (%) for the forecast period (2018 – 2023), considering 2017 as the actual year and 2016 as Historical Year.
This study also provides key insights about market drivers, restraints, opportunities, challenges, burning issue, key industry trends including value chain, porter five forces, raw material analysis, pricing analysis, new technological innovations, upcoming trends and various organic and inorganic growth strategies adopted by the leading players.
It also provides the full analysis of leading players operating in the value chain of the bio-plastic market which includes key company profiles for the material manufacturers and processors involved in the market. These profiles are based on key parameters including company overview, key financials, product and services offered, geographical presence, company strategy and sustainability goals, and competitive analysis of developments recorded in the industry during the past five years. The key industry players include BASF SE, Braskem S.A., Corbion NV, Metabolix Inc., Natureworks LLC, Indorama Ventures Public Company Limited, Biome Technologies PLC, Plantic Technologies Ltd., Bio-On S.P.A., Novamont S.P.A, Toray Industries. In addition, the report will also provide a short overview of a few additional company profiles operating in the market.
1. Executive Summary
2. Market Trends
2.1. Drivers
2.1.1. Favourable Government Policies and Regulations
2.1.2. Increased Focus on Bio-Based Content Rather Than Biodegradability
2.1.3. Increasing Concern for Human Health
2.2. Opportunities
2.2.1. Increasing Acceptance in Asian Countries
2.2.2. Development of New Applications
2.3. Challenges
2.3.1. High Price of Bioplastics
2.3.2. Performance Issues
3. Industry Trends
3.1. Overview of Key Industries
3.2. Value Chain Analysis
3.3. Raw Material or Feedstock Analysis, By Material
3.3.1. Starch Blends
3.3.2. PLA, PHA
3.3.3. Bio-PE
3.3.4. Biobased Polyesters
3.3.5. Others
3.4. Porter Five Forces Model
3.5. Key Technology Overview
3.5.1. Innovation in Bio-Plastics
3.5.2. Trending Technology
3.6. Regulations/Laws Impact Overview
4. Global Bio-Plastic Market, By Materials
4.1. Aliphatic and Aromatic Co-Polyesters (Bio-PET, PEF, PEN, etc)
4.2. Bio-PE
4.3. PLA
4.4. PHA
4.5. Bio-PP
4.6. Bio-PA
4.7. Bio-PBS
4.8. Starch Blends
4.9. Regenerated Cellulose
4.10. Moulded Fibre
4.11. Water Soluble Polymers (such as casein, gelatine, guar gum, carrageenan, and pectin, etc)
5. Global Bio-Plastic Market, By Application
5.1. Food Packaging
5.2. Bottles
5.3. Engineering Plastic (Automotive)
5.4. Household Product
5.5. Agriculture
5.6. Pharmaceutical
5.7. Construction
5.8. Others
6. Global Bio-Plastic Market, By Region
6.1. North America
6.1.1. U.S.
6.1.2. Canada
6.2. Latin America
6.2.1. Mexico
6.2.2. Brazil
6.2.3. Argentina
6.2.4. Rest of Latin America
6.3. Middle East & Africa (MENA)
6.3.1. GCC
6.3.2. South Africa
6.3.3. Rest of MENA
6.4. Asia-Pacific
6.4.1. China
6.4.2. India
6.4.3. South Korea
6.4.4. Japan
6.4.5. Australia & New Zealand
6.4.6. Rest of Asia-Pacific
6.5. Europe
6.5.1. Germany
6.5.2. France
6.5.3. U.K.
6.5.4. Russia
6.5.5. Rest of Europe
7. Competitive Landscape
7.1. Market Share
7.2. Competitive Scenario
7.3. Growth Strategies, By Key Players
7.4. Regional Market Share, By Company
8. Company Profiles
8.1. BASF SE
8.2. Braskem S.A.
8.3. Corbion NV
8.4. Metabolix Inc.
8.5. NatureWorks LLC
8.6. Indorama Ventures Public Company Limited
8.7. Biome Technologies PLC
8.8. Plantic Technologies Ltd.
8.9. Bio-On S.P.A.
8.10. Novamont S.P.A
8.11. Toray Industries
Note – We will profile the top 10 key players in the market study. The additional company profiles will be given with a short overview of each company.