Global Sustainable Food Packaging Market_Report Description
Published Date: March, 2019

||

 Pages: 130
The Food Packaging industry is on the verge of a revolution. As the world is moving towards sustainability, the novel bio-based and biodegradable packaging materials are expected to create a promisable future in the food packaging industry. In 2017, nearly 1.19 billion tonnes (60% of total production) of bioplastics produced was used for packaging products, about 50% of which was for packaging F&B products. Increasing pressure from climate change activists and consumers is forcing governments and companies alike, to come up with innovative packaging and recycling strategies for a sustainable future. The past few years have seen a multitude of F&B companies committing to sustainability goals and programs. The coming decade will see the realization of these goals and their impact on how products are consumed and how packaging waste is handled. Furthermore, the bioplastics industry is in the initial phase of growth. Although newly constructed plants are still less, but the number seems to be increasing at a huge rate in the coming decades.
According to study conducted by Ingenious e-Brain; the market growth of sustainable food packaging is rapidly increasing with the market estimated to grow from USD X.XX billion in 2018 to USD XX billion by 2025, at a CAGR of XX%. This is due to the growing consumer preference towards eco-friendly materials and growing innovative technologies to produce bio-plastics. Furthermore, the increased consumption and demand for packaged food and need for sophisticated packaging for the growing middle class are adding up to the growth of sustainable food packaging market.
This report provides in-depth analysis of the global sustainable food packaging market with a key focus on sustainable packaging materials used in various application for different types of packaging including bottles, jars, cartons, cans, drums, caps, barrels, films & sheets. The report segments the market on the basis of material types (Paper & paperboard, Plastic, Glass, Metal, and Others); On the basis of layer (Primary, Secondary, Tertiary); On the basis of Process (Recycled, Reusable, Degradable); On the basis of Application (Bakery, Confectionary, Beverages, Convenience Food, Dairy Products, Fruits & Vegetables, and others). Furthermore, this report provides in depth analysis of these segments on the basis of regions and its key countries (North America, Asia-Pacific, Europe, MENA, Latin America).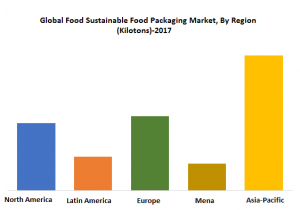 The report provides market size of all the segments in terms of Value (US$ Billion), Volume (kilotons (KT)) and Cumulative Annual Growth Rate (CAGR) (%) for the forecast period (2018 – 2025), considering 2017 as the actual year and 2016 as Historical Year.
This study also provides key insights about market drivers, restraints, opportunities, challenges, burning issue, key industry trends including value chain, porter five forces, raw material analysis, pricing analysis, new technological innovations, upcoming trends and various organic and inorganic growth strategies adopted by the leading players
It also provides the full analysis of leading players operating in the value chain of sustainable food packaging market which includes key company profiles for the material manufacturers and processors involved in the market. These profiles are based on key parameters including company overview, key financials, product and services offered, geographical presence, company strategy and sustainability goals, and competitive analysis of developments recorded in the industry during the past five years. The key industry players include Amcor Limited (Australia), Mondi plc (South Africa), WestRock Company (U.S.), BASF SE (Germany), Sonoco Products Company (U.S.), Bemis Company, Inc. (U.S.), Huhtamaki OYJ (Finland), Smurfit Kappa Group PLC (U.S.), Sealed Air Corporation (U.S.), and Tetra Laval International S.A. (Switzerland). In addition, the report will also provide the short overview of additional company profiles operating in the market.
Executive Summary
R&D Trend: Sustainable Plastic

Polylactic Acid (PLA)
Polyhydroxybutyrate (PHB) & Polyhydroxyalkanoate (PHA)
Polypropylene (PP) & Polyethylene (PE)
Polyethylene Terephthalate (PET)
Other Polyesters
Polyvinyl Alcohol (PVA)
Other Bioplastics

R&D Trend: Other Materials

Paper, Cellulose, Pulp & Fibers
Starch
Chitosan
Algae & Seaweed
Other Polysaccharides
Gelatin, Collagen
Other Proteins\
Fruit & Vegetable Material
Other Materials (Miscellaneous)

R&D Trend: Packaging Strategies

Overview
Lightweight Packaging
Right Size Packaging
Intelligent or Smart Packaging
Edible Packaging
Innovation in Package Design to aid Sustainability
Other Packaging Innovation

R&D activities of leading patent holders

Top players in America
Top players in Europe
Top players in Asia-Pacific

White Space Analysis of Sustainable Food Packaging Technology
Market Trends

Drivers

Laws, Regulations and Government Policies
Initiatives Towards Sustainable Packaging
Growing Innovations in New Technologies

Restraints

Poor Infrastructure Facilities for Recycling
High Cost of Recycling

Opportunities

New Emerging Technologies
Growing Investments in Emerging economies
Packaging Optimization and Reduction in Food Wastage

Challenges

High Production Cost of Bio-Plastics
Fluctuation in Raw Material Prices and Availability

Burning Issue

Ban on Single Use Plastics
Ban on Scrap Material Imports in China
Industry Trends

Overview of Food Packaging Industry
Value Chain Analysis
Raw Material or Feedstock Analysis, By Material

Paper & Paperboard
Plastic
Metal
Glass
Others (wood, textile, Mushroom, etc)

Porter Five Forces Model
Key Technology Overview

Innovation in Plastics
Trending Technology

Regulations/Laws Impact Overview

Sustainable Food Packaging Market, By Materials

Paper & Paperboard

By Grade Types

Solid Bleach Sulphate (SBS)
Coated Unbleached Kraft (CUK)
Recycled (Coated and Uncoated)
Others

By Packaging Types

Corrugated Box
Boxboard

Rigid Boxes
Folded Boxes
Trays

Flexible Paper Packaging

Paper Bags
Shipping Sacks
Sachets/Pouches

Kraft

Plastic

By Material Types

Recycled Plastic

PET
HDPE
LDPE/LLDPE
PP
PS
Others

Bio-Degradable Plastic

PBAT
PBS
PLA
PHA
Starch Blends
Others

Bio-Based Plastic

PET
PA
PEF
Ecogen HF
PE
PA
PP
Others

By Packaging Types

Bottles & Cans
Bags & Pouches
Films & Sheets
Others

Metal

By Material Types

Steel
Aluminium
Tin
Others

By Packaging Types

Cans
Barrels & Drums
Caps & Closures
Aerosols
Others

Glass

By Material Types

Sand
Soda Ash
Limestone

By Packaging Types

Jars
Bottles
Others
Sustainable Food Packaging Market, By Process

Recycled and Reusable
Degradable

Sustainable Food Packaging Market, By Function

Active Packaging

Barrier
Modified Atmospheric Packaging (MAP)
Antimicrobial Packaging

Molded Packaging

Thick Wall Pulp
Transfer Molded Pulp
Thick Wall Pulp
Processed Pulp

Alternate Fibre Packaging

Bamboo Fibre
Mushroom Packaging
Others

Others

Sustainable Food Packaging Market, By Application

Bakery
Confectionery
Beverages
Convenience foods
Dairy products
Fruits & vegetables
Sauces, dressings and condiments
Others (whole grain food, pulses, and oil)

Sustainable Food Packaging Market, By Region

North America

S.
Canada

Latin America

Mexico
Brazil
Argentina
Rest of Latin America

Middle East & Africa (MENA)

GCC
South Africa
Rest of MENA

Asia-Pacific

China
India
ASEAN
South Korea
Japan
Australia & New Zealand
Rest of Asia-Pacific

Europe

Germany
Italy
France
Spain
K.
Russia
Turkey
Rest of Europe
Competitive Landscape

Market Share
Competitive Scenario
Growth Strategies, By Key Players
Regional Market Share, By Company

Company Profiles

BASF
International Paper
Mondi
Smurfit Kappa Group
Stora Enso Oyj
Biopac
Clearwater Paper
Georgia-Pacific
Holmen
Hood Packaging
Kruger
MeadWestvaco
Natureworks
Novamont
OJI Holding
Rocktenn
The Mayr-Melnhof Group
DowDupont
AmcorBemis Inc.
Sonoco Products Company
Sealed Air Corporation
Huhtamaki OYJ
Tetrapak
Note – We will profile the top 10 key players in the market study. The additional company profiles will be given with a short overview of each company.