Sugar Reduction in Food Products: Technology Insights & Global Industry Analysis
Published Date: May, 2018

||

 Pages: 115
Sugar is used in a variety of industries mainly food, beverages, bakery, confectionery, dairy, and pharma. Overall world sugar production was XXX million metric tons in 2017-18. On other hands, the consumption was also high at XXX million metric tons (MMT), as monitored by the US Department of Agriculture (USDA). But the major health concern is the addition of sugar to food and beverages. Due to rising health concerns about high sugar content and sugar taxes imposed by various countries in Europe, Mexico, and South Africa, food industry have come up with various intuitive ways to reduce the amount of added sugars in food and beverages. As estimated, the global sugar-free food and beverages market size is projected to grow to US$ XXX billion by 2021, at a CAGR of close to 7% from US$ XXX in 2016, as shown below in Figure 1.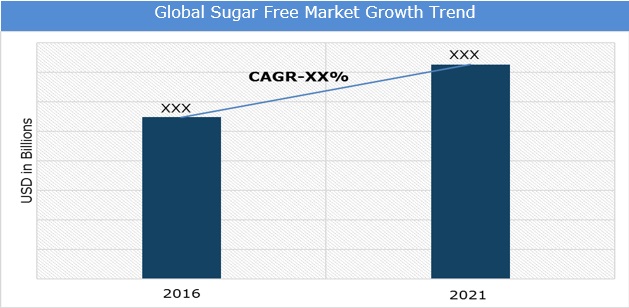 The IP analysis of the sugar reduction technologies in food and beverages was carried out for 3 years (2015-2017) to understand the existing technologies which have been used for reduction of sugar. The analysis shows that globally all major food producers and sugar companies are focused on the development of novel technologies to reduce the sugar content in their products. The sugar reduction methodologies which have been mentioned include physical methods, chemical methods, enzymatic methods and microbial technology to reduce the sugar content of food products. Figure 2 shows the percentage IP distribution in various jurisdictions.
Sugar alternatives that can substitute free sugar in food & beverages:
Plant-derived sweeteners such as stevia, Yacon syrup, monk fruit, Thaumatin etc.

Artificial sweeteners such as Acesulfame potassium, Advantame, Aspartame, Neotame etc.

Sweetness Modulators SWEET TASTE, SymLife Sweet, ClearTaste etc.

Sugar alcohols such as Xylitol, erythritol, Isomalt, Maltitol etc.
Key global vendors of sugar products:
Nestle

Ajinomoto

Cargill Inc.

Tate & Lyle PLC

Unilever
Key Question Addressed:
The report will provide the insight market and technology trends in sugar reduction (2016-2021)

Will address the key driving factors behind the future trends in sugar free-food and beverages market

The report will help in identifying major industrial players who are involved in various R&D activities to address key issues of sugar reduction

The report comprises of insights with respect to strategic decisions by government organizations, health professional, research organizations and industry bodies based upon the reliable market data

The knowledge of novel technologies will help in exploitation of same for the production of sugar free products

The report will help in identifying various academic and industry players to look for licensing and acquiring of the technology

The competitive landscape will help to identify new opportunities with respect to technology sharing, business partnerships etc.

The report will address issues and threats faced by key market players involved in global sugar-free markets
### IEBS offers tailored information as per client needs viz. additional company profiling (up to 10), partner identification, regions which are untapped, key strategies employed by the target companies for their sustenance in the studied field etc.
1. Technology Overview
1.1. List of Tables
1.2. List of Figures
1.3. Introduction
1.4. Objective & Scope
1.5. Research Methodology
2. Sugar reduction segmentation based on application
2.1. Food
2.2. Beverages
2.3. Bakery
2.4. Confectionery
2.5. Dairy products
3. Sugar Alternatives: A better healthy choice
3.1. Naturally Derived Sweeteners
3.1.1. Stevia
3.1.2. Yacon Syrup
3.1.3. Monk Fruit
3.1.4. Sweet Cicely
3.1.5. Thaumatin
3.1.6. Allulose
3.1.7. Tagatose
3.1.8. Brazzein
3.2. Artificial sweeteners
3.2.1. Acesulfame potassium
3.2.2. Advantame
3.3.3. Aspartame
3.3.4. Neotame
3.3.5. Saccharin
3.3.6. Sucralose
3.3. Sweetness Modulators
3.3.1. SWEET TASTE, Senomyx
3.3.2. SymLife Sweet®, Symrise
3.3.3. ClearTaste™, MycoTechnology
3.3.4. TasteSolutions™, Givaudan
3.4. Sugar Alcohols
3.4.1. Erythritol
3.4.2. Mannitol
3.4.3. Isomalt
3.4.4. Lactitol
3.4.5. Maltitol
3.3.6. Xylitol
3.3.7. Sorbitol
4. Sugar Reduction Technology: IP Trends
4.1. Geographic Activity
4.1.1. United States
4.1.1.1 Top players in United States
4.1.1.2 Important IPs in United States
4.1.2. Europe
4.1.2.1 Top players in Europe
4.1.2.2 Important IPs in Europe
4.1.3. Asia
4.1.3.1 Top players in Asia
4.1.3.2 Important IPs in Asia
4.2. Technology Breakdown- Distribution of Sugar reduction technology
4.2.1. IP in Physical methods of Sugar reduction
4.2.2. IP in Chemical methods of Sugar reduction
4.2.3. IP in Microbial methods of Sugar reduction
4.2.4 IP in Enzymatic methods of Sugar reduction
4.2.5. IP in any other methods of Sugar reduction
4.3. Collaborations / Acquisitions / Licensing Activity of top ten players in Sugar reduction technology
4.3.1. Collaboration between companies
4.3.2. Collaboration between company and universities
4.3.3. Licensing activity among universities, companies and individuals
4.3.4. Acquisition in the Sugar reduction technology domain
4.4. Sugar reduction Technology based comparison between top players
5. Global Sugar Reduction Technologies: Recent Novel Technologies
5.1. Mineral Sugar Carrier
5.2. Hollow Sugar Crystals
5.3. Xylosyl-xylitol oligomer
5.4. Fibre enriched ingredient
5.5. Biodegradable Nanocarriers
6. Sugar reduction technology White Space Analysis
7. Recent activities in Sugar reduction technology
7.1 Contract / funding information
7.1.1. Contract / funding objective
7.1.2. Contract / funding receiving company information
7.2. Partnership / Collaboration / Licensing
7.2.1. Partnership / Collaboration / Licensing objective
7.2.2. Information of associated companies
7.3. New emerging technologies
7.3.1. Information of associated company
7.3.2. Information of associated inventors
7.4. Undergoing research activities
7.4.1. Information of associated company
7.4.2. Information of associated inventors
8. Sugar Reduction Technology Opinions from Experts
9. Sugar Reduction Technology Collaboration Insights
10. Strategies of Companies working in Sugar Reduction
11. Recent Sugar Reduction Product Developments
11.1. Product overview
11.2. Company information
12. Global Trends Sugar Alternative Market
12.1. North America
12.2. South America
12.3. Europe
12.4. Asia-Pacific
13. Global Sugar Reduction: Top Industrial Players
13.1. Nestle
13.2. Ajinomoto
13.3. Amalgamated Sugar
13.4. Archer-Daniels Midland
13.5. Cargill Inc.
13.6. Tate & Lyle PLC
13.7. Danisco A/S
13.8. Ingredion Inc
13.9. Roquette Freres SA
13.10. Heinz
13.11 Unilever
13.12 Glanbia
14. Sugar Reduction- Market Determinants
15. Sugar Reduction -Opportunity Vs. Restraints
16. Sugar Reduction: Strategic Analysis SWOT & PEST
17. Sugar Reduction Market Development (2015-2020)
18. Conclusion
List of Tables:
Table 1 Sugar consumption and production trends (2015-2020)
Table 2 Global trend of reduced sugar consumption among consumers (2015-2020)
Table 3 Trend of reduced sugar consumption among consumers in US & Europe (2015-2020)
Table 4 Trend of reduced sugar consumption among consumers in Asia & Africa (2015-2020)
Table 5 Global low sugar food and beverage market (2015-2020)
Table 6 Global trends in sugar free/low sugar products launch (2015-2020)
Table 7 Global production, consumption and distribution of sugar alternative (2015-2020)
Table 8 Global stevia market share, production and consumption (2015-2020)
Table 9 Global production and geographical distribution of stevia-based products (2015-2020)
Table 10 Global production and distribution of sweetness modulators (2015-2022)
Table 11 Production and consumption of sugar alcohols as low sugar alternative (2015-2022)
Table 12 Market share of low sugar products for key industrial players (2015-2022)
Table 13 Geographical distribution of low sugar product launched by key players (2015-2020)
Note: Company Profiles on only 10 players will be provided.