Simplifying Business Processes Using Blockchain Technology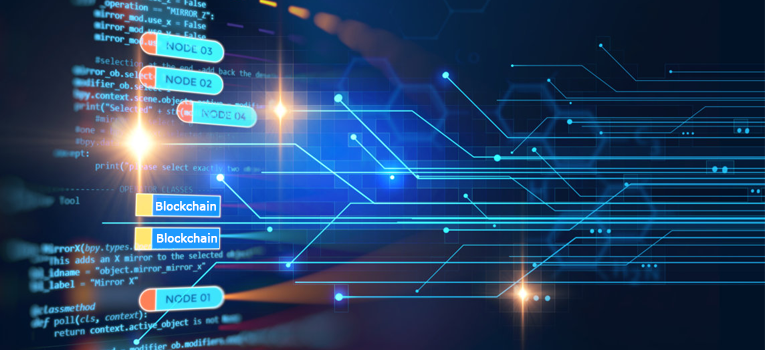 Blockchain technology stores transactional records, known as the public block, in several databases, known as the 'chain,' in a network connected through peer-to-peer nodes. Typically, this storage is the 'digital ledger.' It is a decentralized way of documenting transactions in chronological order. Each network partner has access to the entire blockchain and its history. The accounts of all participants are updated with information with every new transaction recorded.
COVID-19 & Blockchain Technology
The ongoing situation can create some challenges in the market of blockchain. It can play an essential role in digital transformation activities and initiatives amid the crisis.
The technology finds its use for public health data surveillance, crisis management, medical supply management, etc.
The Coronavirus outbreak has led to the development of many applications using blockchain technology.
For instance, in March 2020, WHO launched a blockchain platform to fight COVID-19. World Health Organization (WHO) collaborated with major blockchain and technology firms to initiate a Distributed Ledger Technology (DLT)-based platform for sharing data regarding the Coronavirus outbreak.
In another instance, in March 2020, UAE adopted digital identity and blockchain to fight COVID-19. The United Arab Emirates Department of Community Development (MOCD) has started implementing digital channels for government services. The system meets the requirements by leveraging digital identity by individuals, blockchain systems, and chat systems.
Application and Use Cases
Blockchain technology has the power to transform government operations and services. It can play an essential role in improving data transaction challenges in the government sector, which currently operates in silos. Correctly connecting and sharing data with the blockchain allows better management of data between multiple departments. This feature improves transparency and provides a better way of monitoring and verifying transactions.
New features of blockchain technology include decentralization, transparency, immutability, and automation. These elements are put into use in different industries, leading to a variety of use cases.
Banking and finance:

Currently, Banking and Financial services struggle with outdated operating procedures, slow payment processing, limited transparency, and security holes. These limitations are overcome by employing blockchain technology to improve the efficient digitization of financial instruments, increase liquidity, reduce capital costs, and reduce counterparty risk. Various Banking and Finance companies are adopting blockchain technologies in place of their traditional processes. For instance, in January 2019, Accenture and SAP SE and R3 build a Prototype that uses Distributed Ledger Technology (DLT) to enable more efficient, secure, and reliable payments between banks and customers.
Automotive:

Blockchain technology offers vehicle manufacturers a real opportunity to abandon their current business practices and develop a novel and more efficient way of doing business. There are already some exciting blockchain developments in the automotive sector. In April 2020, BMW develops a blockchain for tracking auto components. BMW Group has announced that it has developed a blockchain-powered supply chain management system called PartChain that will help the German luxury carmaker to track auto components. In October 2019, Ford pilots innovative geofencing and blockchain technology ensured vehicles operate efficiently in city center low-emission zones.
Here are some other most relevant blockchain use cases: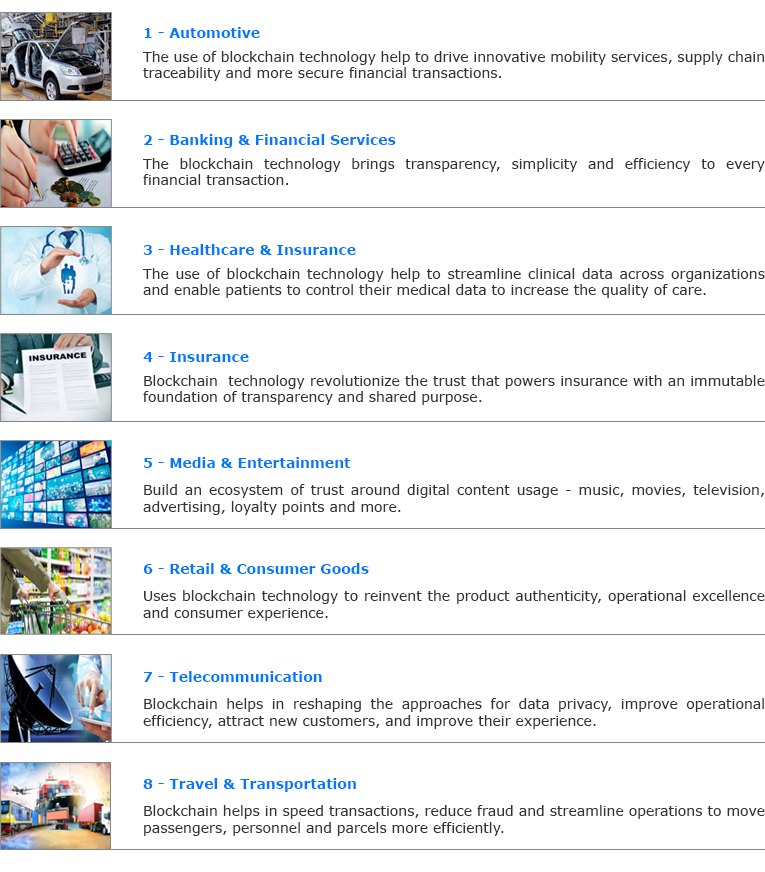 Market Trend
Blockchain technology is among the most emerging technology trends in information technology. This technology enables the ledger accessible to the parties involved in the transaction and acts as a universal irrevocable custodian of all transactions between the parties involved.
Driving Factors
The blockchain market is growing due to the increasing adoption of Distributed Ledger Technology (DLT) systems based on advanced data analytics. The rise in the adoption of these systems will significantly drive the blockchain market.
Another driving factor for the blockchain market is the increasing demand from companies in the BFSI industry to develop personalized products and services for their clients. Insurance companies focus on improving their offers and developing innovative products and services such as peer-to-peer insurance, index insurance, and smart contracts.
In November 2017, Axis Bank launched Ripple-powered instant payment service for corporate and retail customers.
The bank has launched a service for its retail customers in India to receive payments from RAKBANK in UAE and for its corporate customers in India to accept payments from Standard Chartered Bank in Singapore.
Challenges
Scalability:

The ability to handle many users simultaneously remains a challenge for the blockchain industry. Blockchain technology involves many complex algorithms for single processing transactions.
Privacy:

The blockchain is a register open and visible to all. This property is an essential aspect in many cases but becomes a hindrance when used in sensitive environments.
Blockchain technology is in the developing phase, and it requires many technological developments. However, it can always find a way to overcome any challenge.