The Future of Safety – Opportunities for Two-Wheeler Airbags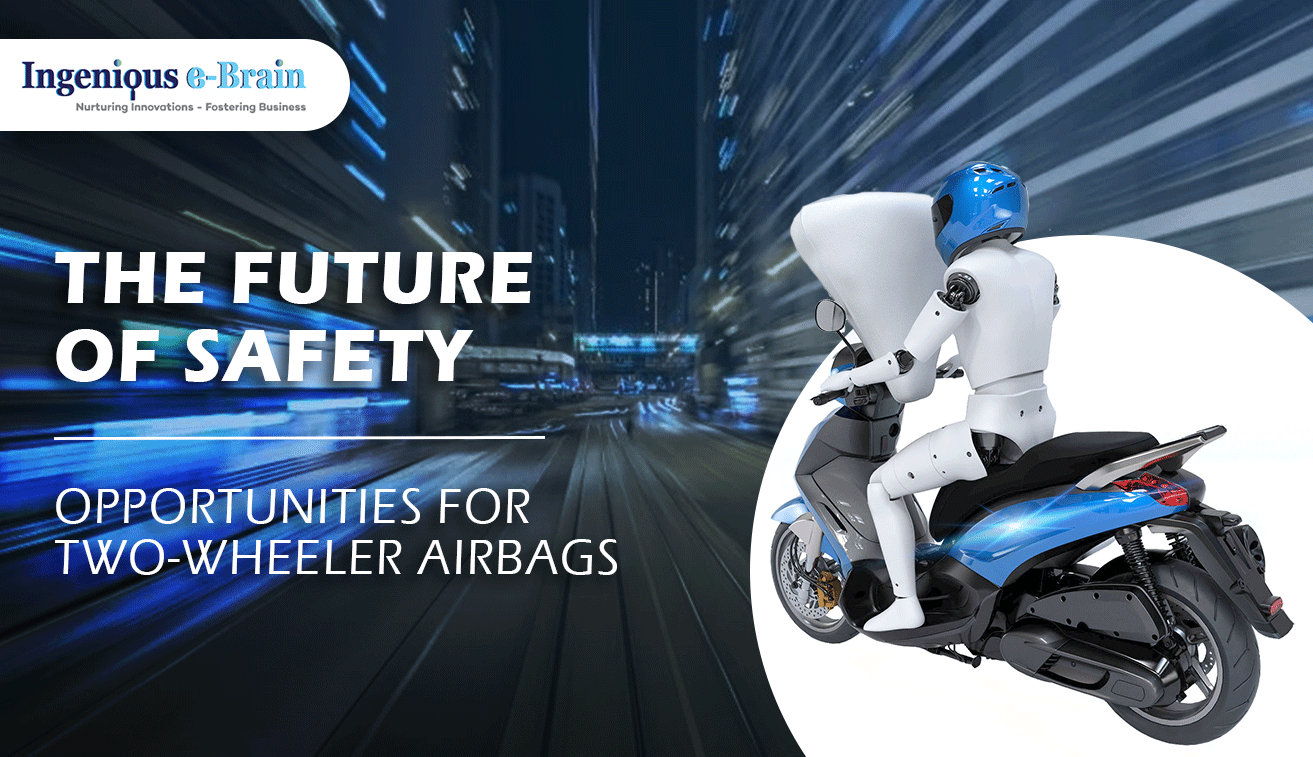 Introduction
The demand for two-wheelers with high cubic capacity (CC) is increasing with the growing count of young adults, improvement in living standards, and shifting preferences toward private vehicles rather than public transportation. As a result, the fatalities from two-wheelers accidents are also increasing. Different technologies, such as Advanced Rider Assistance Systems (ARAS), smart helmets, airbag jackets, and so on, have been showcased and implemented by two-wheeler OEMs as well as other accessory providers. Airbags integrated into two-wheelers are still rare.
Need for airbags for Two-Wheelers
In 2021, two-wheelers accidents accounted for 69,240 deaths [1] (44.5% of total road accidental deaths), 3,862[2] deaths (9% of entire unfortunate road fatalities), and 6,000 [3] (18% [4] of total road accidental deaths) in India, US, and Europe, respectively. The burgeoning figures of two-wheeler accidents have coaxed safety technology providers as these are life-threatening events, and riders may have critical injuries on the head, neck, and shoulders. The airbags, like in passenger cars, can reduce the impact force transferred to the rider when the bike hits another vehicle or any object. The airbag can prevent the rider from the frontal side or rear impact, providing safety to the head, knees, neck, etc.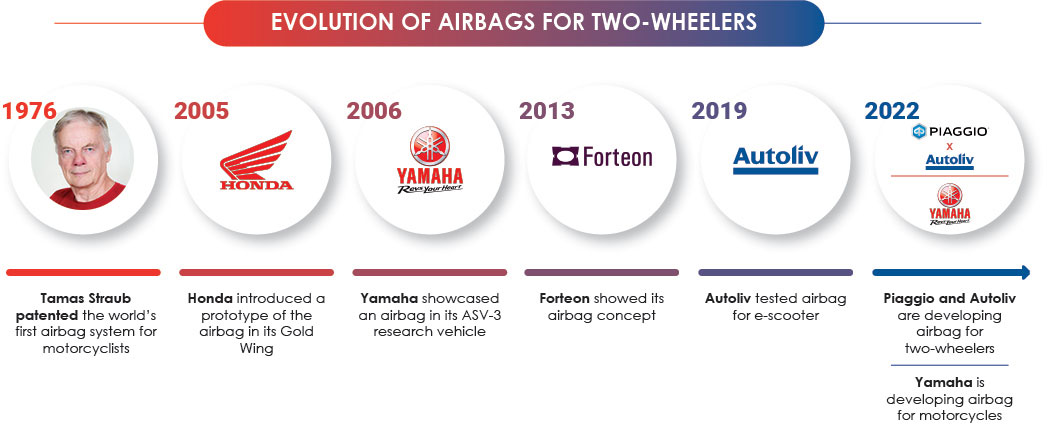 Some other companies came up with the idea of installing airbags in the rider's jacket, and there are numerous brands out there that are selling such solutions. Apart from airbag jackets, a company named Airoh recently unveiled the world's first airbag-integrated helmet prototype. In the next section, we have highlighted companies adopting airbag technology to protect riders from fatal injuries.
Value chain
The value chain of two-wheeler airbags is shown below:

Key Developers and their Technology Focus
The ways airbags are installed on two-wheelers depend upon different concepts, each offering safety for diversified impacts received by the motorcycle and rider. The airbag is used as a curtain and prevents injuries to the rider from frontal or side effects in case the two-wheeler hits any stationary or moving vehicle from the front.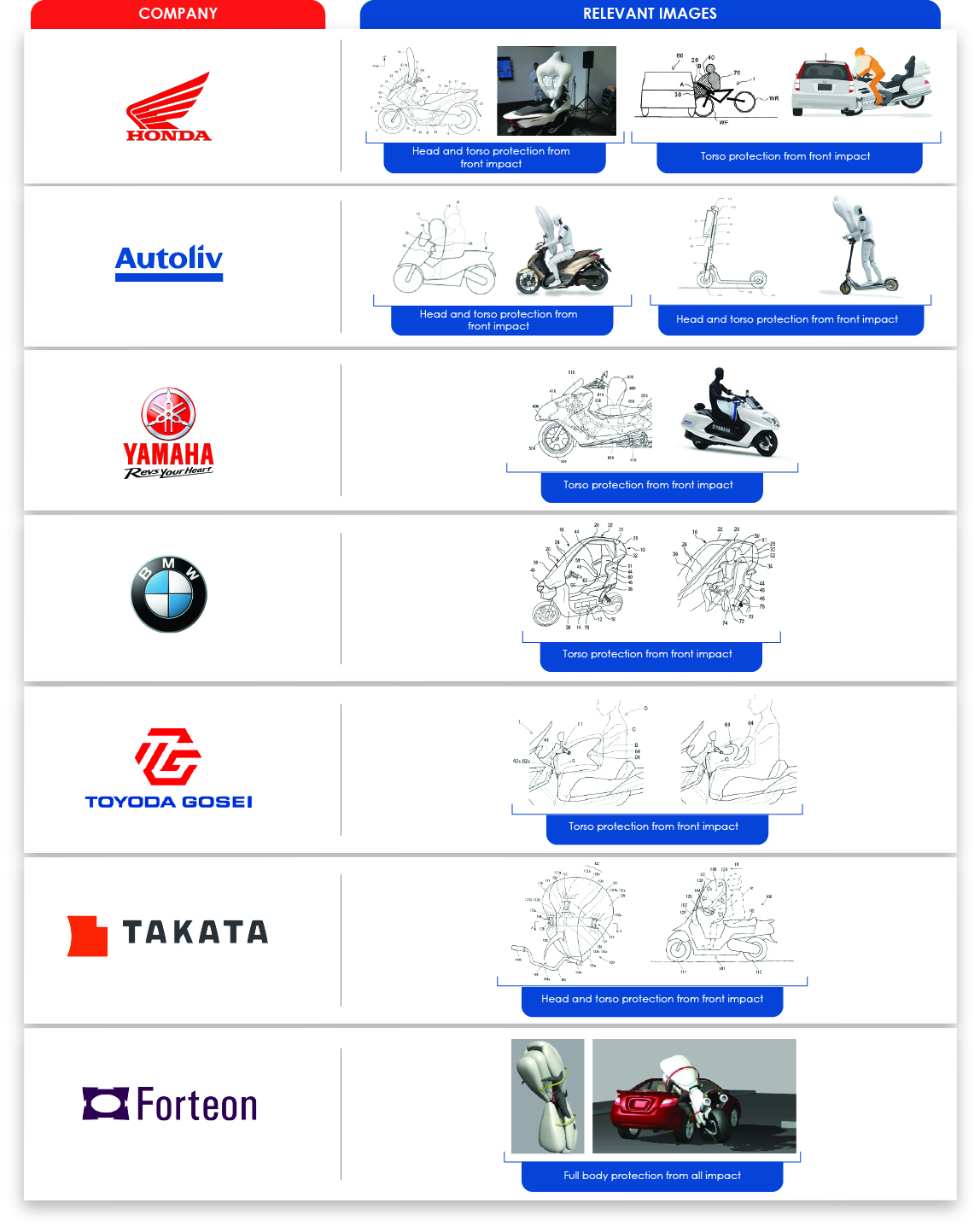 Recent Investments, Acquisitions, and Partnerships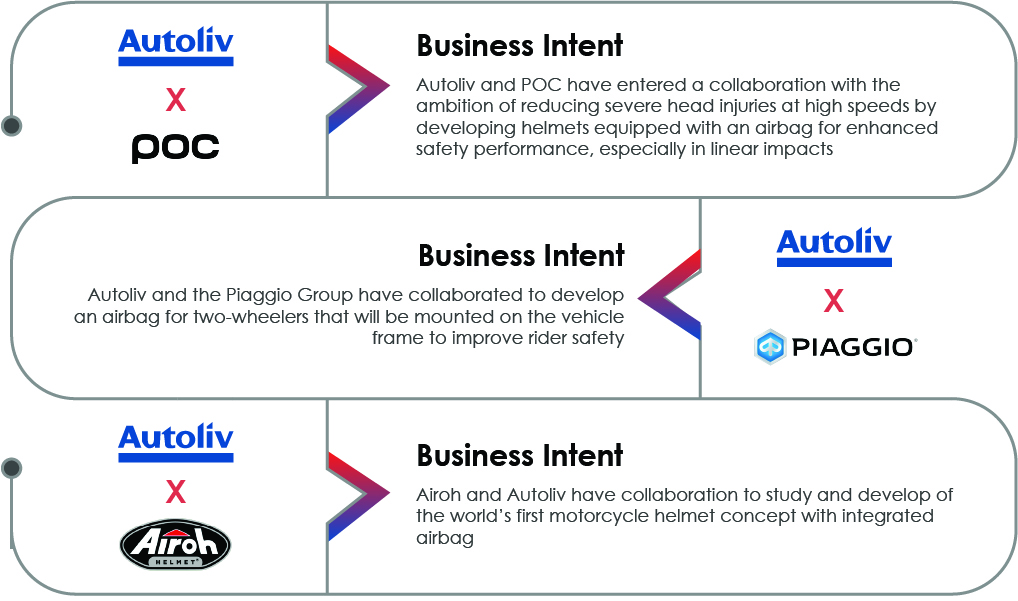 Key Drivers, Inhibitors, and Market Opportunities

The graph below shows the historical and forecasted global two-wheeler sales till the year 2027.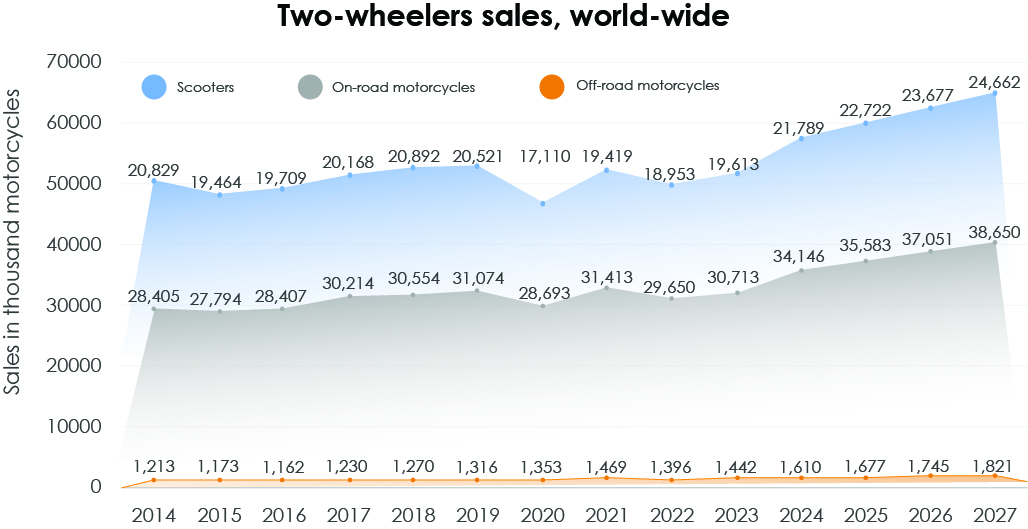 Source: Statista
Two-wheeler sales [5][6][7] in the United States, Europe, and Asia for the year 2021 are shown in the pie chart.
The Asia Pacific region is the leading market, holding 74% of the two-wheeler sales across the US, Europe, and Asia. The economy of Asian countries supports the sales of powered two-wheelers, and enormous growth may be witnessed in the coming years.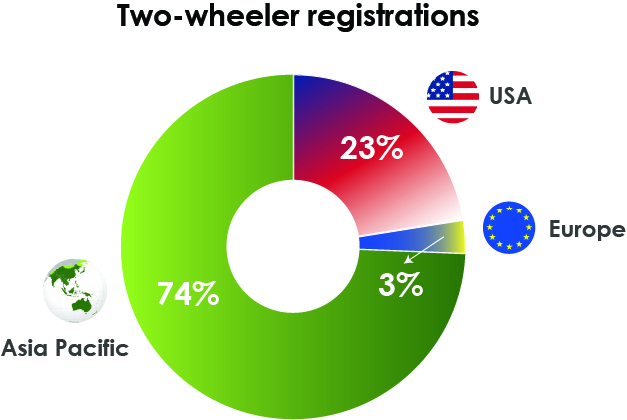 The regulations also promote implementing safety features such as ABS; hence, airbags can be seen as an attractive rider passive safety system in the coming years.
The major components of an airbag system include a crash sensor, airbag module, airbag, airbag ECU, and inflator.
The table shows the material compositions of a typical driver-side airbag (% in mass) for a passenger car: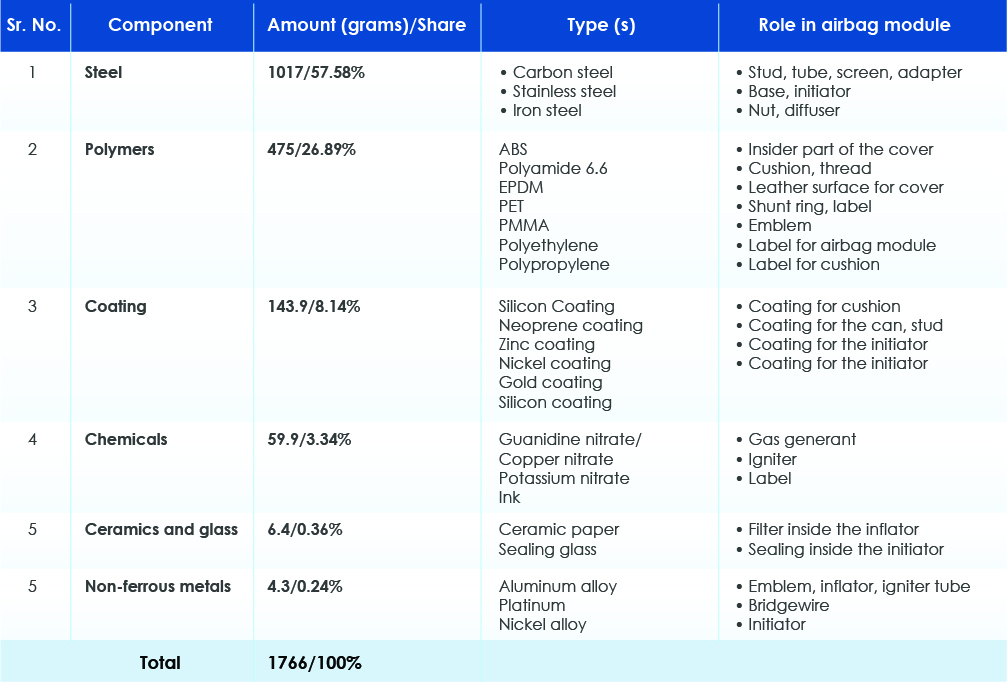 With around twenty-eight million annual two-wheeler sales in the Asia Pacific, the region holds opportunities for consuming 13,000 metric tonnes of polymers used in the inside cover, fabric material, label, emblem, etc. Nylon is widely used for airbags fabric due to its superior energy-absorbing capacity. Nylon 6.6, Nylon 6, and Nylon 4.6 material airbags will witness considerable demand motorcycle airbag system market. Silicon is being used to coat airbag materials, outperforming Neoprene in many areas. Silicon coating [9] adds 70 to 80 gm/m2, leading to around four thousand metric tonnes (2 square meters of fabric per airbag [10]) of annual silicon consumption in the APAC region.
Future Outlook
Recent demonstrations of two-wheeler airbags unveil their potential as a passive safety system. However, the incorporation of airbags in two-wheelers may result in a price increase by USD 130 or more.
The APAC region is witnessing increased consumer safety concerns and purchasing power, resulting in a favorable market for premium two-wheelers. The Indian government intends to implement a new regulation [25] for children aged nine months to four years traveling on two-wheelers. The new rule includes limiting the vehicle speed to 40 km/h, children must wear helmets, and both should wear safety belts. This indicates that the governments are focusing on rider safety and implementing safety regulations for two-wheelers. The government has already mandated installing an anti-lock braking system on motorcycles larger than 125 cc and a combined braking system on smaller motorcycles up to 125 cc.
Furthermore, the United States and the European Union have spread greater awareness about safety systems and, when combined, can account for a sizable share of the global two-wheeler airbag market.
As many OEMs and tier-1 suppliers work to make airbags a reality for two-wheelers, chemical companies may plan to capitalize on the opportunities in this emerging segment.
Article by Ingenious e-Brain Solutions :-
Contact us :-
US Office:-
4 Heinrick Way Bridgewater,
New Jersey 08807, USA
Phone:-
+1 347 480 2054
+1 202 697 9162
India Office:-
207-208 Welldone TechPark, Sohna Road
Sector 48, Gurugram,Haryana 122018, India
Phone:-
+91 124 429 4218
Email:-
queries@iebrain.com