WIPO defines Intellectual property as "creations of the mind, such as inventions; literary and artistic works; designs; and symbols, names and images used in commerce."  The intellectual property can be protected by various IP rights including patents, copyrights, trademarks and designs.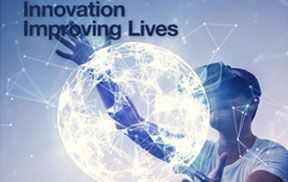 In the year 2000, WIPO established world IP day.  April 26 was chosen as the day for world IP day because it was on April 26, 1970 that convention establishing WIPO entered into force.
WIPO's theme this year for the world IP day is "to explore how innovation is making our lives healthier, safer and more comfortable, turning problems into progress. It also aims at looking how the intellectual property system supports innovation by attracting investment, rewarding creators, encouraging them to develop their ideas, and ensuring that their new knowledge is freely available so that tomorrow's innovators can build on today's new technology".
World IP day is celebrated to recognize, reward and encourage the innovators for their inventions. The day also aims to make the public aware of the significance of Intellectual property (patents, copyrights, designs, and trademarks) and how these intellectual innovations are improving our everyday lives.
The world has transformed into a global village by technological advancements. However, there remains to resolve innumerable issues such as those pertaining to environment, food security and health. The ever-growing world population demands for innovations and inventions for sustenance and better lives.
Inventions are being made in fields such as health sector, environment, technology, agriculture, efficient energy use and many more. There is no dearth of innovations which has led to the world progress. Similarly, there are several indigenous innovations which are significant in the way they can improve the lives of people. Innovators are finding solutions to challenging problems that affect our daily lives and survival. Whether it is tackling environmental pollution, finding cure for diseases, waste management, clean water availability, efficient energy use, transportation or infrastructure improvement, ensuring food security, digital technologies and so on; innovations have produced myriad and miraculous results.
One example of innovation is of plastic disposal. Plastics disposal is a huge problem in waste management and to add to its nuisance, the burnt plastics emit noxious fumes. Envigreen India developed and patented plastic bags which are actually made of raw materials like vegetable and natural starch. These edible bags do not pose any threat to environment or animals which may consume them after disposal.
Another exemplary invention is a device which detects, collects and eliminates wastes and chemical effluents from water surface. Omnipresent Robot manufactured this device which was successfully tested in Ganga and Yamuna rivers under the Ganga Action Plan of Union Water and Resources Ministry.
The scientists and governments throughout the world are aiming to reduce carbon footprints by designing policies that encourage efficient energy use. IIT alumni developed a plant to capture carbon emissions.
In the field of medical sciences, Incredible devices plans to patent a catheter reprocessing system. This particular medical device aims to lower the cost of cardiovascular treatment and reduce the danger of microbial infection that usually arises by inefficient catheter reuse.
The innovations that have the ability to improve our daily lives are countless. The need of the hour is to foster such innovations by protecting the IP rights and further build upon them.