Strategic and Innovative Solutions for Sustained Growth
About Ingenious e-Brain
We are a globally recognized research and analytics solutions provider with a team of experienced professionals from diverse technical domains. Our services, ranging from technology ideation to commercialization, are tailored to help our clients transform their business model by providing them holistic solutions around Intellectual Property, Technology, and Business Intelligence. Our clients include R&D groups, attorneys, and inventors from large law firms and Fortune 500 companies.
Harnessing the power of Artificial Intelligence
to make your processes faster and leaner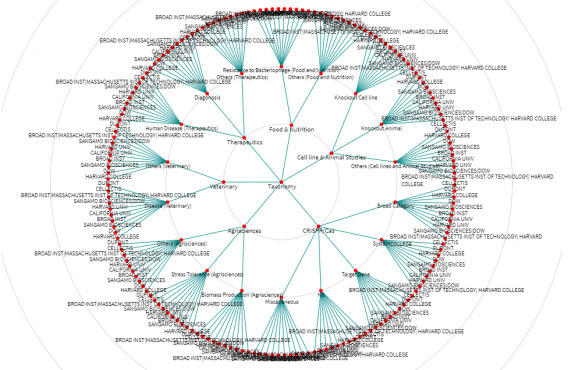 At Ingenious e-Brain, we believe that humans assisted with machine intelligence can deliver unparalleled results. Our proprietary in-house tools use the power of AI to deliver the most reliable results in half the time used by traditional methods. The AI assisted workflow allows cost-efficient decision making for even the most challenging problems.
Our AI assisted research and analytics provides:
Faster turnaround time

Reduced cost

Error-free results

Contextual searching

Dynamic mapping of results
27000+
Journal Full Text Access
27000+
Journal Full Text Access
Very happy with the results provided and the level of detailing was excellent.
Ingenious has really come up with unexpected results in the project and within the time deadlines.
The landscape study was exactly what we were looking for. The result was presented in an organised manner and the report was easy to understand.
We are highly satisfied with Ingenious e-Brain thorough searches for this study. I thank the team members who worked on this project diligently and came up with very pertinent arts. Well done!
I would like to congratulate the Ingenious e-Brain team for succinct and very precise output.
We were not sure of going ahead with filing for our innovation. Team Ingenious certainly helped us make the decision to go ahead in a new direction.
We rate Ingenious e-Brain as Excellent!
Ingenious e-Brain provides excellent results. Their searches are very thorough. Well done team!
Ingenious e-Brain did excellent work for my company. I strongly recommend them.
Ingenious e-Brain is our preferred vendor for doing searches that cannot be handled internally. Their service is excellent, and their reports are highly useful.
The market intelligence study provided by Ingenious e-Brain was fantastic. The study insights provided answered most of our business challenges. A report quality like this ensures a long-term relationship.
The interim report looks very good and is presented in a clear and understandable way. Your team has done a great job.
I am with Ingenious e-Brain's outcome and, as usual, I am relying on their expertise.