Advanced Functional Material Market For Low Carbon Applications
The rapid innovations in materials science and manufacturing have boosted the incorporation of breakthroughs from different fields into a central composite and hybrid materials hub, especially at the nanoscale. Advanced functional materials majorly consist of five types of materials, including advanced functional ceramics, advanced functional composites, advanced energy materials, conductive polymers, and nanomaterials.

With the overwhelming technological advancements in the field, the companies face three main challenges. These are:
Which technological development in advanced functional material makes it more relevant to use in a particular industry?
What value addition and additional benefits can advanced functional materials bring in as an alternative to conventional materials?
What initiatives are companies taking to address the challenge associated with developing and using advanced functional materials?
After conducting planned research on the subject, our team of professionals helped the company tackle the challenges mentioned above. The methodology applied for the same is as illustrated.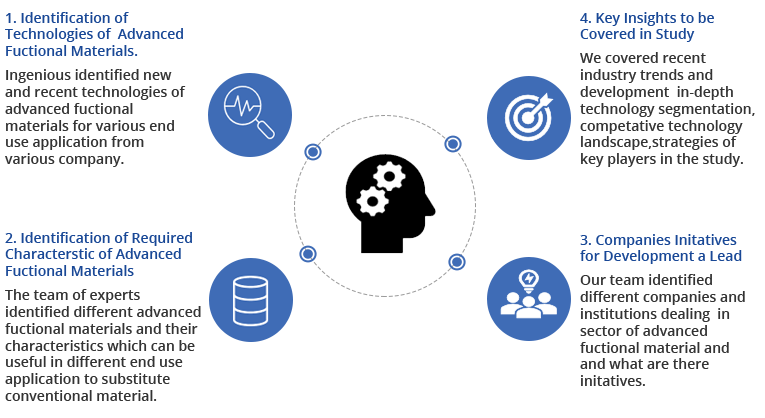 We based our solutions on the prospected challenges. Under this, we delivered solutions based on two aspects.

1. Technological Developments
 Transparent Conductive Films

An alternative to Indium tin oxide films includes oxide-based films that do not have excellent optoelectronic properties and are expensive for flexible plastic film.
As a solution for overcoming the limits of ITO films, TDK developing technologies have come up with a solution using silver nanomaterial to replace Indium tin Oxide, which is the highest conductive metal.
There are transparent conductive films where a metal mesh that thin Ag cables arranged in a pattern is on a substrate, and needle-shaped Ag wires fused in ink are utilized and stamped on a substrate. Nevertheless, TDK's Ag-stacked film includes an even slim Ag layer placed on the film substrate side.

Graphene for Advanced Solar Cells

Most commercial solar cells have crystalline silicon as the absorber layer, including long-term stability and low manufacturing costs. However, crystalline silicon's indirect bandgap nature makes it a low light emitter, limiting its solar conversion efficiency.
To lessen the cost per watt and enhance watt per gram use of upcoming productions of solar cells, lowering the active absorber width is a vital layout constraint.
This advancement is where novel two-dimensional (2D) materials like graphene come into a role because they could lead to thinner, lightweight, and flexible solar cells.
Owing to their outstanding electron-transport features and high carrier movement, graphene and several other direct bandgap monolayer materials like the transition-metal dichalcogenides (TMDCs) and black phosphorus display a good potential as low-priced, flexible, and useful photovoltaic devices.
Another aspect covered while providing solutions is,

2. Need for Advanced Functional Material
Substitution of Conventional Materials

There are increasing instances of resource challenges linked with the use of inadequate metals, including the continuing risk of global depletion of high-quality ores, shorter-term trade deficits, and mineral-related disagreements.
Carbon nanomaterials (CNM) have potential properties to substitute scarce metals.
CNM technologies for transparent electrodes, semiconductors, conductive materials, flame retardants, robust materials, corrosion protection, and capacitors have reached far.

Conductive Polymers – An Emerging Market

Conductive polymers are polymers that conduct electricity. These polymers are economical, lightweight plastics, which, when fueled by energy, shrinks, bend over, or swell.
These polymers offer metallic conductivity and are semiconductors.
The growing demand and increasing consumer awareness regarding the shielding of electronic devices from electrostatic discharge and radio frequency interference positively impact market growth.

Nanomaterials for Eco-Buildings

Nanomaterials have some excellent quality as sustainable building for which Nanoparticles of TiO2, ZnO, or Al2O3 are used as a final coating on construction ceramics to give surfaces this character.
TiO2 is used for its ability to break down pollution when exposed to UV light. It then allows it to be washed off by rainwater from surfaces like tiles, glass, and sanitaryware.
ZnO has UV resistance in both coatings and paints. Nanosized Al2O3 particles to make surfaces scratch-resistant are popular. These surfaces also prevent/decelerate the formation of bad smells, fungus, and molds.
This technology likely works as a catalyst for nanomaterials to be used in the future for building constructions.
Advanced functional materials are well-known for their quick and reasonable peer assessment, quality content, and high effect, making them the leading alternative of the global materials science society. Advanced functional material consumes less energy during the manufacturing process. It has a lesser carbon footprint during usage and has a smaller carbon footprint during reusing.

We provided the companies with crucial recommendations for the employment of advanced functional materials in their respective industries. The leading suggestions are: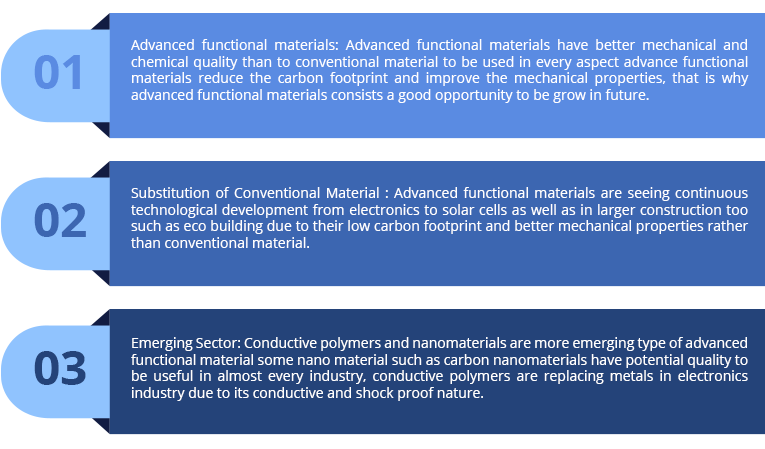 The inclusion of advanced functional materials in the day-to-day industrial operations can help the companies gain an upper edge in the competitive market scenario by enhancing the efficiency and reducing the cost involved.