Technology, Competitive Intelligence & Opportunity Assessment: Non-Meat Based Protein Alternatives for Sustainable Food Products
The Challenge
Our client, a leading meat-based protein manufacturer, wanted to open a new product line totally based on plant-based protein. Aimed at a future where sustainable sources like plant-based proteins going to replace animal-based protein products. They wanted to explore protein from the different botanical origins which overcomes the challenges and even performs well enough then a meat-based protein for sustainable food products. The client was also interested in knowing the technologies involves in extracting the plant-based protein in best way possible. The client wanted to identify the potential partner with whom they can collaborate and bring the required competency to capitalize on these solutions.
Our Solution
Our team deployed a step-wise approach to conduct freedom-to-operate as per the client's requirements.

Phase I – Technology Landscape

Comprehensive scientific, patent literature, product searches from paid and open-source databases were conducted to derive the following intelligence.

Phase II – Competitive Intelligence

Conducted desk research based on open and paid sources including – patent literature scientific literature, product search, company websites, press release, technology portals, industry reports, conferences/seminars, and expert/KOLs sites, etc. to derive the following intelligence.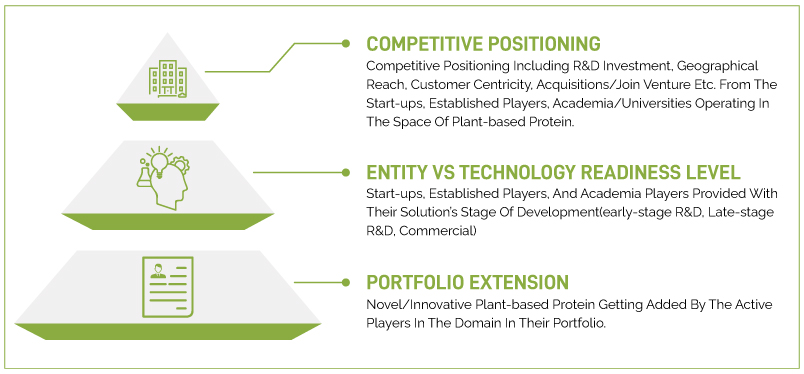 Phase III – Benchmarking

Benchmarking done was based on the technologies/solutions and key players gathered in the segment derived from the Phase I and Phase II study.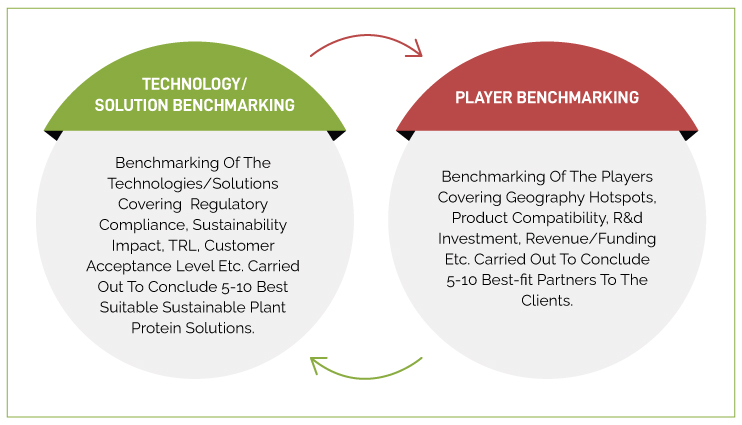 Phase IV – Opportunity Assessments & Identification of best-fit solution and partner

Conducted primary research and gathered information related to the solution provided by the different players in the domain thereby generating key insights and top solution and potential partner.
Voice of the industry – consumer records and data meta-analysis, expert/KOLs interviews, and consumer survey.
The above methodology was used to derive the following assessments.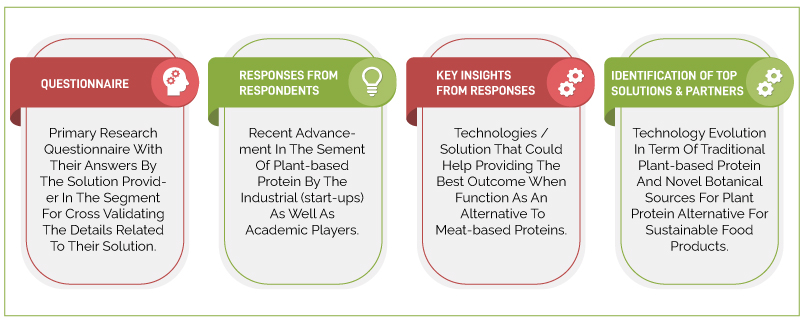 The Impact
The client's team understood the landscape of novel/inventive plant-based protein ingredients having potential to substitute the meat-based protein, technologies used in extracting plant-based protein in best possible way.
Client got the idea of using these plant-based protein sources in different food and beverage categories.
Client understood the necessary steps needed to be consider for their new plant-based protein product line.
Enabled them to understand consumer expectations and future directions.
Identified best-fit collaborators/partners to build the required competencies.