Opportunity Analysis for Generic Pharmaceutical Industry
The Challenge
Pharmaceutical companies face losses due to drug patents expiring and losing exclusivity every year. This expiration acts as a challenge for the patent holders, while on the other hand, it opens up an opportunity to enter a new market for generic manufacturers. A leading global generic manufacturing pharmaceutical company that was dealing with the same issue approached us.

Pharmaceutical manufacturers depend on their patented products for profits. When patents expire, generic versions of medications can become available. While consumers benefit from lower prices, losing patent protection can expose drug companies to increased competition.
Our Solution
Our team conducted searches with key search string sets on different patent databases to obtain a dataset of patents having priority dates of a range. The results provided the patents expiring in recent years. A drug patent term is 20 years from the date a pharmaceutical company applies for the patent. Also, it takes several years for drug development, testing, preclinical, and clinical studies before it reaches the customer. Each new drug has a five years exclusivity period. During this, no generic can come into the market. In some circumstances, a generic drug may get an exclusivity period of 180 days.

Our expiration analysis service provides pharmaceutical companies with a direction, using which they can plan to enter a new market and generate huge profits. Along with expiring patents, we provide a list of commercially available patents in the region that our client wants to enter. We also provide a market intelligence study answering regional insights worldwide. Then the client can act according to our market intelligence report.

The methodology we applied to tackle the issue is in the following flow chart: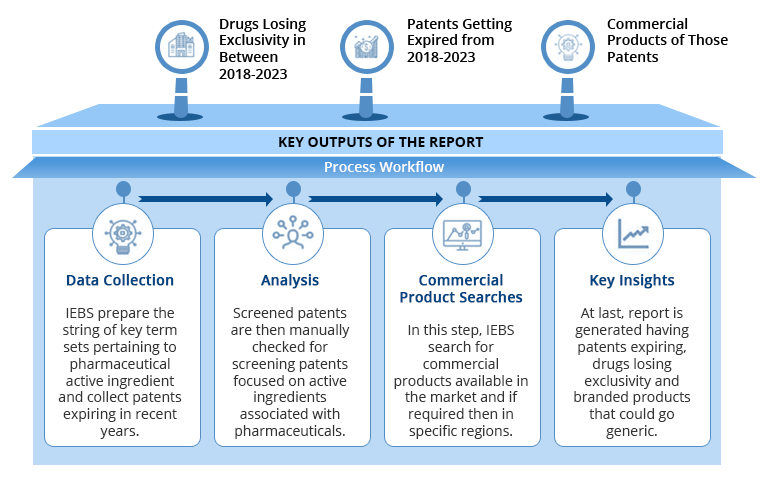 Some of the Major Drugs Losing Patent Protection:

Numerous drugs lose patent protection or exclusivity every year, creating an opportunity for generic pharmaceutical companies to enter big markets of those branded drugs. Here are a few drugs that are losing patent protection in recent years.

The Impact
Our analysis helped the client plan their pipeline with new generics to the branded drugs and each drug's potential market size.