Precision Technology for Premiumization of Pizza Segment
THE CHALLENGE
The ideal pizza can be an elusive thing at times, opening a pizza box to find a badly made pizza, consumers find it disappointing whether it be a lack of cheese, inconsistent distribution of topping, incorrect toppings all together, extra sauce, huge bubble or unequal distribution of slices.
In this segment, companies face the following challenges to meet the consumer demands:
Which are the technologies that can enable precision placement of ingredients such as flavored oil, cheese, meat, veggies used in manufacturing/processing of pizza?
What is the readiness level of these technologies?
What are the technologies coming from adjacencies (i.e., prepared meals, edible oils and fats, nutraceuticals, and other sections of food) that can be applied for precision placement in the pizza category?
Who are best-fit technology providers that can reached for collaboration opportunity?
What is the success rate/use cases of these technologies in terms of application, market and consumer behavior?
OUR SOLUTION
Our research team employed a comprehensive strategy covering secondary research, patent and scientific research to conduct the study. Following solution framework was followed to derive actionable insights for our client.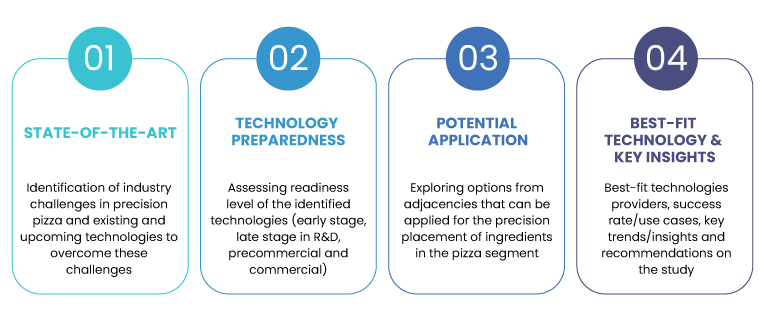 We based our solutions on the prospected challenges. Under this, we delivered solutions based on following
BUSINESS IMPACT
We have identified Robotics/Automation is the most used technology among different players for ensuring the pizza precision/uniformity. 3D printing is the next major technology used among others, for uniform deposition of sauces, cream and liquid condiments over the pizza. Artificial Intelligence mostly used as integrated technology, such as combination of AI and Computer vision or AI and Robotics to detect the patterns or designs of food products and ensure the even distribution of various ingredients.
We shortlisted few technologies based on their implementation, success stories, increased funding, adoption in restaurants/food chains along with increased attention of consumers.
We provided the client with crucial recommendations for the employment of advanced technologies to ensure precision in pizza toppings. Impact of our service bought an advantage for our client in a sense:
Client was able to identify state-of-the-art technologies from the pizza focused industries stream and adjacent industries that can enable precision deposition
Client was able to derive actionable insights to premiumize their pizza segment
Client was able to prioritize few best-fit technologies providers as an outcome of our technology benchmarking activity
Client was able to gain insights on key developments such as partnership and funding happening in the space
Client got insights on implemented success stories/use cases for few technologies to establish confidence for collaboration opportunity with technology providers