Steering by Wire in Watercrafts
The Challenge
The ongoing innovations in steering by wire technology over the last decade have promoted the incorporation of breakthroughs from different technology fields. It is difficult to keep track of all the innovations related to all the components involved in the steer by wire technology.

With the overwhelming technological advancements, companies face some significant challenges. These are:
What type of steering mechanism is used to maneuver the watercraft in a steer-wire system?
What is the type of actuators being utilized in the steer-by-wire system?
What are the additional features provided by the steer-wire system controller?
Our Solution
After conducting planned research on the subject, our professionals helped the company tackle the challenges mentioned above. The methodology applied for the same is as illustrated.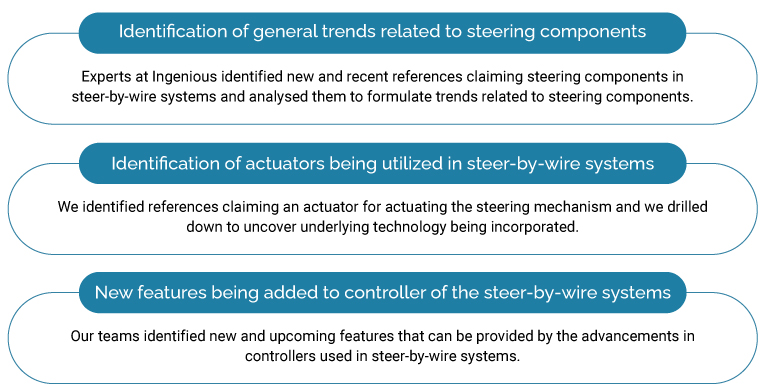 We based our searches on the prospected challenges. Under this, we delivered the analysis output in two formats.

1. Exhaustive list of Relevant Patent references:
We analyzed approximately 5000 patent references and provided an exhaustive list of patent references with their bibliographical details that were considered to be of any relevance to the study.
We provided technical categorizations for all the relevant references to highlight the aspects of the study they were relating to. This was done to provide a detailed picture of the overall technology being disclosed in each reference.
Another analysis output covered was insights generated using the data presented in the first format in a presentation format.

2. Few Insights based on analysis and data extracted for relevant references

a) Most patent references indicated a non-conventional steering mechanism.

b) It was observed that Stability control is emerging as an additional feature in steer-by-wire systems for watercraft.
Bibliographical Insights:
a) Yamaha and Brunswick appear to be the most prominent players in the domain.

b) Most of the references will expire between 2035 and 2038.
The Impact
Steer-by-wire technology in watercraft provides precise control over the vehicle's maneuvering and advanced safety-related features that were not possible with conventional steering systems. It is an important and upcoming market trend and presents a great opportunity for suppliers and OEMs.