Technology Intelligence- Polyurethanes Coating
Digitalization is shaping the day-to-day industrial operations and leading to a reduction in the overall cost of production. Companies, including the oil and gas sector, face the challenge in efficiently implementing various digitization technologies. Digitization provides a common platform for physical assets and related data captured in real-time. This data is then analyzed, visualized, and helps make business decisions that lead to greater efficiency.

At Ingenious, we provided the solutions for three prime challenges that Oil and Gas Sector faces while shifting to digitalized means of working. These are:
Identification of key requirement areas in the oil and gas sector for digitization.
Identification of critical digital technologies to help in the digital transformation and the key trends in the oil and gas sector.
Developing a roadmap for digitization in the oil and gas sector based on Economic, Technology, Market, and Regulatory aspects.
Our BI team performed intensive technology research to provide insightful solutions to digitalize various oil and gas sector operations.

The methodology the team used is centered on the main challenges listed above. We recognized the operational areas where digitalization can optimize the working in the Oil and Gas sector. These are: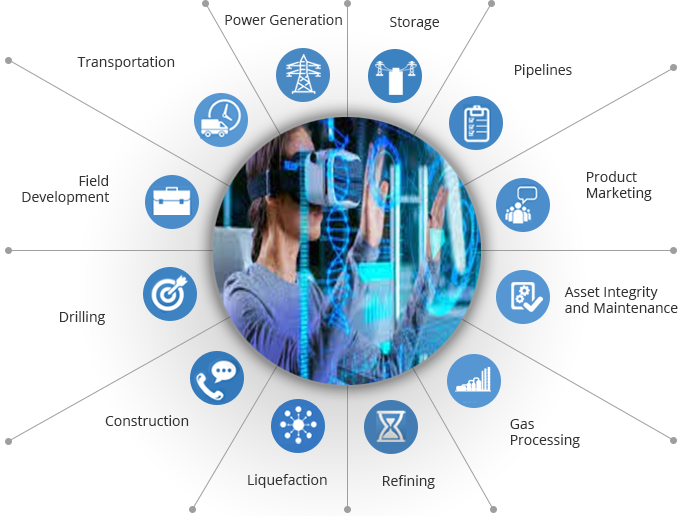 The next challenge was choosing the most suitable technology applied in the above illustrated operational domains and analyzing the oil and gas sector's key trends.

The digital technologies that the recommended to employ in the day-to-day operations are: Robotics and drones, Cloud, Big data, IoT, Wearable technologies, and Artificial intelligence. All these updated digital technologies can be proven to enhance the Oil and Gas industrial operations.

The key trends observed in technology applications are as summarised in the following infographic image: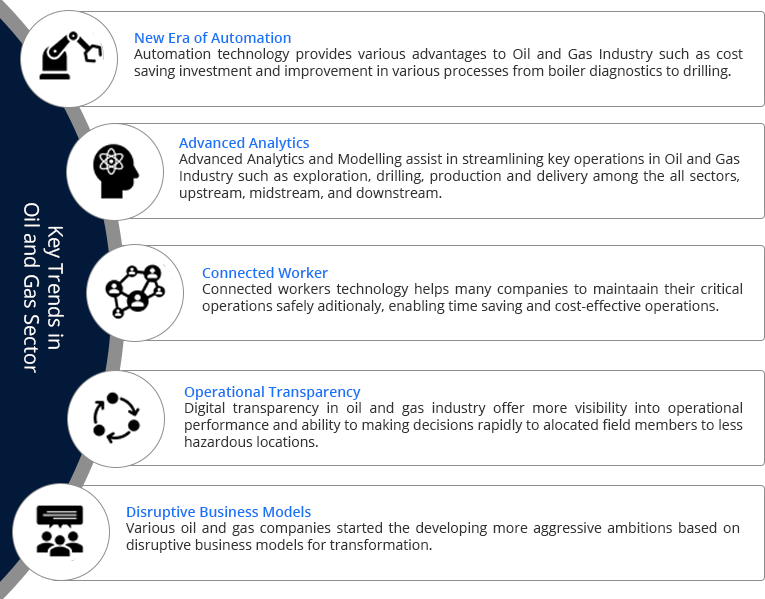 Digital transformation transforms the lifestyle of the people and also the work. It is at a comparable scale to significant industrial revolutions that occurred in the past. Digital transformation holds tremendous potential to benefit industries and society on the whole. Successful digitalization will require collaboration between industry leaders, communities, and policy-makers.

The digital transformation in the form of adoption and integration of advanced technologies in the oil and gas sector brings about many advantages. This technology integration is known to improve the operation, performance, and creates new digital platforms for customers. Along with this, it provides players with increased opportunities and a greater choice.

Our expert team makes several key recommendations in this regard. A few of them are:
Prioritizing the digitization
Making sufficient investments in the same
Adapting to the driving culture of innovation and advanced technology adoption
Adopting the systematic development approach
Collaborating and understanding of sharing-economy platforms
These insightful solutions and key recommendations helped the companies to make mindful decisions about implementing the digitalized measures in the Oil and Gas sector.