How Conversion of Ethanol Matches Concentration Level Suitable to Manufacture Hand Sanitizer for COVID-19?
The world has been hit by a pandemic disease, i.e. Novel Coronavirus, which has hugely impacted the global economy and market situation. In this current situation of the pandemic, the world is facing a shortage of hand sanitizer as it has been advised by World Health Organization (WHO) that one should regularly clean hands thoroughly with alcohol-based hand rub that kills viruses and thus reduce the chances of being infected.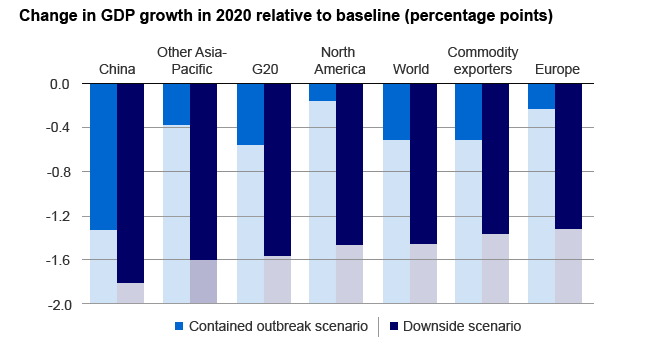 Source: Center for Economy Policy Research
FMCG companies have ramped up the production capacities of sanitizers amid demand spike due to coronavirus. Adding further, several companies present across different domains want to shift their focus on producing hand sanitizer to contribute to the shortage. Since hospitals and nursing homes desperately search for hand sanitizers, federal regulatory bodies are preventing Companies that are well equipped with the facilities in terms of equipment, and raw material availability is willing to contribute to the situation.
Challenges to Meet the Quality Measures of Ethanol for Hand Sanitizer Production
Since hospitals and nursing homes desperately search for hand sanitizers, federal regulatory bodies are preventing ethanol producers from providing millions of gallons of alcohol that could be transformed into a germ-killing mixture.
Regulatory authorities like the U.S. Food & Drug Administration (U.S. FDA) is not ready to put relaxation on regulations as it concerns public health care emergency. The challenge with the ethanol producers is that most plants make food-grade ethanol which is a step below the highest pharmaceutical-grade ethanol.
Contribution of Industries to Meet Shortage of Hand Sanitizer During COVID – 19
The strong demand for hand sanitizer in the middle of the growing COVID-19 pandemic across the globe has led many industry players to take action to manufacture hand sanitizer to fulfill the request. The governing authorities across various countries are also providing temporary licenses to companies that are capable of producing hand sanitizer in times of shortage. However, few companies are contributing to producing bulk quantities of hand sanitizer by outsourcing ethanol instead of using their ethanol as it does not comply with the measures suitable to be used on the skin.
For instance, ethanol intermediate available in the alcoholic beverage industry is not of the concentration level suitable to manufacture hand sanitizer. Adding further, these companies are not currently equipped to carry out grade conversion of their ethanol. Therefore these companies want to collaborate with players to provide food-grade ethanol to pharmaceutical-grade, which can be utilized to produce hand sanitizers in bulk quantity.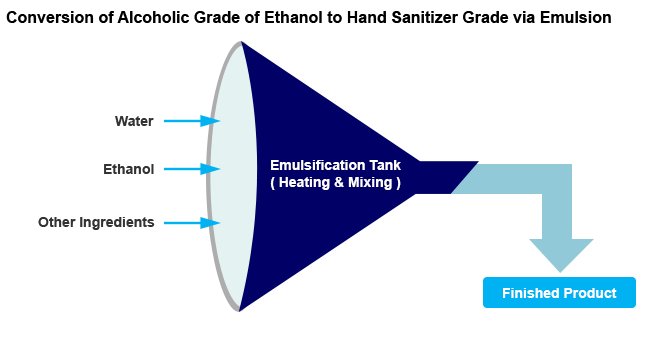 Food grade ethanol is not suitable to manufacture hand sanitizer as pharmaceutical grade alcohol is a little high in concentration which makes it suitable to kill germs and avoid infection. There is a need to convert substantially available food grade ethanol to hand sanitizer grade, which can be achieved by carrying out the emulsion process.
Emulsion: The emulsion is stood for the mixing of two or more liquids that are usually immiscible. For converting ethanol to match concentration level of hand sanitizer, it emulsified with distilled water, for which an emulsification tank is used in which an emulsion motor, heater and mixing engine is attached which helps in the emulsion of ethanol and water to convert ethanol to match concentration level of hand sanitizer.
A stabilizer is also added in the emulsification tank which stabilizes the mixture of solutions as there are very high chances for being separate from the emulsified liquid. The stabilizer is nothing but just a viscous liquid which is added in solution. A thicker continuous phase creates a drag on the dispersion phase, which decreases particle size that gives stability to the solution.
Conclusion
This blog will enlighten you with the process of conversion of ethanol which can match the manufacturing of the hand-sanitizer during this pandemic. If you are a company that wants to manufacture a hand-sanitizer to meet the demand of the market then, you can check the conversion process to use in your company.