How Is AI Optimizing Different Aspects Of FDA Submissions?
The Department of Health and Human Service's Regulatory agency is known as The Food and Drug Administration. The FDA is accountable for protecting and promoting public health through the control and supervision of food safety, tobacco products, dietary supplements, prescription and over-the-counter pharmaceutical drugs (medications), vaccines, biopharmaceuticals, blood transfusions, medical devices. FDA approval is a must for any drug to be on the market. FDA plays a crucial role in reviewing drug, medical devices, biologics before it enters the market.
The development in pharmaceuticals is a complex and lengthy process. Companies abide by the regulatory body's guidelines for the effectiveness of the drugs, vaccines, biologics, and medical devices, for which FDA submission is essential and crucial in several steps. Nowadays, companies are leveraging artificial intelligence for effective and quick submissions. The FDA is also developing a new regulatory framework to promote innovation and support AI-based technologies.
A New Strategy of FDA in Leveraging AI:
In 2017, the FDA announced a 'Digital Health Innovation Action Plan' to outline its strategy to implement useful healthcare technologies and promote AI-based applications in research and development. Furthermore, the FDA is encouraging initiatives to develop and implement advanced predictive models in streamlining the drug review process. With an adequate regulatory framework, safe and effective therapies can be discovered, developed, and marketed much faster than ever.

Traditionally, the FDA evaluates medical devices through a suitable premarket pathway, such as De Novo classification or premarket approval. The FDA may also analyze and clear modifications to medical devices, including software as a medical device, depending on the importance of risk posed to patients of that modification. Learn the current FDA guidance for a risk-based approach for 510(k) software modifications. The FDA's traditional medical device regulation paradigm was not intended for adaptive artificial intelligence and machine learning technologies. Under the FDA's current approach to software changes, the FDA anticipates that many artificial intelligence and machine learning-driven software modifications to a device need a premarket review.

On April 2nd, 2019, the FDA issued a paper, "Proposed Regulatory Framework for Modifications to Artificial Intelligence/Machine Learning (AI/ML)-Based Software as a Medical Device (SaMD) – Discussion Paper and Request for Feedback." This explains the FDA's foundation for a possible way to premarket review for artificial intelligence and machine learning-driven software modifications.
Exploring the Role of AI
Today, AI technologies are more broadly used in the pharmaceutical industry to enable its extensive review of scientific and medical literature. The FDA sees tremendous potential in technologies such as machine and deep learning in healthcare.
Strong interest in using automated technologies is rapidly unfolding across the pharmaceutical and biotechnology industries. AI is extensively spreading in healthcare, and automation in different aspects of healthcare has been seen.
Automating Clinical Trials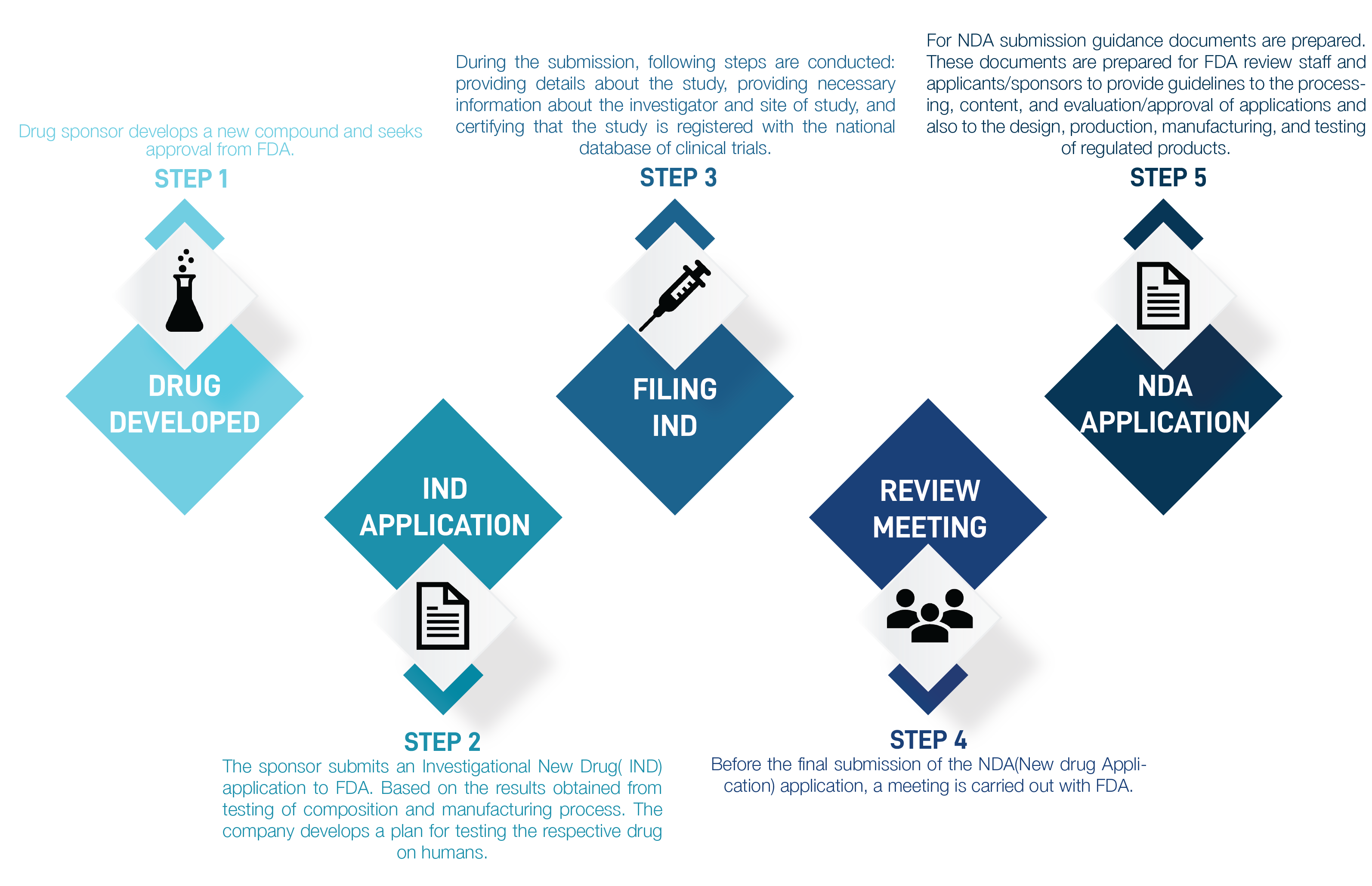 Companies are using AI in CSR writing. CSR is the companies generated reports called Clinical Study Reports. These are massive reports which are included in the submission kit. AI technology speeds up the writing of CSRs by pulling data from previously written research documents (such as the experiment protocol, statistical analysis plan, and charts, listings, and figures) and integrating it into the appropriate positions in the CSR.
To reinvent trial design, biopharma companies are employing a variety of techniques. Trial design has been energized by an influx of science and testing evidence, such as current and previous clinical trials, patient care programs, and post-market monitoring. Artificial intelligence (AI)-enabled technologies to have the unrivaled potential for collecting, organizing, and analyzing the growing body of data produced by clinical trials.
By automating data collection, digitizing traditional clinical evaluations, and exchanging data through networks, AI algorithms track and handle clinical trials. Continuous patient tracking and real-time insights into the safety and efficacy of care and the possibility of dropouts are made possible by AI algorithms combined with wearable technology, resulting in increased participation and retention.
Trials produce many operational data, but functional data silos and disparate networks can make it difficult for organizations to see their entire clinical trial portfolio across several global locations. Consolidating all data on a common analytics platform, backed by open data principles, will promote collaboration and convergence while also providing insights into key metrics.
Companies focus on AI-driven master data management (MDM) to enable clinical trials to go much faster by providing 360-degree clinical trial views. The best way to govern the quantities of structured and unstructured data at the heart of vaccine research is to use AI-driven enterprise data management. This provides researchers with clean, high-quality, and trustworthy data to produce results that support rapid path clinical trials.
A team of MIT applied machine learning to help find a new antibiotic-resistant bacterium-targeting drug. To target Alzheimer's disease, researchers used a clinical trial modeling tool. Clinical trial design can be done with the method, which includes computational components for drug modeling.
Bayer, one of the top players in the pharmaceutical industry, is using artificial intelligence to perform virtual clinical trials using home delivery of medical supplies, electronic consent forms, and telemedicine. Other devices, such as wearables, provide continuous access to real-time data, reducing the need for in-person visits. Pharmaceutical firms such as Johnson & Johnson, Pfizer, and Novartis have recently announced AI-related clinical trials initiatives.
DYNAMIKA is a cloud platform developed by IAG Image Analysis Group for robust imaging data management in multi-center trials and central evaluation. This platform is a single software framework that allows pharma companies to manage trial progress, perform significant reads, and use built-in AI for earlier read-outs and decision support when required.
Automating Submission by AI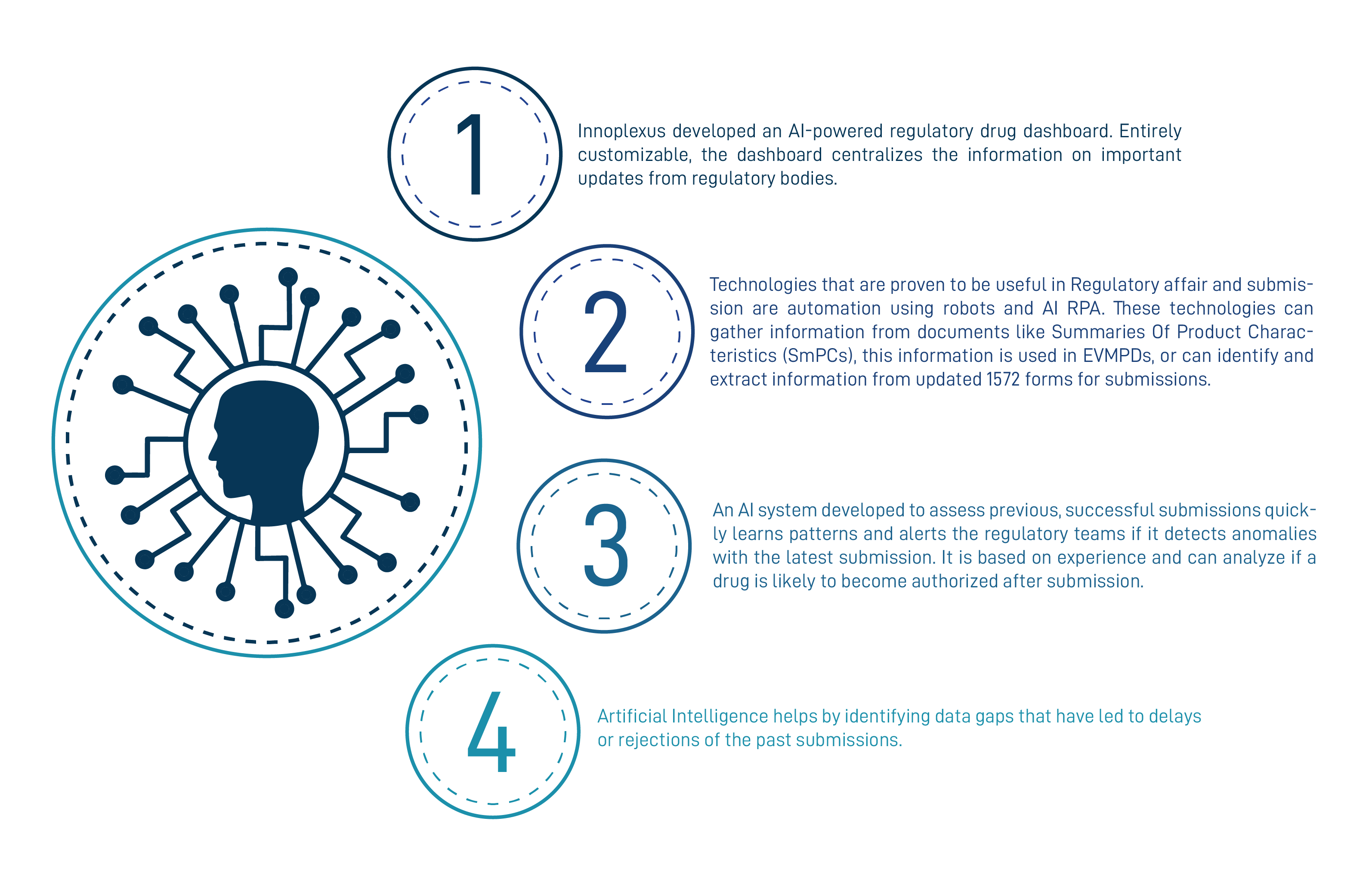 In a pharmaceutical company, one of the critical roles in drug approval and marketing is regulatory affairs; the primary function is to keep companies in compliance with changing guidelines, which requires continual monitoring of the latest industry updates. Companies are using different ways for submissions, for instance,
Innoplexus is an AI-based company that developed a tool, particularly for regulatory affairs, an AI-powered regulatory drug dashboard. Entirely customizable, the dashboard assembles the information on essential updates from regulatory bodies, including FDA, EMA, TGA, Health Canada, Medsafe, CHMP, PRAC, etc. It can deliver warnings regarding the latest global, federal, and state legislation. With this dashboard, the regulatory unit can assess the drugs in the market and create well-informed strategies.
Industries are using RPA (Robotic Process Automation) and AI to gather information from documents, for instance, summaries of product characteristics (SmPCs) for use in EVMPDs (EudraVigilance Medicinal Product Dictionary) or to identify and extract updated 1572 forms for investigator submissions
Advanced AI systems provide real-time data to optimize regulatory affairs' workflow to investigate new and existing federal laws affecting drug development processes.
With AI, it is possible to provide regulatory affairs experts with an update concerning the latest global, federal, and state legislation. With this dashboard, the regulatory team can assess the medications' medications and create well-informed strategies for the submission process.
In March 2021, Saama, an AI-driven Intelligent Clinical Cloud company, announced a partnership with Oracle to combine Saama's intelligent applications with the Oracle Health Sciences Clinical One platform. Samaa introduces Smart Auto Mapper, an application that automates the ingestion, visualization, and transformations required to translate raw and disparate source system data into a single standard, such as SDTM, for analysis and regulatory submissions. Clinical data programmers and biostatisticians will benefit from the Smart Programming Analytics & Computing Environment. It provides them with an extensive range of resources in a safe and validated environment for exploratory research and regulatory submission.
Artificial Intelligence in FDA Submission: Future Perspective
By tapping gaps in the data, AI can detect regulatory dossier irregularities that might be holding up product approval. It is challenging for an individual to spot where data or metadata may not be stacking up in thousands of pages of a submission manually. AI can assess previous successful bids, AI can learn patterns and alert the regulatory teams about defects in anomalies with the latest submission, and can analyze whether a drug or vaccine is likely to become authorized or not.
The introduction of artificial intelligence (AI) has shown many positive changes in the industry; consider the cultural and technological changes, AI is the future of FDA submissions. The most severe concern about AI is that it could eventually replace human workers. However, it is more likely to remove duties rather than work, and it will aid people in their current roles, perhaps also encouraging them to extend their responsibilities.
Writing regulatory documents to innovative artifacts that can censor sensitive data in publications is currently the most effective use of AI in regulatory affairs. This is focused on AI's ability to view sensitive data automatically while creating performance reports for submissions. Artificial intelligence will be a significant advancement in regulatory submission, as the automation of electronic submissions and document management systems will eliminate the need for consultants.