Artificial Intelligence in Medical Imaging Market – Global Industry Analysis, Size, Share, Growth, Trends, and Forecast, 2021 – 2027
1.Market Overview:
According to Ingenious E-Brain market study for the Global Artificial Intelligence in Medical Imaging market is predicted to grow at a Compound Annual Growth Rate (CAGR) of 39.8 percent over the projection period of 2021 to 2027.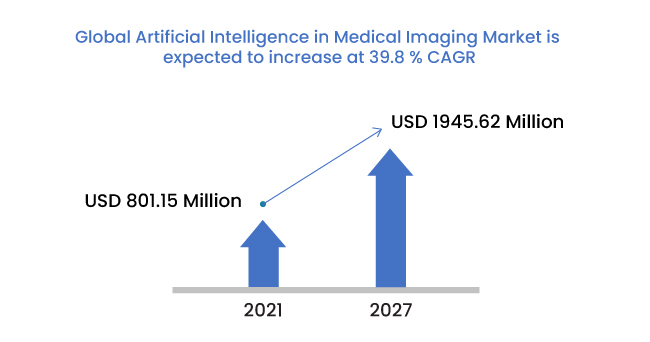 During the years 2019-2021, the worldwide AI in medical imaging market grew. According to predictions, the market will skyrocket in the following five years, from 2022 to 2027.
The worldwide AI in the medical imaging market is predicted to grow as the prevalence of chronic illnesses rises, health spending rises, AI investment rises, government spending and policy support rise, and so on.
However, the market confronts several obstacles, such as development constraints and AI's black-box characteristics.
Furthermore, many market trends such as increased variety in training datasets, diagnosing multiple illnesses from a single image, and high image quality to enhance algorithm performance will help the market develop.
One of the primary factors driving market expansion is the introduction of technologically enhanced imaging equipment. One of the primary reasons expected to contribute to expanding product demand throughout the projected period is the increasing adoption of modern AI-enabled diagnostic tools for speedy diagnosis and predictive analysis in developed nations.
The report on the Global Artificial Intelligence in Medical Imaging Market provides a comprehensive analysis of the industry. The research includes a detailed analysis of major segments, trends, drivers, constraints, the competitive landscape, revenue possibilities, modifications in market rules, product approvals, strategic choices, product releases, geographical developments, technical developments and other important market variables.
The Impact of the Russia-Ukraine Conflict in 2022:
Negative consequences are expected internationally, particularly in Eastern Europe, the European Union, Eastern and Central Asia, and the United States. This dispute has had a significant impact on people's lives and livelihoods, as well as causing significant commercial disruptions. The international economy is anticipated to suffer as a result of the prolonged war and instability in Eastern Europe, with Russia bearing the brunt of the consequences in the long run.
This study examines the influence of demand and supply, pricing variations, vendor strategic adoption, and suggestions for the Artificial Intelligence in Medical Imaging market, taking into account the most recent information on the war and its worldwide reaction.
Market Dynamics:
Drivers:
The expense of chronic illness is continuing to increase
Increased health-care spending
Increased investment in artificial intelligence
Innovation and technological advancements
Rise in medical imaging demand
Expanding government spending and policy assistance
A growing number of cross-industry alliances and partnerships
Restraints:
Medical professionals' resistance to utilize AI-based technology.
Challenges:
Obstacles to Development
The Difficulty of Defining Business Use Cases for Acquisition
Insufficient training data sets are available
AI's Black Box Characteristics
Trends:
Approaching Superhuman Disease Diagnosis
Diversification of Training Datasets
Numerous Diseases Diagnosis from a Single Image
High-resolution images boost algorithm efficiency
Competitive Strategic Vision:
The Competitive Strategic Vision examines the competitive landscape of Artificial Intelligence in Medical Imaging Market in terms of businesses, technologies, and regions to assist the supplier in determining a match or alignment between their strengths and future growth potential. It describes the best or most advantageous fit for vendors to implement consecutive merger and acquisition plans, regional expansion strategies, research and innovation strategies, and new product introduction approaches to execute future business advancement over a foreseeable time.
During the study, the market's leading participants identified are:

Key Developments:
Microsoft Corporation, NVIDIA Corporation, Siemens Healthineers, GE Healthcare, and IBM Corporation are among the leading providers of AI in medical imaging. They are integrating AI with product enhancements to help them increase their geographic footprint. Inorganic expansion tactics such of strategic alliances and mergers and acquisitions with technology partners are also being used by firms providing AI in medical imaging to increase their offerings and market presence.
Some of the key developments in the market are:
June 2021- Avicenna.AI announced FDA approval for its CINA-LVO, CINA-ICH, and neurovascular emergencies applications on the Nuance AI marketplace in June 2021. This is the first and largest gateway in the United States that provides one-stop access to a wide range of AI diagnostic models within the radiology reporting platform.
June 2021 – VUNO Inc., a South Korean AI company, established a strategic agreement with Samsung Electronics to integrate VUNO Med-Chest X-ray, which is AI-powered, into the GM85, Samsung's mobile digital X-ray system. With access to the worldwide market, this partnership should help VUNO expand its portfolio of market-ready AI solutions.
August 2021 – GE Healthcare has launched Edison True PACS, a diagnostic imaging and workflow system designed to help radiologists become more efficient and precise while keeping capital and IT resources under control.
November 2021 – Arterys Partners with Cercare Medical to offer the most comprehensive Neuro AI Suite on the market covering a broad set of applications in neuroradiology.
Market Segmentation:
The Global Artificial Intelligence in Medical Imaging Market is segmented into technology, offering, deployment method, application, clinical applications, and end-user.
The growth of these segments will help evaluate small growth segments in the industries and give users with important market overview and industry insights to assist them in making strategic choices for core market application discovery.

Global Artificial Intelligence in Medical Imaging Market, By Geography:
Because of its technologically sophisticated healthcare infrastructure and high disposable income, North America and Europe lead the artificial intelligence in medical imaging industry.
Due to quickly growing healthcare infrastructure in countries such as China, Indonesia, and India, Asia-Pacific is predicted to lead the artificial intelligence in medical imaging market.
Furthermore, the existence of a large patient pool will create demand for improved healthcare services, build healthcare infrastructure, and drive disposable money, all of which will promote the region's continued expansion of AI in Medical Imaging.
Moreover, expenditure in the healthcare industry has increased. The region's economies are increasingly focusing on building strong healthcare systems to identify and cure patients.

Critical Questions the Report Answers:
What is the global market size and forecast for the Artificial Intelligence in Medical Imaging, to identify potential investment opportunities?
What are the major drivers, restraints, and opportunities, as well as an evaluation of their influence on the Global Artificial Intelligence in Medical Imaging market?
What are the key application trends of Global Artificial Intelligence in Medical Imaging in the last few years and across various geographies?
Who are the top solution providers of Artificial Intelligence in Medical Imaging in the market?
Which region has the largest share in the Global Artificial Intelligence in Medical Imaging market?