Blog » Innovative technologies promoting sustainability by making vegan meat more appetizing and nutritious
Innovative technologies promoting sustainability by making vegan meat more appetizing and nutritious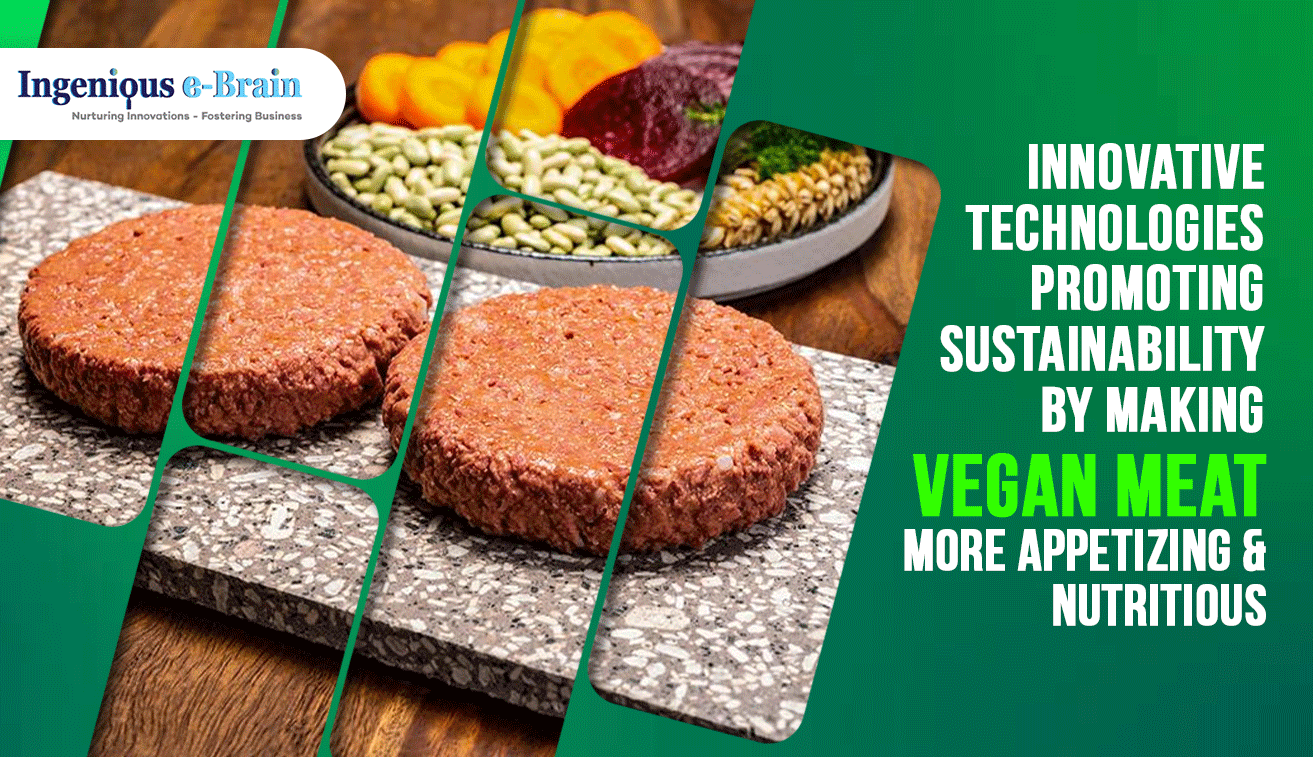 Influences on food consumption patterns have now transited from the domain of nutritive value & sensory satisfaction to environmental considerations. During the last few years, the Food and Agriculture Organization (FAO) has been asserting to build a more healthy and sustainable food system. Consumers have also been rapidly shifting towards plant-based meat alternatives. Based on the systematic investigation, 52% of Americans have been trying to incorporate more plant-based edible items into their diet. Such a radical transition is witnessed owing to the consumers' perceived health, sustainability benefits, and an increasing desire to inculcate something unique in their diet.
Multiple complications are encountered while bringing palatable vegan meat to the table
Manufacturing plant-based protein products equivalent to traditional meat in terms of taste, texture, purified protein content, shelf-life, and stability; is a grave challenge for innovators aiming to satisfy mainstream consumers' expectations. Moreover, developing functional components and technological solutions to formulate vegan meat can be expensive & demanding as compared to the time, cost, and effort employed in processing real meat. Lastly, the preparation of base mixes for alternative meat products is an arduous task, as it contains more than thirty components with varying physical properties, including moisture, density, particle size, and rheology.
Different novel technologies offer distinct solutions to accelerate the adoption of vegan meat
To combat all these barriers obstructing the way toward the global commercialization of vegan meat, multiple food companies have introduced & adopted several innovative technologies and solutions. Taste, texture, and nutritional value are the three key attributes that depict meat quality; thus, masking all the undesirable pigments & flavors, enhancing the color, and incorporating a rich, juicy taste in a vegan meat product can improve its quality. A well-designed & customized twin screw extrusion system equipped with specialized cooling die technology is employed to deliver the finest quality texturized vegetable protein (TVP) and high moisture meat analogues (HMMA) products. A novel technology, known as Extrudable fat technology, is recently formulated to mimic the juicy & authentic texture of animal flesh in plant-based meats. The technology enables the precise extrusion of fat and proteins to create a cohesive mixture. Otherwise, fat usually would turn into a liquid after surpassing a particular value of temperature & pressure.
With the advent of technology, digital transformation penetrates nearly all sectors, promoting automation in the industrial production & processing departments. To imitate the texture and flavor of animal-based products, novel combinations of plant ingredients would be determined through Artificial Intelligence and Machine Learning. Lastly, a food product appears delectable with its respective predefined color. Therefore, peculiar technologies are accessible to develop process-specific edible colorants made from plant ingredients.
Futuristic trends to meet the burgeoning demand for plant-based protein products
Several new innovative technologies are being introduced frequently to accelerate the global adoption of vegan meat in the regular diet. One of the superior technologies currently in the developmental phase is Plant Molecular Farming (PMF). This novel approach, if launched commercially, can significantly meet the rising needs of the population for high-protein consumables. Using this novel approach, animal proteins can be mass-produced without facing any land crisis. It is like precision fermentation, but the key difference is that plant cells are used instead of bacteria or fungi in PMF.
Conclusion
Considering this crucial information, the plant-based meat sector will drive the world toward sustainability. Some leading factors that stimulate carbon neutrality are a robust shift in the consumers' dietary habits, environmental pressure, and the development of novel and highly effective vegan meat production & processing technologies. However, the food & beverages market needs to further slash carbon emissions to a greater extent, which can be reached through the accelerated adoption of these technologies by numerous established food industries and start-ups.
Article by Ingenious e-Brain Solutions :-
Contact us :-
US Office:-
4 Heinrick Way Bridgewater,
New Jersey 08807, USA
Phone:-
+1 347 480 2054
+1 202 697 9162
India Office:-
207-208 Welldone TechPark, Sohna Road
Sector 48, Gurugram,Haryana 122018, India
Phone:-
+91 124 429 4218
Email:-
queries@iebrain.com