Key Reflections on Patent Trolls
Patent trolls, also known as non-practicing entities (NPEs) or Patent Assertion Entities (PAEs), do not produce any products that are covered by the patented technologies. These players mint money by licensing patents procured from others and demand license payments from users of products covered by the patents. As a result, proving infringement is difficult for such businesses because they do not have their product line. Patent trolls frequently file lawsuits against individuals or companies who use products that are even substantially related to their patented product.
Trolling has become a severe problem, with small businesses, large companies, enterprises, and individuals bearing the cost because of numerous lawsuits strategically designed against them. Even if they don't believe there is any infringement, many corporations prefer to settle as the risk of losing infringement litigation and having to pay millions of dollars is too risky. As the expenses of defending patent lawsuits arise, the trolls' bargaining power rises as well.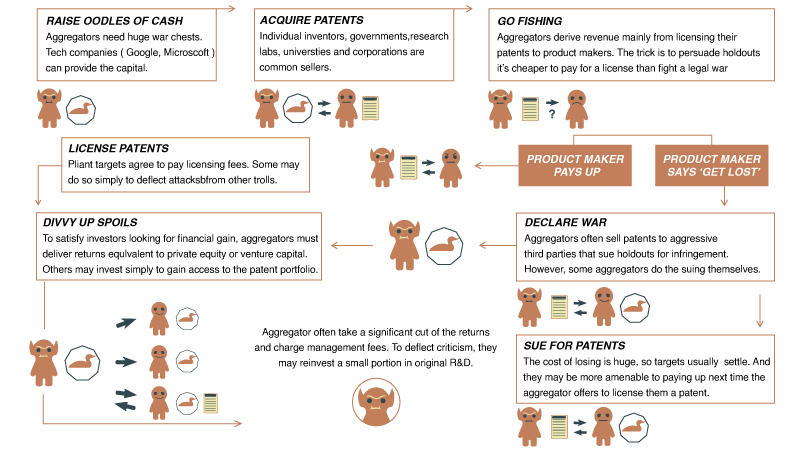 Patent Trolling Scenario
Patent troll litigation has plagued the high-tech and electronics industry for years. Rapid technical advancement has brought considerable wealth to the business since the 1980s, enticing certain companies to file lawsuits to get benefits in terms of revenue generation. Patent trolls, on the other hand, are progressively infiltrating the biotech and pharmaceutical industry as well.
Apple Case Study for Understanding Patent Trolls
Apple, one of the largest phone manufacturers is regularly sued for infringement. With a new lawsuit based on wireless charging patents developed by Korean tech giant LG, Apple is once again in the spotlight of a non-practicing entity. In its complaint, LG demands an injunction against infringing devices, damages, royalties, and court fees.
Invasion of Patent Trolls in Biotech Industry
Entry of patent trolls into the biotech sector has changed the shape of the future for many companies. In one of the cases, Hayman Capital Management (NPE) lost a litigation case to "ACORDA THERAPEUTICS" over "Ampyra" a multiple sclerosis drug. Hayman Capital Management has also lost a case where the company tried to invalidate Biogen's Tecfidera patent but was unsuccessful in doing so.
According to a survey by legal firm Steptoe & Johnson, there were just nine medical device patent infringement cases in 2009, which rose to 93 by 2014. Another insightful information revealed by February article from MD+DI, that one of the largest biotechnology corporations, "MEDTRONIC", transferred 500 of its patents to an NPE called "ORTHOPHOENIX LLC", which has promptly filed six patent infringement claims against other orthopedic companies. So, is it possible to conclude that Medtronic could be playing some role in patent trolling?
Conclusion
To sum up, it is rightly said there is a storm on its way. It's a safe bet that major, well-funded patent aggregators will continue to build out their portfolios and prepare for the strike, especially considering the number of patents on the rise.
What IEBS Can Do for You?
While firms devote a tremendous amount of effort and money in preserving their intellectual property, they frequently overlook the value of IP commercialization.
Ingenious' team is committed in identifying deal-driving patents and developing a meaningful approach for businesses that is cost-effective. Before the launch of any product, we can assist you to devise an approach to determine future potential and risk assessments by identifying potential non-practicing entities in the respective domain. To reduce the risk of infringement, we can conduct freedom-to-operate/clearance searches and other relevant studies. For further assistance, let us know by filling this form: