Industry News » Latest AI Platform to Collaborate With Health Staff Hand in Hand
Latest AI Platform to Collaborate With Health Staff Hand in Hand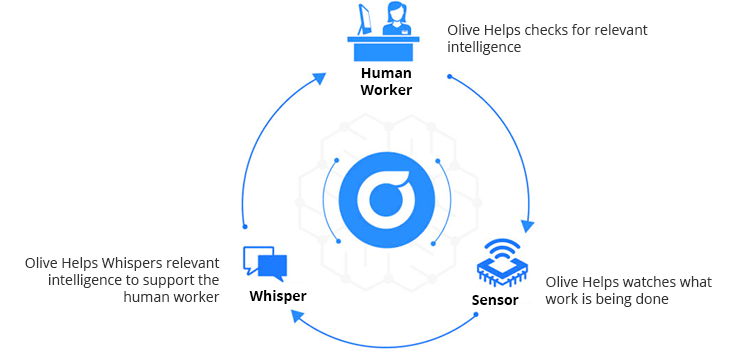 Olive has revealed the latest breakthrough in a groundbreaking platform to better handle administrative health staff's critical activities across virtually all facets of the care system: Olive Helps. Olive allows healthcare workers to work more efficiently and intelligently.
About Olive
Olive Helps is like an AI-driven companion that senses human worker's needs and provides essential, personalized information and its environment. The best details for the right person at the right time. Simply put, Olive helps make human employees superhuman employees.
Olive Helps explain and refine human activity by building and accessing what is considered a cybernetic loop in the olive loop library – think App Store. Such loops tie together the intellect of healthcare providers and technologies around the nation – Olive Helps function primarily is to make the healthcare industry more intelligent.
Olive's profound healthcare experience helps her shed fresh light on the dysfunctional systems between caregivers and excellent patient treatment. Olive's call is to boost the performance, affordability and humanity of our industry. With AI, she's on a pioneering healthcare quest.
Need for Olive in the Healthcare Industry
The last six months raised the need for the AI staff to ensure financial continuity and provide superior patient care in the capacity-stricken health sector.
As healthcare facilities around the country are trying to streamline their procedures and revitalize finances without disrupting patient care, more than 600 hospitals and healthcare facilities have focused on AI for operations supplement and logistical assistance.
Potential Impact of Olive on the Healthcare Industry
The remnants of revolutionary technology have been held for years by healthcare. The introduction of Olive Helps will no longer mark a new age for AI and cybernetics in healthcare.
It is the next step on a long journey to create capacity that will provide our healthcare workers with value, solutions and services which sacrifice much for industry development.
The Olive Helps platform will provide us with a better, more efficient healthcare system for everyone and we cannot be more impressed.
It is transforming health workers into superhuman professionals employing real-time knowledge that increases their jobs' efficiency, speed, and effect.
Olive builds on this expertise to discover innovative avenues of transforming healthcare such as waste detection, quality monitoring and human potential through AI.
Health workers are stuck in long-term tasks such as prior authorizations, patient checks, billing, procurement and more.
By constantly learning from the clues in their environment, Olive Helps minimizes the time required for these tasks and provides targeted workers with more useful and quick results in hospitals and health systems – at a time that employees are more valuable than ever before.
"Olive Helps is a game-changer for us as we plan for 2021," said Debra Lowe, Head of Revenue Cycle at The Ohio State University Wexner Medical Center. "We are excited about the wide range of operational applications for Olive Helps. Our first use cases will be within the revenue cycle, but our clinical users will find this tool equally valuable. In our world, I can see it replacing the plethora of Post It notes and OneNote notebooks that our staff access throughout the day."
Other Products of Olive
Olive Works: the AI workforce, which automates large-scale, voluminous processes through the revenue cycle, supply chain, IT, human resources, financing, accounting, pharmaceutical operations and clinical transactions, operates alongside Olive Helps is just the latest product capability in Olive's expansion.
Olive Work becomes a vital infrastructure for hospitals in 2020, balancing personnel and processing unprecedented data loads with minimal resources.