PAPER BATTERY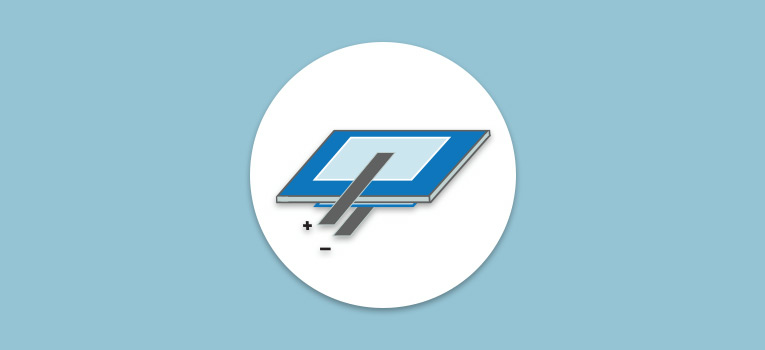 INTRODUCTION:
Batteries are an essential part of everyday life. There is no single day that we do not use a battery. Every gadget works on a battery, from a mobile phone to an Automatic electric vehicle. In the battery industry, the Paper Battery is the remarkable invention.
A paper battery is an electric battery with thin, adjustable energy production and storage devices that combine carbon nanotubes and a conventional sheet of cellulose-based paper.
Paper batteries are functionally like other conventional chemical batteries. The significant difference is that they are non-corrosive and do not need widespread housing. Paper batteries are more adjustable and environmentally friendly than other batteries.
Paper Battery is the concept developed by Dr. Robert Linhardt, Dr. Omkaram Nalamasu, and Dr. Pulickel Ajayan at Rensselaer Polytechnic Institute, In August 2007. Yi Cui and his team successfully made an actual prototype that gave a terminal voltage of 1.5 V, at Stanford University, In December 2009.
COMPONENTS USED IN PAPER BATTERY:
Following are the components used to construct the paper battery.
Cathode: Carbon Nanotube used as Cathode
Anode: Lithium metal (Li+) used as Anode
Electrolyte: Electrolytes like urine, blood, and sweat are used as electrolytes.
Separator: Cellulose or Paper used as a separator
PRINCIPLE:
Paper Batteries produced electricity just like conventional lithium battery, but the components have been placed on an ultra-thin, flexible, lightweight sheet of cellulose-based paper.
This Device is incorporate by combining carbon nanotubes with cellulose.
The electrolyte and ions that carry the charge can vary depending on the Battery's use.
In Paper Batteries, Lithium is used as anode and carbon nanotubes as Cathode, and cellulose is used as the separator.
Due to the chemical reaction of electrolytes and carbon, electrons are generated. Similarly, ions are generated due to the chemical reaction between electrolytes and metal. These generated electrons will flow through the Cathode to the Anode from the external circuit.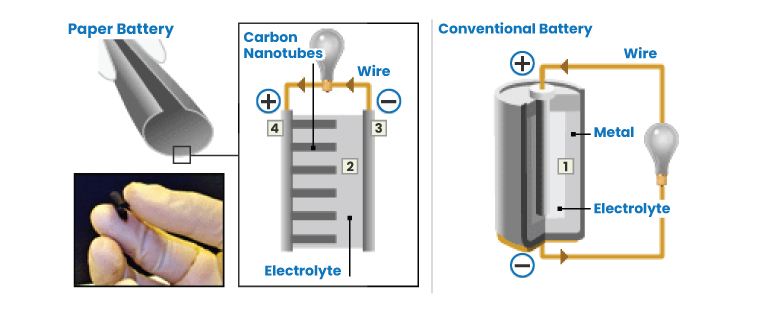 ADVANTAGES OF PAPER BATTERY:
Paper Batteries are thin, rugged, and flexible; lightweight and can be cut, rolled, and made in any shape.
Paper Batteries are non-toxic and environmentally friendly; hence, they can power a pacemaker.
Paper Batteries provide steady power, and they can be available in many shapes.
The cost of Paper Batteries is low, and they can be easily disposed of.
Paper batteries can also produce 1.5 V energy and be recharged
LIMITATIONS OF PAPER BATTERY:
Carbon nanotubes used to construct Paper Batteries are costly.
Inhaling the Paper Battery will Damage the lungs. So, it is hazardous to human health.
Cellulose has insufficient shear strength, so the paper Batteries have low power, and they can tear easily.
Paper batteries can generate E-waste.
APPLICATION OF PAPER BATTERY:
Paper Batteries show many favorable applications where size and shape are necessary. Most modern electronic gadgets like digital watches, smart cards, etc., need ultra-thin batteries which are non-toxic, flexible, and long-lasting. The Paper battery can be twisted, folded, and cut into any desired shape without dropping its efficiency. The applications of Paper batteries are given below.
Paper Battery is used in wearable technology like Google Glass, Wearable Biosensors, Wearable computers, etc.
Paper Battery is Used in entertainment devices. Also used in tags and smart cards.
Paper Batteries are used in pacemakers due to their non-toxic, environment-friendly, and biodegradable nature.
Paper Battery can be Ideal for aircraft, automobiles, and remote-controlled Devices.
PAPER BATTERY-FUTURE POWER SOURCE:
An energy crisis is one of the critical issues plaguing the planet. Every country and individual require energy and power. And this problem, which affects affluent countries, affects developing countries like India considerably more severely. Paper Batteries can provide an entirely path-breaking answer to a situation where there can't be a day without power in the present.
Paper Battery can act in both ways, Battery as well as a supercapacitor. A fragile, flexible paper battery can be used as a power source for many devices. Scientists have developed batteries of different sizes, i.e., slightly larger, to illuminate a bulb. These Paper batteries can be a power source for next-generation electronic device/gadgets. Also, we can expect paper batteries to power up a car in the future.
Paper Battery is working on developing ultrathin supercapacitor technology for cloud computing, medical technology, and personal electronics. The paper-thin technology extends the life of lithium batteries and allows them to charge more quickly. Companies can utilize smaller batteries with supercapacitors without sacrificing energy or performance.
CONCLUSION:
The paper battery is made of any size and shape. Thin, non-toxic, lightweight, flexible paper batteries can power future electronics, hybrid vehicles, and medical devices. In comparison, these batteries are rechargeable and have less cost, advancing new applications for the paper battery. Paper batteries can fulfill all the requirement like conventional batteries with additional advantages. In the future, the application of Paper Batteries will increase due to their extra features.