Service Description
Ingenious E-Brain Now in Top 10 IP Firms
Gurgaon, India August 2, 2017, it is our immense pleasure to announce that we are now on the top 10 Intellectual property firms of India rated by leading IP magazine SiliconIndia.
Company Director Dr. Deepti Tayal is featured on the cover page for her significant contribution towards the industry.
At Ingenious e-Brain (IEBS), we believe in innovation and technology used with the right skill set always delivers the best results. We provide solutions that allow our clients to attain a smart, precise and fast decision so that they can achieve their goals fearlessly.
Ingenious has strived to deliver the most optimum business solutions. According to our Director Dr. Deepti Tayal, "At Ingenious our main goal has always been to deliver value to our customers".
We would continue to foster business and nurture innovation as we grow and help our clients grow.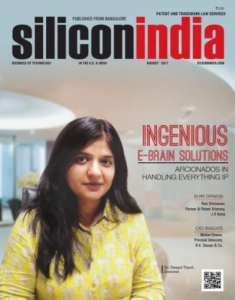 About Ingenious E-Brain Solutions
Ingenious e-Brain Solutions provides high-quality, customized and cost-effective Intellectual Property Research, Business Research and Market Research solutions to industry leaders, law firms and innovative companies across the globe. Innovation, knowledge and transparency form the basis of our company's mission and vision. Along with cost benefits, we provide highest quality patent search results ensuring full-proof confidentiality and security. Since our inception, we have conducted patent studies covering over 100 jurisdictions. We are an ISO certified company with offices in India and USA.
For more information about the release, click below: