Internet of Medical Things
According to Ingenious E-Brain market study for Internet of Medical Things market is expected to grow at a CAGR of 23% to from 2021 to 2030.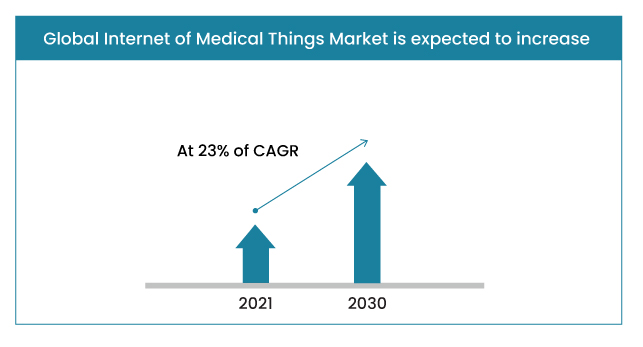 The Internet of Medical Things (IoMT) is being used by the medical industry to improve work performance by utilising IoT-linked equipment. Organizations and hospitals are using technology to keep track of patients and examine them remotely.
Through linked devices, the Internet of Medical Things (IoMT) is widely used in patient monitoring applications. IoT device implementation in healthcare procedures enhances the productivity of healthcare professionals and processes.
To enhance the effectiveness of solutions, IoMT solution companies are offering software products, technology for medical devices, healthcare systems, and technical services. These linked devices assist in the collection, generation, analysis, and transmission of data to a centralized system for further processing.
The global Internet of Medical Things (IoMT) market is predicted to develop in response to an increase in demand for smart devices in the healthcare sector. This would continue to hold the market's future bright and promising.
The report on the Global Internet of Medical Things (IoMT) Market provides a comprehensive analysis of the industry. The research includes a detailed analysis of major segments, trends, drivers, constraints, the competitive landscape, revenue possibilities, modifications in market rules, product approvals, strategic choices, product releases, geographical developments, and technical developments and other important market variables.
Impact of Covid-19:
The COVID-19 outbreak is projected to have a favourable influence on the Internet of Medical Things (IoMT) market expansion since the medical industry is expected to experience a substantial technological shift as a result of the outbreak.
The demand for IoMT has grown due to a shortage of resources across healthcare institutions and end-users' desire for consulting and receiving treatment via digital media to avoid infection and virus transmission. Furthermore, the government's focus on remote health monitoring, as well as the medical industry's preference for it, is going to act as a growth catalyst.
Market Dynamics:
Drivers:
The growing cost of IoT adoption in the healthcare industry
The healthcare industry is becoming digitised and automated.
The demand for lower medication delivery costs is increasing.
The use of linked gadgets is becoming more common.
Restraints:
Healthcare organizations lack sufficient IoT technology expertise.
Opportunity:
High-Speed Connectivity Advancements on the rise
Improving the quality of healthcare in impoverished nations
Costly deployment of required infrastructure and associated medical equipment
Challenges:
Costly implementation of required infrastructure and associated medical equipment
Competitive Strategic Vision:
The Competitive Strategic Vision examines the competitive landscape in terms of businesses, technologies, and regions to assist the supplier in determining a match or alignment between their strengths and future growth potential. It describes the best or most advantageous fit for vendors to implement consecutive merger and acquisition plans, regional expansion strategies, research and innovation strategies, and new product introduction approaches to execute future business advancement over a foreseeable time.
During the study, the market's leading participants identified are:
Acquisitions/Technology Launches/Partnerships
June 2020 – The DIRECTSENSE Technology, a tool for assessing the effect of radiofrequency (RF) energy transmission during cardiac ablation treatments, has been launched in the United States by Boston Scientific Corporation.
March 2021 – CIMPLICITY and Tracker software have been upgraded by GE Digital to give vital decision assistance to operators, allowing them to be more productive. CIMPLICITY HMI/SCADA is an improved processing platform that enables client-server visualization for accurate operation monitoring and control. The HMI/SCADA system was improved in terms of performance and efficiency.
June 2021 – Honeywell International Inc. introduced the advanced monitoring and incident response (AMIR) service, which assists in the identification of advanced monitoring in operational technologies for a quick reaction. The solution is aimed to help IT and OT security teams by providing a robust, cost-effective, and simple-to-deploy cybersecurity solution.
June 2021 – Medtronic announced the STROKE AF trial, which will determine the superiority of the Reveal LINQ Insertable Cardiac Monitor (ICM) in detecting irregular heartbeats, also known as atrial fibrillation (AF).
Market Segmentation:
The Global Internet of Medical Things (IoMT) market is segmented into component, platform, mode of service delivery, connectivity devices, application, and end-user.
Global Internet of Medical Things Market, By Geography:
North America has the major proportion of the worldwide Internet of Medical Things (IoMT) market, followed by Europe and Asia-Pacific.
Because of the presence of important application developers and widespread acceptance of connected devices and Internet of Things (IoT) solutions among end-users in the area, North America owns a significant proportion of the Internet of Medical Things (IoMT) market.
Due to an increase in the adoption of the latest technological software applications among medical companies and hospitals, as well as a massive increase in funding by big players to provide offerings in this region, the Internet of Medical Things (IoMT) market in the Asia Pacific is anticipated to grow at a high rate during the forecast timeframe.

Critical Questions the Report Answers:
What is the global market size and forecast for the Internet of Medical Things, to identify potential investment opportunities?
What is the impact of Covid-19 on Global Internet of Medical Things market?
What are the major drivers, restraints, and opportunities, as well as an evaluation of their influence on the Global Internet of Medical Things market?
What are the key application trends of Global Internet of Medical Things in the last few years and across various geographies?
Who are the top solution providers of Internet of Medical Things technology in the market?
Which region has the largest share in the Global Internet of Medical Things market?