Role Of Digital Twin In Biopharmaceutical Manufacturing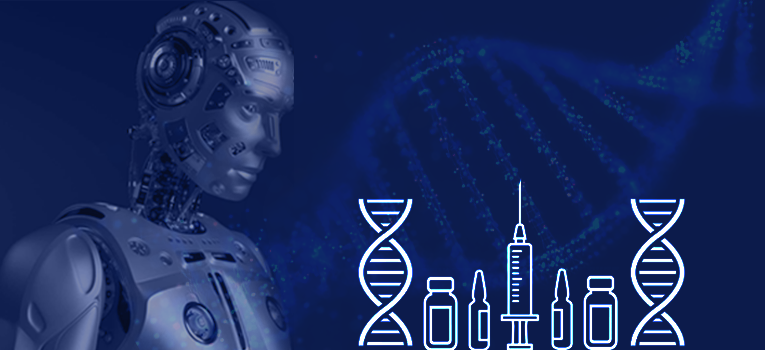 Several digital technologies are currently used to develop and increase biopharmaceutical products' production efficiency, including vaccines, medicines, etc.
One of these technologies is the digital twin technology, an essential Industry 4.0 technology widely used in all the industrial sectors, including the biotechnological and biopharmaceutical industries. Digital twins provide insights into all aspects of the production line, including the manufacturing process. These insights together help to make mindful decisions related to the product. They can also automate the decision-making process by recalibrating the dynamics of pharmaceutical laboratory equipment, production lines, manufacturing processes, and systems.
A digital twin incorporates virtual reality (VR), augmented reality (AR), 3D graphics, and data modeling to build a virtual model of processes, systems, services, products, or other physical objects related to the prospected innovation. This technology creates a replica of the physical operations. This replica is further maintained using real-time data.
Digital twin applies to various environments, including monitoring products used throughout the entire product manufacturing life cycle. In manufacturing operations, digital twin technology is applied at multiple levels:
1. Component stage – at this stage, it focuses on a single, the most complex component of the manufacturing process.
2. Asset stage – at this stage, digital twin creates a replica of any piece of equipment used in a production line.
3. System stage – at the system level, the digital twin is used to monitor and improve an entire production line's efficiency.
4. Process stage – use of digital twin at this stage is to look after the entire manufacturing process, starting from product designing to manufacturing and final production. It also monitors the distribution, the usage of the finished products by consumers throughout the entire product's life cycle and improves future outcomes.
Another excessively used technological approach is the digital twin. Digital twins currently occupies the core of this industrial revolution (industry 4.0), bringing in impeccable possibilities. The next evolution of machine learning combines advanced data analytics and equipment simulation with comprehensive system models. These models blend historical information with real-time data; this helps to predict the results of any biopharmaceutical process.
Digital twins are employed in all stages of a product's lifecycle. From the initial design phase to the ultimate deployment step, the digital twin approach helps revolutionize the operation process. Nowadays, organizations aim to have a complete digital footprint for each of their products. The introduction of digital twins has replaced traditional methods with a more virtual system-based on design processes.
Atos (a leading name in digital transformation) and Siemens (a global engineering leader) have collaborated with the pharmaceutical industry (like GSK) to optimize the production process using innovative solutions that mainly are the digital replicas of the pharma laboratory processes. These creative digital twins enabled approaches powered by technologies like IoT, AI, and advanced analytics provide improved efficiency and flexibility in biopharmaceutical products' manufacturing processes.
Several other biopharmaceutical companies are also incorporating these digital twin technologies to replace the conventional production processes.
Some of these companies are:
GlaxoSmithKline (Brentford, UK), in partnership with Atos and Siemens, uses artificial intelligence, machine learning, and computational fluid intelligence. These advanced technologies provide several benefits like faster simulator development and training, greater adaptive control, enhanced digitalization of the entire production chain.

GE Healthcare (Chicago, Illinois, USA), in partnership with Amgen, utilizes artificial intelligence and OptiRun digital solutions for predicting cell culture performance. This process's digitization helps optimize yield from cell culture, media changeover, and metabolite harvest time.

Bayer (Leverkusen, Germany) employs a digital model for chromatography. This model uses software like Astra light scattering software and unicorn Software. The digitization of the chromatography process has yielded several additional advantages: enhanced overall understanding of the process, lesser resources and time, cost-effectivity, and increased efficiency.

Biogen (Cambridge, Massachusetts, US) developed a hybrid model that simulates a high titer production bioreactor. This advanced technology uses software and AT tools like genetic model-fitting algorithm, pattern search particle swarm, global search algorithm, MATLAB 2018, etc. This advancement leads to a better understanding of the process and develops advanced process controls systems that effectively optimize feeds and maximize bioreactor production.
What lies ahead of this technological trend?
Digital twin technologies are very feasible to be applied in the manufacturing sector now. They bring about immense short-term as well as medium and long-term benefits to a company. Due to these reasons, the use of digital twins is growing tremendously.
With the further evolution of Machine Learning and Artificial Intelligence, the future is not too far for the machines to take autonomy to the next level.  In such an autonomous world of industrial machines, Digital Twin's role will evolve, and we can witness increasing self-awareness in the machines.
Although considering digital twins' applications, the biopharmaceutical manufacturing sector seems far behind other electronics and automotive sectors. These strategic technological combinations provide game-changing solutions replacing laboratory experiments with in-silico simulations to predict the results. These alternates are preferred as they are cheap and promote fastened research, development, and innovation processes. Digital twins in bioprocesses hold enormous potential for value creation.
The companies must start analyzing the potential impacts of digital twin technology and effectively implement this disruptive technology in their biopharmaceutical manufacturing operations to maintain a competitive stance in the respective market.