Industry News » RWE and Equinor have signed a strategic partnership for energy security and decarbonization
RWE and Equinor have signed a strategic partnership for energy security and decarbonization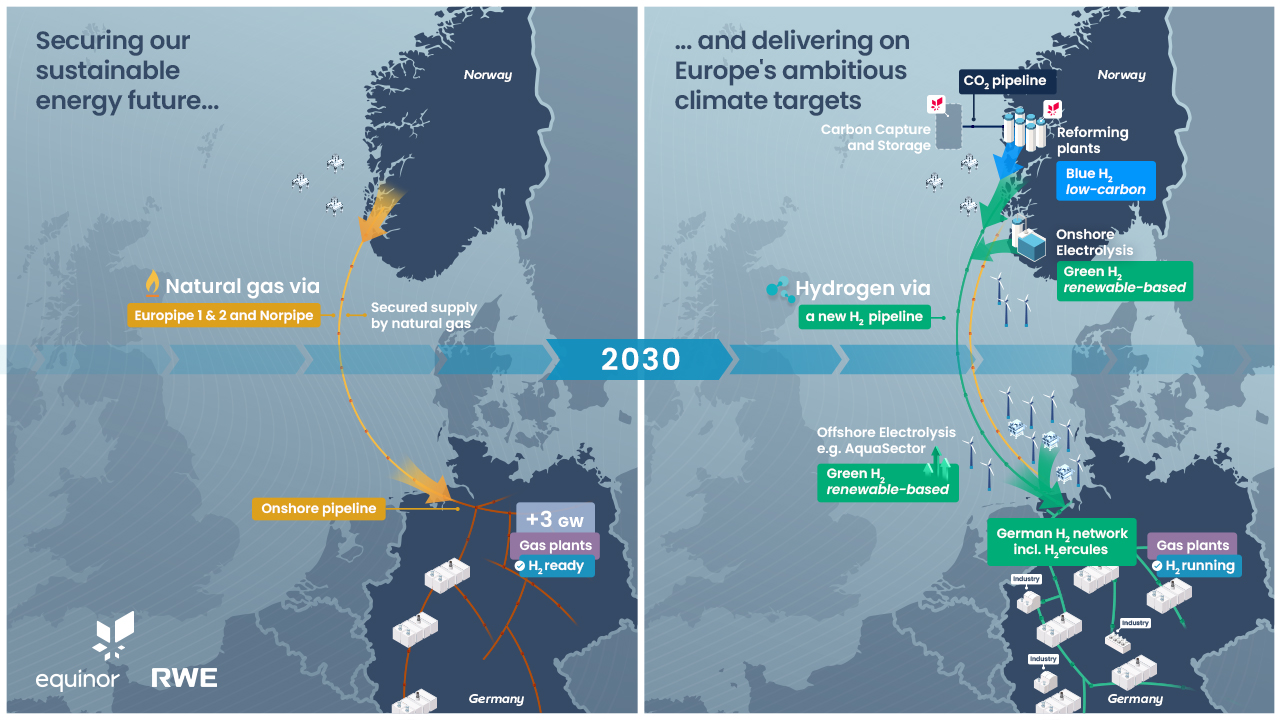 Image Source:- >>  |  Content Source:- >>
RWE, a German energy company, has signed a strategic partnership agreement with Equinor to build three gigawatts of new gas power plants equipped with combined-cycle gas turbines (CCGTs) technology by 2030. This will help by contributing to the phase-out roadmap for coal in Germany. Equinor aims to invest in clean hydrogen projects in Europe, with an initial 2 gigawatts of blue hydrogen production capacity in Norway by 2030 and up to 10 gigawatts by 2038. The blue hydrogen will be transported through a pipeline to Germany, and RWE will use the blue hydrogen for CCGTs. This initiative will help Norway become a key hydrogen supplier to Germany and Europe.
Green and blue hydrogen are anticipated to act as a bridge between many different sectors of the economy. It can help accelerate the decarbonization of hard-to-abate sectors while promoting sustainable growth in the developing world. As the world envisions a low-carbon growth path to reduce the economy's carbon emissions intensity, the possibility of developing low-carbon hydrogen is evident. So, the decisive action of RWE and Equinor will build up the long-term energy security for Europe and ramp up the hydrogen economy in Germany and Europe.
About Ingenious e-Brain Solutions:-
Ingenious e-Brain Solutions provides high-quality, customized and cost-effective Technology Research, Business Research, and Intellectual Property Research solutions to industry leaders, and innovative companies across the globe. Innovation, knowledge and transparency form the basis of our company's mission and vision. Along with cost benefits, we provide highest quality results ensuring fool-proof confidentiality and security. We are an ISO certified company with offices in India and USA.
Ingenious e-Brain Solutions has a strong team of analysts, and subject matter experts with domain proficiency which is devoted to help clients grow. Our highly qualified professionals offer tailored, value-added and cost-effective services to our clients. We believe in building long term relationships with our clients who include national and international corporations, Fortune 500 companies, world's leading research institutes and universities as well as independent inventors.
Get in Touch:-
India Office
207-208 Welldone TechPark, Sohna Road
Sector 48, Gurugram,Haryana 122018, India
+91 124 429 4218
Email:-
queries@iebrain.com