Industry News » Syntegon presents eco-friendly packaging solutions for bakery at IBIE
Syntegon presents eco-friendly packaging solutions for bakery at IBIE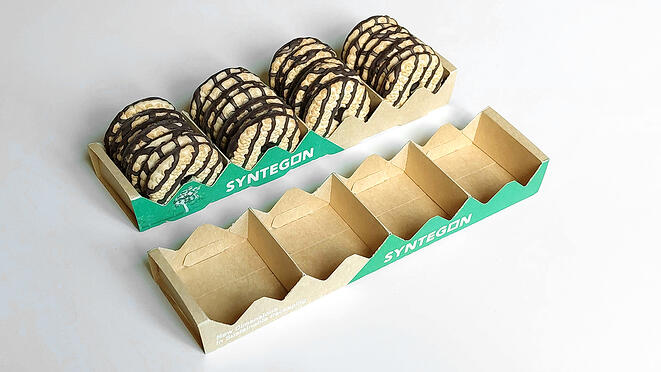 News Source:- >> | Image Source:- >>
From September 18 to 21, attendees of the IBIE 2022 Baking Expo in Las Vegas can learn more about how bakery products are packaged securely and responsibly at the Syntegon booth 325. The Pack 202 horizontal form, fill, and seal machine, the CBS-D band sealer, and the Kliklok ACE carton erector are three machines that the machine experts present as supporting bakery manufacturers in processing a variety of different bakery products, such as cookies, cakes, donuts, or bars, in a sustainable manner. Three innovations from Syntegon that combine sustainability and product protection for delicate meals are on display at the IBIE booth. Visitors may have a closer look at the Kliklok ACE carton erector, which employs cutting-edge lock-style technology to fold glue-free paper cookie trays and allows producers to switch from plastic to recyclable paper. The horizontal flow wrapper Pack 202 then accepts the cookie trays and wraps them in pillow pouches made of mono-material films. Manufacturers can also choose to use paper flow wraps by retrofitting their current form, fill, and seal machines with the "paper-ON-form" package.
Flexible packages allow for fixed price assistance over predetermined time periods and even include Synexio, a cloud-based software programme for gathering and analysing production and machine data, which is crucial for developing effective, long-lasting, and future-proof packaging processes. The technologies they will showcase are: Utilizing cutting-edge lock-style technology, the Kliklok ACE carton erector builds paper trays without the use of adhesive., The Pack 202's adaptable design enables manufacturers to work with a variety of applications and pack types, With PTFE-coated fibreglass sealing bands, the CBS-D bag sealer for vertical and horizontal formats offers exceptional sealing while drastically reducing machine wear and maintenance.
=========================================================================================================
About Ingenious e-Brain Solutions:-
Ingenious e-Brain Solutions provides high-quality, customized and cost-effective Technology Research, Business Research, and Intellectual Property Research solutions to industry leaders, and innovative companies across the globe. Innovation, knowledge and transparency form the basis of our company's mission and vision. Along with cost benefits, we provide highest quality results ensuring fool-proof confidentiality and security. We are an ISO certified company with offices in India and USA.
Ingenious e-Brain Solutions has a strong team of analysts, and subject matter experts with domain proficiency which is devoted to help clients grow. Our highly qualified professionals offer tailored, value-added and cost-effective services to our clients. We believe in building long term relationships with our clients who include national and international corporations, Fortune 500 companies, world's leading research institutes and universities as well as independent inventors.
Get in Touch:-
India Office
207-208 Welldone TechPark, Sohna Road
Sector 48, Gurugram,Haryana 122018, India
+91 124 429 4218
Email:-
queries@iebrain.com