The New Era of Vaccine: mRNA Technology
During the COVID-19 outbreak, mRNA technology proved to be most promising for developing vaccines against the SARS-CoV-2. In addition, mRNA-based platforms are being extensively explored in recent times to develop vaccines against various infectious diseases, including HIV.
Here, mRNA carrying the genetic code (antigen) is released into the body. It instructs the cells to make copies of antigenic protein, which triggers the relevant immune response. Interestingly, mRNA carrying the genetic code gets degraded in the body of an individual after some time.
mRNA technology can be further divided into two types:-
self-amplifying mRNA: saRNA contains conventional mRNA, which encodes the protein of interest and replicase that synthesizes mRNA within the target cell. These RNAs can have enhanced antigen expression at lower doses compared to traditional mRNA. This makes saRNA a very potent activator of the immune system.
Trans-amplifying mRNA: It can be considered an advancement of the saRNA enabling flexible development of therapeutic mRNAs, as it includes two separate construct/transcripts carrying replicase genes and vaccine immunogen. The size of the vaccine can also be reduced and may address issues related to inefficient delivery as well.
An Overview mRNA based Vaccine vs. other platforms against COVID-19 and variants:
Pfizer-BioNTech became the first to receive approval for people ages 16 and older from the FDA for use in the U.S. This vaccine is based on mRNA technology with positive clinical trial data and is highly effective for preventing symptomatic disease.
Moderna also developed mRNA based vaccine, having an efficacy of 90 %.
Other vaccine platforms developed are highlighted below:-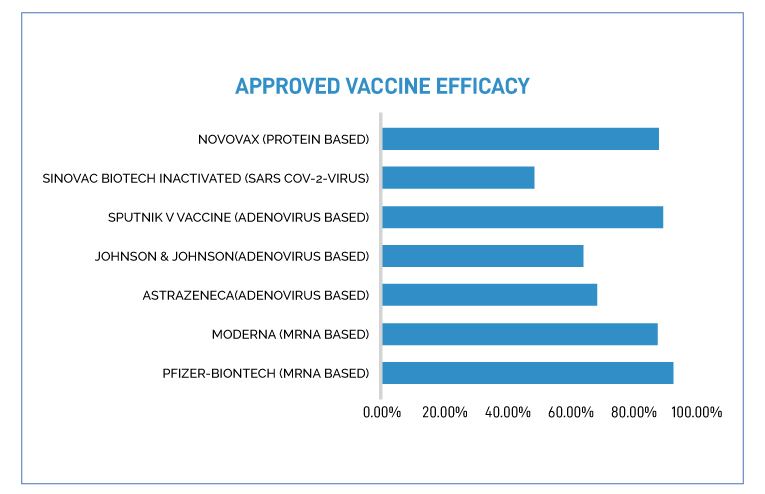 Efficacy of approved mRNA vaccines in the market: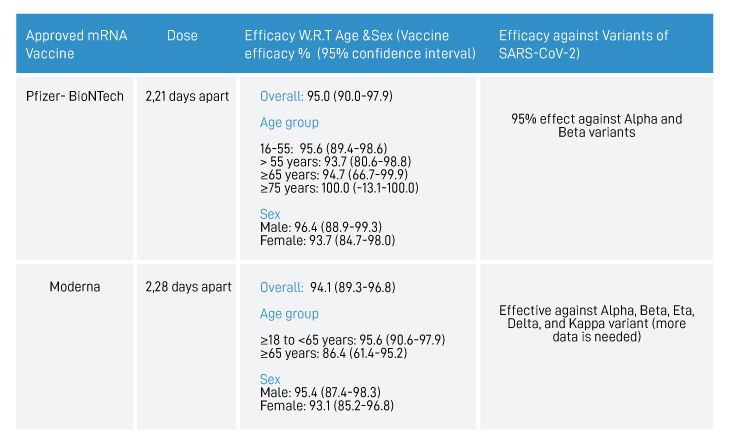 Vaccines Under Developmental Stage – mRNA Technology
According to the WHO report, currently, there are 18 RNA-based vaccines under the clinical developmental stage and 24 RNA-based vaccines under the pre-clinical developmental stage.
Clinical developmental stage:
There are 18 RNA-based vaccines under the clinical developmental stage classified as broad mRNA-based, and LNP encapsulated mRNA-based vaccines.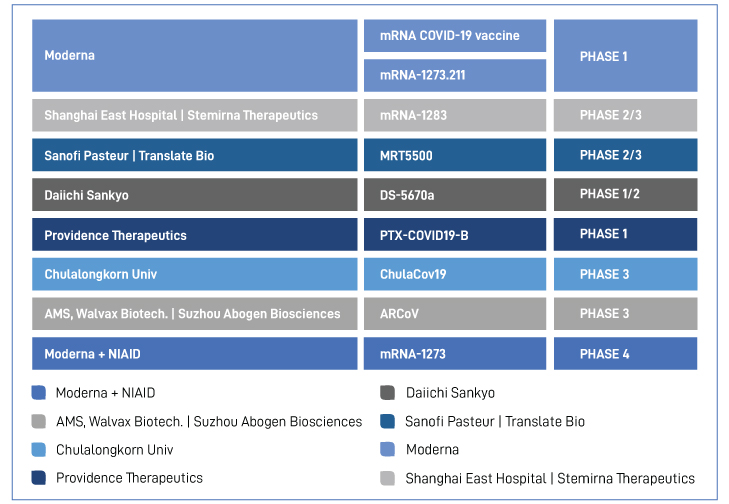 LNP encapsulated mRNA-based vaccines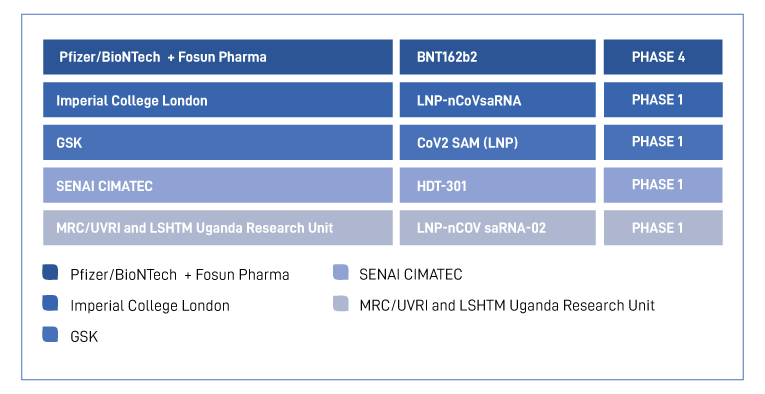 Pre-clinical developmental stage:
Some of the vaccines that are under the pre-clinical developmental stage are shown below: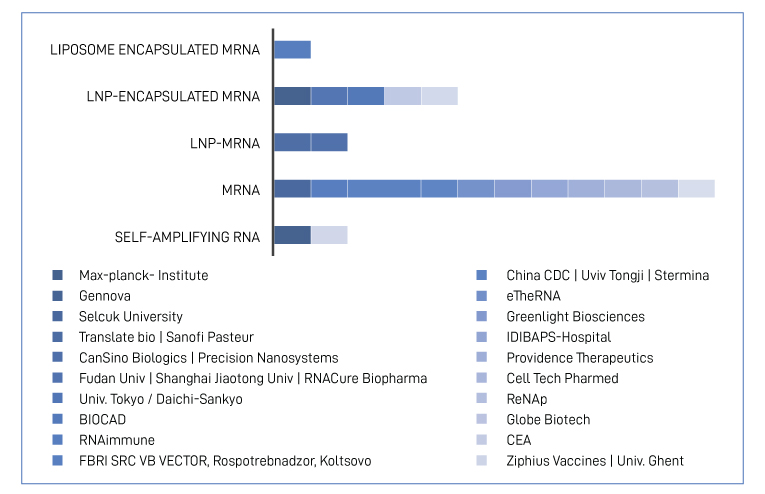 Conclusion
mRNA technology brought a revolution in the healthcare sector as it proved to be promising in dealing with this pandemic in the real world. Although its long-term effects are unknown, concerns related to waning immunity in certain groups of individuals, including the older population, are also surfacing, especially against delta plus variants. Such outcomes have resulted in developers worldwide working on booster doses and thus focusing on maintaining immunity among the people worldwide.
However, considering today's situation, mRNA-based vaccines are quite useful as it requires less development time and is cost-effective. Players like Pfizer BioNTech and Moderna have done commendable work in exploiting this technology and immunizing people worldwide. In addition, the use of mRNA vaccines is also being studied against infectious diseases like Zika virus, HIV, cancer, Dengue, Cytomegalovirus (CMV), and Malaria. Where Moderna already announced the first-ever mRNA-based clinical trial in Humans against HIV.
Active areas for development: The biggest hurdle mRNA-based vaccines face is storage conditions, i.e., ultra-cold conditions are required during storage to maintain their efficacy. It adds up to cost and is the biggest hurdle for third-world countries that cannot afford such infrastructure.
Interestingly, Plants are being tested for their potential as possible mRNA edible factories. Chloroplasts are considered an active choice for localized expression. If successful, it could be the next big breakthrough in mRNA vaccines, and manufacturers might look to become farmers!
If you are interested in similar technology, you want to understand the activities of key players/competitors/R&D, innovation/Collaboration, and so on. Our combination of Tech and IP intelligence services can assist you in gaining granular insights to suit your needs.
Please feel free to reach out.