Perfect Tools For Analyzing Competitor's Performance
The competitive analysis consists of strategically frames processes that are carried out using specialized tools. These tools help the company in identifying its competitors and evaluating its business strategies. These studies determine the competitor's strengths and weaknesses compared to their current business strategies, product, or service. The goal of conducting a detailed competitive analysis is to collect the essential details about the line of action, thereby modifying your business's go-to-market strategy. By performing this study, a company creates a concrete process that helps to improve upon its competitors.
Competitive analysis activities in marketing and strategic management help assess the current and potential competitors' plans for executing business and its stand in the targeted market. These comparisons are mainly conducted based on financial growth, R&D investments, profits gained, geographic prominence, critical strategic initiatives, manufacturing amenities and resources, product distribution, product portfolio, and industries served.
Competitor portfolio research analysis is one of the most crucial elements determining any company's marketing and R&D unit's success. We provide competitive intelligence services offering an advantageous decisive edge to a company in its respective market. This knowledge also allows management and R&D teams to benchmark their IP position against the competitors. Our assessment provides both elaborated and comprehensive information that helps to identify opportunities and threats.
Competitor benchmarking compares companies based on various parameters. These parameters are mainly classified into two broad headings: technological advances and business execution.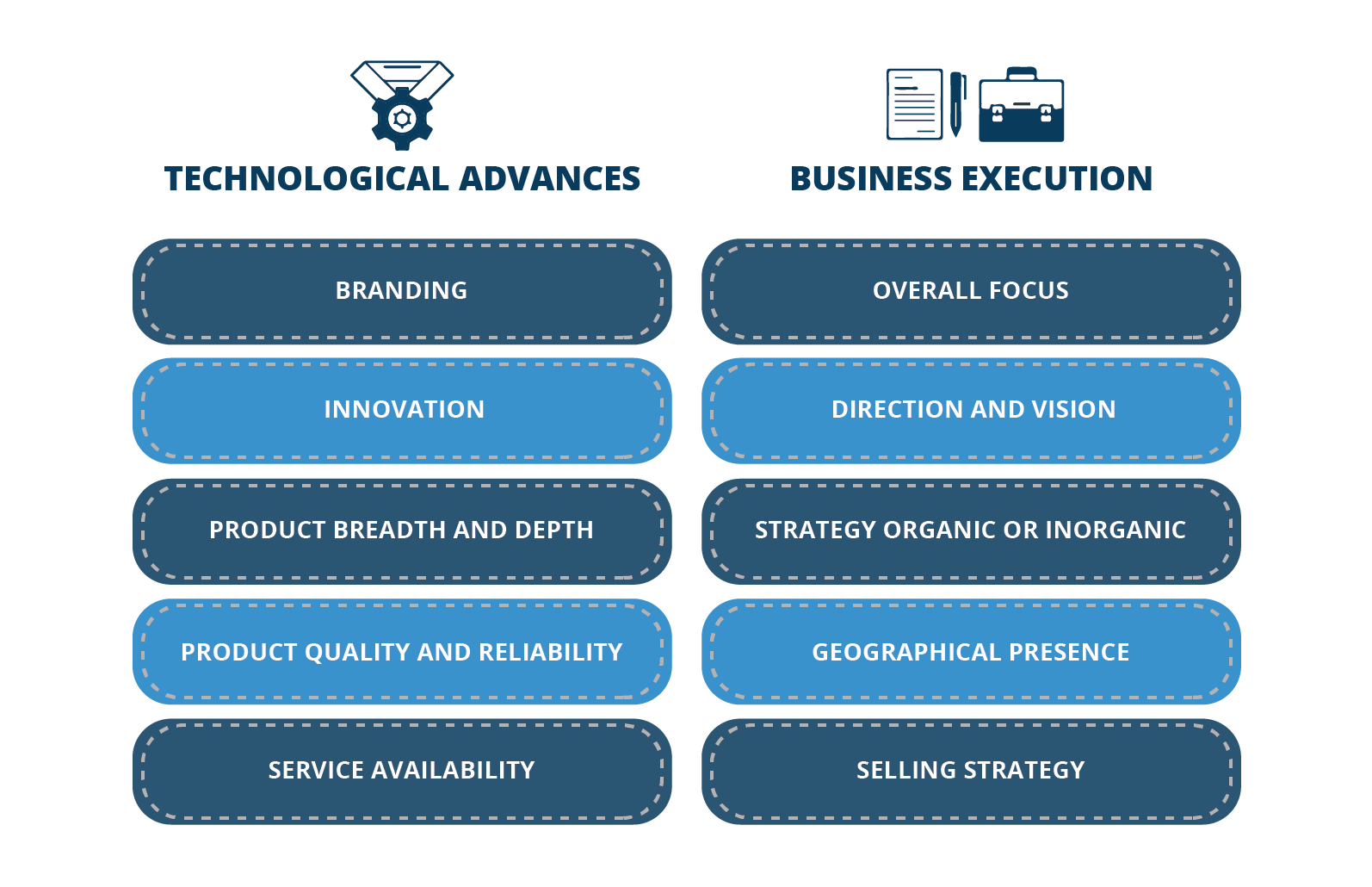 The technological advances is an umbrella term for several subfactors like:
Branding:

The most crucial reason for branding to be essential for a business is that branding determines how much recognition a company receives in the market and its consumer reach.

Innovation:

It is crucial to focus on the innovations domain of each company. This domain represents the R&D potential and defines ways to improve upon one's product development strategies.

Product breadth and depth:

Product breadth refers to the number of product lines, whereas product depth tells about the variety within each production line. These two factors are combined to make up the store's assortment and merchandise mix.

Product quality and reliability:

Along with quantity and diverse range of products produced by a company. The quality index of those products is equally important. It is an essential factor to consider while comparing with competitors as product quality largely determines its reputation among consumers.

Service availability:

The reach of the products manufactured by the company to its consumers is determined by service availability.
Other than technological aspects, the business execution strategy is equally important while comparing the company's position among its competitors.
Several subfactors are considered under business execution. These are:
Overall focus:

This parameter gives an idea about its main production line and its strategies to develop it further.

Direction and vision:

Vision or the prospected goal of a particular company helps to determine the course it plans to pursue or the place it aims to attain in its respective market.

Growth strategy (organic or inorganic):

Every business pursues one out of these two growth strategies. The organic business growth model aims to expand its output by engaging and improving internal activities to increase revenue. In contrast, inorganic growth targets an increase in revenue by focussing more on mergers, acquisitions, and joint ventures.

Geography presence:

The prominence of different companies' products in specific regions of the world also helps make conscious decisions before product launch.

Selling strategy:

This factor also predominantly affects the product's market success. An effective sales strategy should cover all aspects of marketing the concerned product, from social media recognition to consumers' acceptance.
Overall Productivity and Cost-Effectivity:
Both the determining factors: technological advancements and business execution, aim to increase the overall productivity and cost-effectivity. Our team of experts carefully analyses each of these factors and prepares a shareable database for the same. These strategic comparisons help our clients make wise decisions about the entire production chain until the product's final marketing.
We also conduct customized analyses for our clients. For example, a few clients are interested in knowing about its competitor companies' patent portfolio, and some want to inquire about other companies' consumer reach. There can be many various reasons to get the analysis done. We cater to all such needs, thus providing tailor-made solutions.
Peer-to-Peer Network Analysis:
The last step is peer-to-peer analysis. This analysis aims to cover all the major competitors of the companies for different production lines.
The peer-to-peer analysis also covers analyzing each of those competitors' suppliers and customers first and subsequently understanding their competitive advantages, for instance, considering vertical and horizontal integration. Like Samsung's consumer electronics division's supplier, Samsung's other business units like components and material. For some companies, big clients hold maximum revenue share, and the rest is distributed to customers.
The second level of analysis includes analyzing other technology partners and critical collaborators of competitors like third-party selling companies, innovation centers, marketing agencies, which provide them the upper hand in the business drive.