Tumor-Agnostic Treatments: A Bold Frontier in Oncology Drug Development
With the advent of personalized medicines, cancer treatment has been undergoing a radical transition in the therapeutic paradigm, shifting from location-specific (tissue/organ) to molecular-specific/ tumor-agnostic therapies. Tumor–agnostic treatment represents a completely different approach to cancer treatment and is a genomically informed treatment strategy that seeks out novel targets regardless of histological origin.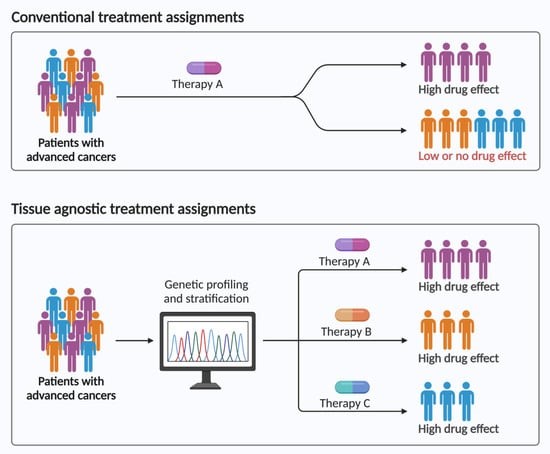 What Makes Tumor-Agnostic Treatment a Breakthrough in Oncology?
Since most cancer types are driven by more than one molecular aberration; different sets of combination therapies, comprising chemotherapy, targeted therapy, and immunotherapy, have been investigated in order to enhance the efficacy of the single treatments and overcome possible resistances. However, the advantages obtained with combination therapies, if not guided by the identification of specific mutations, are not always clearly imputable to a synergic effect of the combined drugs. Such treatments could cover different subgroups responsive to different therapies, leading to a "loss of precision" and consequent overtreatment of some subgroups of patients.
On the contrary, molecular-specific/tumor-agnostic treatments have emerged principally to meet two specific clinical needs: 
Precisely identifying the molecular aberration associated with the tumor for which there was a targeted therapy already available for other tumor types.

Locating rare mutations/aberrations, potentially druggable, across different tumor types, including rare and ultra-rare cancers.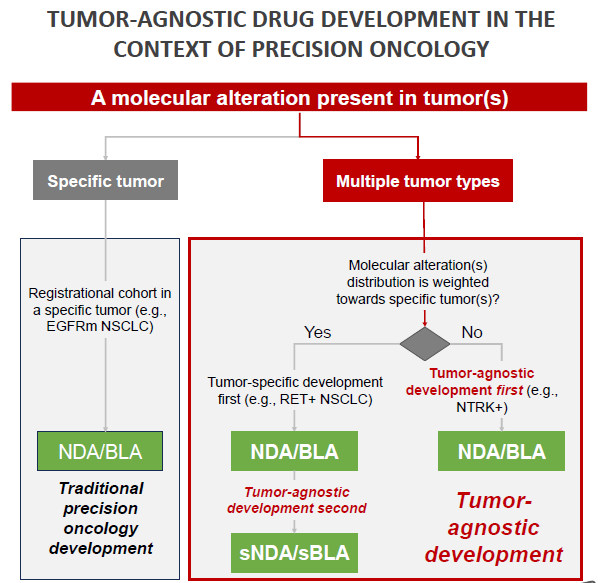 **NDA/BLA: New Drug Applications/ Biologics License Applications
**sNDA/sBLA: Supplemental New Drug Applications/ Supplemental Biologics License Applications
**NTRK: Neurotrophic Tyrosine Receptor Kinase
Source: Stifel, FDA Guidance
To identify the cancer-causing molecular alterations, genomic data is being assessed through next-generation sequencing. Based on the mutation, precision treatment for the particular tumor is being designed to help provide the right therapy to the right patient at the right time. Tsimberidou et al. found that advanced cancer patients who had received sequencing-matched therapy had a higher overall response rate (27% vs. 5%) and longer survival time (median of 13.4 vs. 9.0 months) when compared to patients who did not receive the sequencing-matched therapy.
Approved Tumor-Agnostic Treatments
Since 2017, seven drugs have been investigated and approved with a molecular-specific/tumor-agnostic indication. Below is the list of approved tumor-agnostic drugs. 
2017

:

pembrolizumab

(

Brand name:

KEYTRUDA®)

for patients with tumors deficient in mismatch repair (MMR) or with high microsatellite instability (MSI)

 

2018

:

larotrectinib

(VITRAKVI®)

for patients with neurotrophic tyrosine receptor kinase (NTRK) fusions-positive tumors

 

2019

:

entrectinib

(ROZLYTREK

TM

)

in patients with NTRK fusions-positive tumors

 

2020

:

pembrolizumab

(

KEYTRUDA®)

for patients affected by tumors with high tumor mutational burden (TMB), which is ≥10

mut/mb

.

 

2021

:

dostarlimab-gxly

(Jemperli)

for patients with mismatch repair deficient tumors

 

2022

:

dabrafenib

+

trametinib

(Tafinlar and Mekinist)

in patients with BRAF V600E mutated tumors

 

2022

:

selpercatinib

(Retsevmo)

in patients with REarranged during Transfection (RET) fusion-positive tumors
Challenges Of Tumor Agnostic Approvals
Determining the link between aberrations and physiological changes 

 
One of the key challenges is to determine whether the same aberrations in different histologies are linked with similar biological, pathological, and functional changes. Preclinical and clinical data on NTRK fusions confirmed that NTRK fusions are the single dominant oncogenic driver in fusion-positive cancers, regardless of tissue origin. Thus, these fusions are considered an ideal tissue-agnostic target. Also, targeting oncogenic BRAF for various tumors, such as melanoma, thyroid carcinoma, and colorectal cancer, may lead to the early failures of tissue-agnostic exploration. Although vemurafenib was effective in BRAF V600E melanoma and thyroid carcinomas, it was ineffective in colorectal cancer patients with the same BRAF mutation, possibly due to tissue-specific feedback activation of the EGFR pathway. This exemplifies how histological context influences drug-target response in certain cancers. It is unknown how much influence the tissue context has on oncogenic fusions. 
Complex clinical trials for tumor-agnostic treatments

 
The path to clinical development for tumor agnostics can be difficult. Because response assessment criteria differ depending on tumor type, cross-tumor harmonization would be required. Basket trials have no standard design, especially for very rare and ultra-rare patient populations. 
Regulatory agencies in various countries and geographic regions, such as the US/North America, the EU, Japan, and other Asia-Pacific countries, may accept the tissue-agnostic approach to varying degrees. 
Conclusion:
Despite the challenges in oncology, it is expected that tissue-agnostic approvals will expand the therapeutic options available to cancer patients. Compared to the traditional treatment plans, tumor-agnostic treatment represents a new way of thinking about how cancer is treated. In order to innovate diversified courses of treatment appropriate for various sub-groups of cancer patients along with addressing the R&D and regulatory challenges, connect with seasoned IEB healthcare experts through email contact@iebrain.com
About Ingenious e-Brain: –
Ingenious e-Brain provides high-quality, customized, and cost-effective Technology Research, Business Research, and Intellectual Property Research solutions to industry leaders, and innovative companies across the globe. Innovation, knowledge, and transparency form the basis of our company's mission and vision. Along with cost benefits, we provide highest quality results ensuring fool-proof confidentiality and security. We are an ISO certified company with offices in India and USA.
Ingenious e-Brain has a strong team of analysts, and subject matter experts with domain proficiency which is devoted to help clients grow. Our highly qualified professionals offer tailored, value-added and cost-effective services to our clients. We believe in building long term relationships with our clients who include national and international corporations, Fortune 500 companies, world's leading research institutes and universities as well as independent inventors.
Get in Touch:-
USA Office:
646 Sutton Way#1006
Grass Valley, CA 95945 United States
+1-347-480-2054
India Office
207-208 Welldone TechPark, Sohna Road
Sector 48, Gurugram, Haryana 122018, India
+91 124 429 4218