Understanding EU's Single Use Plastic Directive and Its Impact
What is the EU's Single Use Plastics (SUPs) Directive?
EU enforced the directive on single-use plastics on 2 July 2019. The law addresses single-use plastic items most commonly found on European beaches.
The directive includes different measures being applied to different products: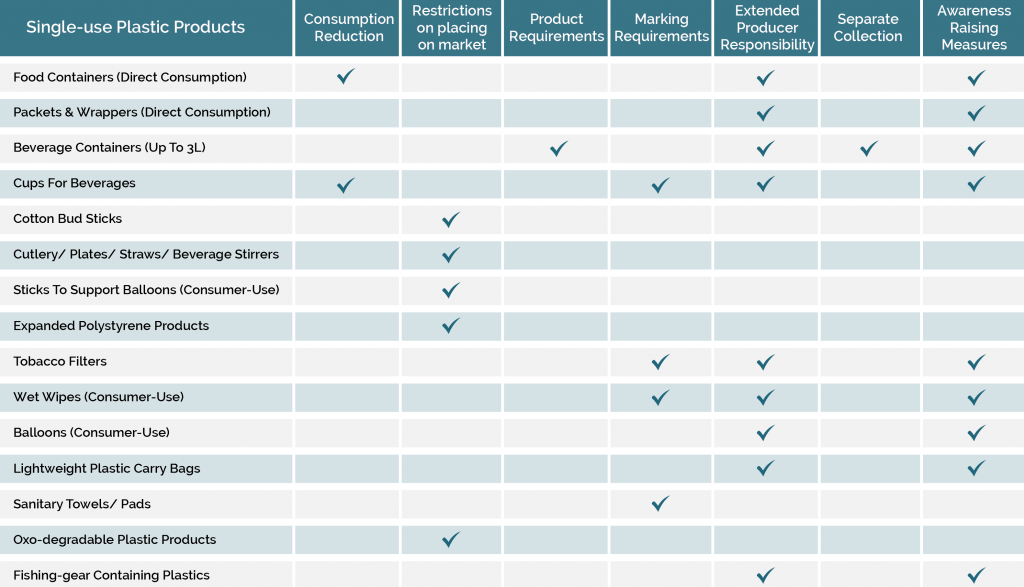 Consumption reduction through reusable alternatives, charge on single-use items, marketing restrictions, etc.
Restrictions on placing on the market (complete ban)
Product requirements (caps & lids remain to attach to containers)
Marking requirements to inform consumers about waste management, presence of plastics, the impact of littering, etc.
Extended producer responsibility involving covering up costs for awareness-raising measures, waste collection, waste transport & treatment, data gathering & reporting (depending upon the type of SUP)
Separate collection for recycling of beverage bottles
Awareness-raising measures about the availability of re-usable alternatives, re-use systems, waste management options, the impact of littering, impact on inappropriate means of disposal, etc.
Specific targets in the directive include:
Product requirements:

By 2025, PET bottles to contain at least 25% recycled plastic on average
By 2030, all beverage bottles to contain at least 30% recycled plastic on average

Separate collection:

By 2025, an amount of waste single-use plastic products (listed below) equals 77 % of such single-use plastic products placed on the market in a given year by weight.
By 2029, an amount of waste single-use plastic products (listed below) equal 90 % of such single-use plastic products placed on the market in a given year by weight.
Impact on Packaging Industry: New Reusable Packaging Models
There is an upsurge of different reusable solutions and business models that go along. Notable mentions include Loop, Packoorang, RePack, etc. Loop offers an online shopping service that delivers food, drinks & household essentials from leading brands in reusable packaging, customized for the specific brand. The service involves consumers buying their desired product online on the loop website by paying an additional component as a refundable deposit. Once the consumers have used up the product, they return the containers and swap for a full one. These returned containers are then cleaned, refilled with the product, and resold. Loop is currently available in the United Kingdom, France, Canada, and the United States. Loop will soon be expanding internationally with launches in Japan, Australia, and Germany.
Packoorang is a fast-growing, government-backed startup from Oslo, Norway. Retailer ships into a Packoorang bag, customer returns it to a local return point and benefits in terms of reward points/coupons, Packoorang collects, checks and cleans the bag. These bags are suitable for clothing, electronics, breakable items, supplements, etc., and the thermally insulated versions of these bags are used for high-value cosmetics, food, and medical products.
Repack is another company with a concept similar to Packoorang. They offer services across the EU and the USA.
Many companies offer reusable bags (e.g., Concept Bags), which may be customized according to specific brands. These are intended for general-purpose bags and receptacles for specific use, such as shopping bags, silicone pouches, produce bags, coffee cups, bottles, food containers, etc.
Big FMCG companies are also testing different in-store and on-the-go solutions. Unilever kickstarted its refill and reuse trials in the UK in 2020, covering different refill models, store formats, and in-store locations. By the end of 2021, under its new trials, Unilever would roll out a 'return-on-the-go' solution where consumers may purchase pre-filled stainless steel bottles with the product. These bottles could be returned once used, cleaned, refilled, and restocked on-shelf for the next consumer.
Many e-commerce websites such as 'Wearth London' have started offering reusable/ zero waste items such as carry bags, make-up removers, face masks, hairbrushes, bath accessories, etc. Many websites (e.g., Kind Bag, Grun Bag, EU Got Bag, etc.) sell bags and other consumer products made from 100% recycled plastic.
A unique marketing model from 'Frietag' (known for its messenger bags) offers bags on rent for two weeks for free. All the user has to do is go to any FREITAG store, pick out an 'F153 JAMIE' bag, sign up, take it for a bike ride, snap a picture of themselves with the bag, upload it to Instagram with #ridewithfreitag, and then bring it back.