Industry News » Air Liquide And Siemens Energy Collaborate To Strengthen PEM Electrolysis Technology
Air Liquide And Siemens Energy Collaborate To Strengthen PEM Electrolysis Technology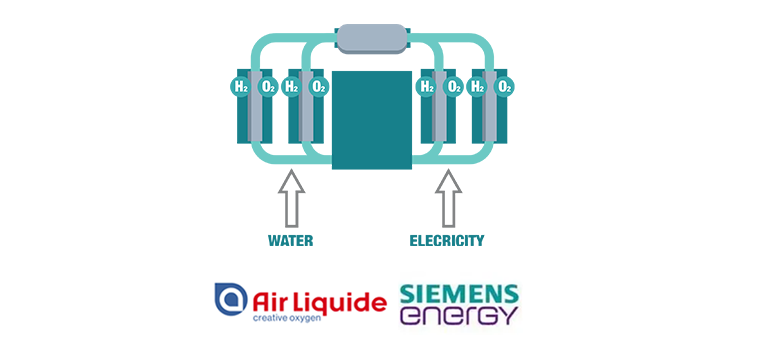 In the industry news domain, we showcase the analytical viewpoint developed by its experts on recent market developments. These developments align with the company's future growth initiatives. It also entails a holistic impact across the organization, its end-users, and peer industry participants. Furthermore, it will also represent the shifting trends across the industry ecosystem.
Strategic Development
Air Liquide S.A. is a French multinational company supplying industrial gases and services to various companies, including medical, chemical, and electronic manufacturers. Founded in 1902, after Linde, it is recognized as the second-largest industrial gas supplier in revenues and is operational in over 80 countries.
Air Liquide and Siemens Energy have recently signed a Memorandum of Understanding (MoU) to merge and strengthen their PEM (Proton Exchange Membrane) electrolysis technology. Utilizing this collaboration, the companies intend to focus their activities on these critical areas like co-creation of large industrial-scale hydrogen projects collaborating with customers, laying the base for mass manufacturing of electrolyzers in Europe, especially in Germany and France, and improving R&D activities to co-develop next-generation electrolyzer technologies for producing sustainable hydrogen.
Strategic Alignment
Polymer electrolyte membrane (PEM) electrolysis is the electrolytic splitting of water in a fuel-cell equipped with a solid polymer electrolyte (SPE). SPE is responsible for the conduction of protons, separation of product gases, and electrical insulation of the electrodes. The hydrogen gas that is liberated is restored to be applied for further uses.
Yearly, hydrogen production is responsible for roughly 830 million tons of CO2 emissions. Therefore, hydrogen production using PEM electrolysis is a useful method to produce non-polluting green hydrogen. This process is carbon emission-free. Consequently, it is anticipated that the Polymer Electrolyte Membrane (PEM) electrolysis targeted to be developed further by this partnership holds a higher growth potential in the market.
On this, Bruno Le Maire, French Minister of Economy, Finance and the Recovery, said that it is the right to develop new value chains and technologies massively. He added that 7 billion euros would be invested in this project, and by 2030 the entire economy will be more decarbonized.
Immediate Impact
PEM water electrolysis system provides several advantages over the other two electrolysis processes. Some of these advantages are a higher rate of hydrogen production, compact component design, and overall greater energy efficiency.
Potential applications of the hydrogen produced by this methods can be:
as a raw material for the production of synthetic fuel
it can be used as a fuel to power hydrogen fuel-cell-powered electric automobiles like cars and trucks
it can also power container ships using liquid ammonia produced from hydrogen
this hydrogen can be used in "green steel" in place of coal
this hydrogen can also power hydrogen-powered electricity turbines to generate electricity to help the electricity grid
hydrogen produced in this way can also be used as an alternative to natural gas generally used in cooking and heating purposes in households
In the current scenario, green hydrogen has taken ample space in industry leaders' minds. More and more countries are looking forward to hydrogen gas to assure future energy needs and manage their export to energy-deficient countries. To mention, recently, Portugal is the key nation to be bandwagoning a national hydrogen plan, predicted to be somewhat €7 billion ($7.7 billion) in value by 2030. Other than oil and gas firms, renewable energy-producing companies visualize green hydrogen in the emerging market with numerous export options. Offshore wind energy generating company, Ørsted has recently marked its first significant project that would exclusively target the automotive sector.