All you need to know about mRNA Vaccines!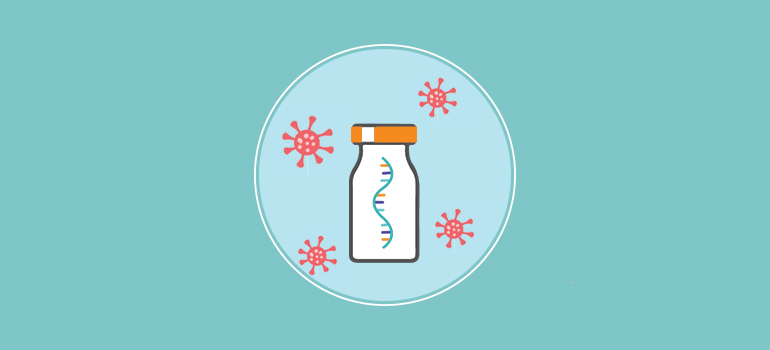 Vaccines provide immunity to the body to fight against infections caused due to invasion of foreign particles such as (bacteria, virus, or any other pathogen). A typical traditional vaccine contains an attenuated or a dead form of pathogen, which stimulates the body to recognise it as a threat and produce effective immune response against it.
There are different types of vaccines that are administrated, out of them one is mRNA or RNA vaccine. This novel type of vaccine contains nucleic acid RNA instead of whole pathogen. Though the research on these vaccines have been going on for decades but these are the newly available vaccines to the public.
Vaccine: Mechanism of Action
mRNA vaccines work by introducing a piece of nucleic acid (mRNA), which would translate into a protein, responsible for infection. The mRNA used in these vaccines is a laboratory synthesised nucleic acid, which triggers an immune response inside the body, because of which the body's immune system starts producing antibodies. Antibodies are the proteins which help protect the body against pathogens. Once, antibodies are produced they remain in the body for a longer time duration and even if they are removed from the body, the immune system forms memory cells that remember the pathogen and give a better and efficient secondary immune response.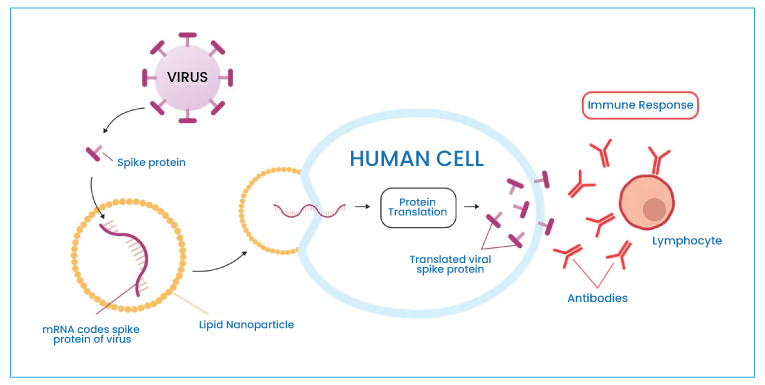 How mRNA COVID-19 Vaccine Work?
mRNA vaccine technology is precise as it uses a molecular subunit which can trigger an immune response, these vaccines came to spotlight during the pandemic and became the first vaccines to reach phase 1 clinical trials.
Clinical efficacy of the Pfizer-BioNTech vaccine and Moderna mRNA vaccine accelerated the rate of production of these vaccines.
High response capability of mRNA vaccine makes them suitable of pandemic and epidemic situations. Their preciseness, effectiveness, and the reason that they do not require any nuclear integration has all resulted in the rise of RNA vaccine technology.

Recent Advancements:
mRNA vaccines show a great application potential specially in field of cancer and infectious disease where traditional vaccines fail to provide a required response.
Multivalent approaches such as mRNA sequence engineering, by nucleoside modified mRNA. An improved vaccine lyophilization, storage and a wider R&D and manufacturing is required for mRNA technology to ensure a more effective global response to future epidemics or pandemics.
Development platform that can enable large, high-quality, and cost-effective mRNA production along with this development of safe delivery system that facilitates cellular entry and expression.
Key Players:
Moderna, BioNTech, Pfizer, Translate Bio Inc's, CureVac, GlaxosmithKline, Gritstone Oncology Inc, Gilead Sciences Inc, AstraZeneca Plc, Vertex Pharmaceuticals Inc, Merck & Co, Kernel Biologics, Arcturus Therapeutics Inc. are among the major key players of the mRNA vaccine domain.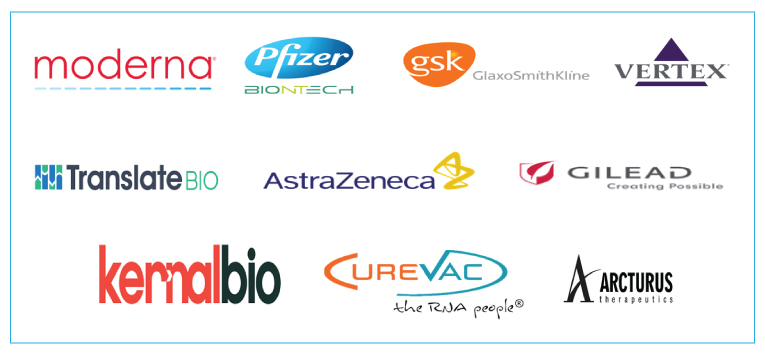 Emerging Players:
Few exemplary emerging start-ups/small players are provided below
eTheRNA immunotherapies is a start-up which provides mRNA vaccines against infectious diseases and cancer.

Providence Therapeutics focusses on providing personalised therapeutic mRNA vaccines.

pHion Therapeutic works on providing mRNA vaccines for cancer and Papillomavirus. The start-up also plans to introduce an effective drug delivery system, for mRNA vaccine delivery.

20Med Therapeutics start-up applies nano-particle delivery system for mRNA therapeutics.
Academic Players:
NIH (National Institute of Health): NIH has launched 3 mRNA vaccines for HIV. The vaccines are in their first clinical phase trial.
University of Pennsylvania: Pfizer/BioNTech and Modern used university of Pennsylvania's licensed mRNA vaccine technology to make their COVID vaccines.
mRNA Therapy Targeted Diseases: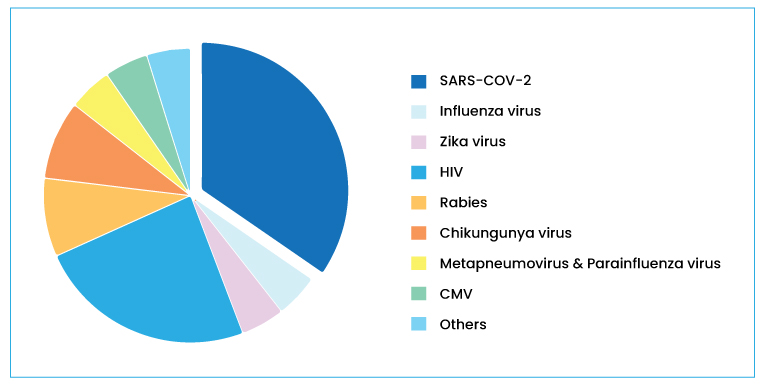 Research on mRNA therapeutics for the prevention of many infectious and rare diseases is already going on, some major targeted diseases by few major players include cancers (melanoma, breast cancer, lung cancer, prostate cancer, etc) cardiovascular diseases (myocardial infraction, ischemic heart disease), infectious diseases (HIV, Zika, influenza, rabies, COVID, etc), diabetes, cystic fibrosis, OTC disorder, melanoma, TTR amyloidosis are among the others.
Market Trends in mRNA Therapeutics Product Market
Based on mechanism of action there are 3 types of mRNA therapeutic products available in the market
Prophylactic Vaccines: Preventive vaccines, which are administered to an individual to prevent infection.
Therapeutic Vaccines: these vaccines are administered to an individual after getting the infection or disease.
RNA based therapeutics: RNA based therapeutics involve use of mRNA, siRNA, antisense oligonucleotides (ASO) to target mRNA, aptamers, ribozymes, and clustered regularly interspaced short palindromic repeats-CRISPR-associated (CRISPR/Cas) endonuclease to target DNA or protein.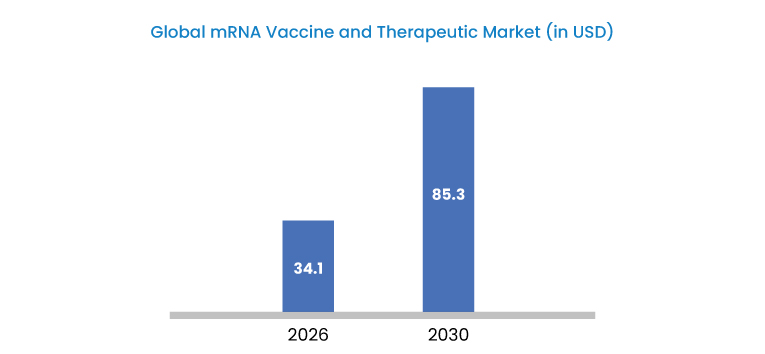 According to the market research it is expected for prophylactic vaccines to rule the market for next 15 years, as current R&D activities of most pharmaceutical companies are focussed on this field.
The Global mRNA Vaccine and Therapeutic Market is estimated at USD 85.3 Million in the year 2030.
The growing occurrences of chronic and infectious diseases, such as diabetes, HIV, and cancer is one of the major key factors driving the growth of the market. The growing demand for therapeutic medicines and vaccines for Ebola, influenza, Human Immunodeficiency Virus (HIV) , COVID-19, and other viral infections as well as inability of traditional vaccine approach to find vaccines at the critical time are also providing a boost to the market growth.
Future Scope of mRNA Vaccines:
Research is being conducted by many pharma companies in application of mRNA vaccines, personalised treatment has been talked about for many years now, in case of tumours, the tumour cells from a person's body can be excised out and checked for the protein on its surface, which can be used as a mRNA vaccine.
These vaccines have a potential to be used as a treatment for certain incurable diseases. In case of some diseases the treatment is already in clinical trial phase. Compared to conventional medicines, mRNA vaccines and therapeutics are developed with the help of advanced technologies which are more effective against pathogens, have higher effectiveness, improved immunogenicity and require less cost to produce.
Moreover, developments in the lipid nanoparticle formulations for in-vivo systemic delivery of mRNA are also creating a positive outlook for the market growth.
Though there are several challenges such as reactogenicity, durability of immunity, mass production and storage of produced vaccines at low temperature, but pandemic has given mRNA vaccine technology a positive push.
How Can IEBS Help You?
•Ingenious e-Brain Solutions is a global provider of research services to the IP team, R&D team, and decision-makers from various verticals marketing, business development, etc.
•IEBS can give detailed technology and IP snapshots in mRNA vaccines.
•We can help companies know about developments, key players' strategic movements, potential targets for acquisition or partnership, white spaces in the domain, players holding strong IP portfolios, and other details.
•In addition, to this, we can also help in competitive intelligence, product benchmarking, and many more.