Cutting-edge DNA Technology in the Cosmetic Industry
Although it is often believed that beauty is in the eye of the beholder, it has not stopped humans from spending over a thousand years trying to improve their appearance artificially. The quest for beauty has been recorded in literature, music, and art since Ancient Egypt and Sumer. Both women and men devote significant time and resources to choosing and applying the right combination of beauty products today, fueling a massive and still-growing cosmetics industry. Cosmetologists have often tried to push the boundaries of traditional skincare practices and advance the methods and implementations of various beautifying and caring items. Since we are progressing in cutting-edge technology, the lines between industries such as biotechnology, cosmetics, and healthcare are blurring. Today's technological breakthroughs will become tomorrow's products, and we are now able to examine the real-world impact of these technologies on the cosmetics industry. Few such technologies being used actively in the cosmetic industry belong to Biotechnology.
How Has Biotechnology Been Used in the Cosmetic Industry?
Biotechnology is described as using life science expertise to produce products or services that benefit humans, such as improving the quality and efficiency of food production or making cosmetic active ingredients, medicines, and vaccines. Biotechnology has influenced cosmetics in a variety of ways. Cosmetics companies use biotechnology to discover, create, and manufacture cosmetic formulation components and evaluate the activity of these components on the skin, significantly how they affect aging changes. The cosmetics industry has contributed to developing a wide range of active cosmetic ingredients through biotechnological processes. These processes allow producing active ingredients on a large scale, at a lower cost, and without pollutants. Among other biotechnological active ingredients, kojic acid, hyaluronic acid, and resveratrol have been found in various cosmetic products, especially for skincare.
Various biotechnology firms have licensed some of their molecules to the cosmetic industry or have even entered the market with their line of beauty products, such as those researching ways to improve DNA repair or wound healing. For example, Helix Biomedix, a biotechnology firm based in Washington, recently patented over 80 proprietary peptides for cosmetic and skincare applications and products. According to the company, Helix's peptides are now used in more than 20 items on the market. SkinMedica is another biotechnology company that has entered this lucrative market with an anti-aging product that includes soluble collagen, various growth factors, and antioxidants to improve skin texture and elasticity.
DNA-based cosmetics is one such cutting-edge futuristic approach that focuses on making customized skincare products.
What Are DNA-based Skincare or Cosmetics?
Since skincare has never been one-size-fits-all, there is a high demand for bespoke items that cater to individual and special needs. DNA-based skincare is a new science-driven movement that includes designing bespoke products for areas of concern based on an individual's genetic make-up. After having their skin genetically tested, consumers have prescribed products, ensuring the most appropriate match with their genes. Sun defense, collagen production, improved antioxidants, and inflammation regulation are all advantages of DNA-based skincare. Following the trial, many companies involve users in the product formulation process, which has piqued many customers' interest. This also provides personalized products suggestion as per the test results. These tests can recommend grooming and beauty routines by examining one's genetic markers and understanding their skin's genetic profile.
Market Presence of DNA-Based Cosmetics
The global market for DNA-based skincare products was worth USD 7.4 billion in 2018, with a CAGR of 6.8% expected over the forecast period. From 2019 to 2025, serums are expected to be the fastest-growing segment in the DNA-based skincare products industry, with a CAGR of 8.0 percent. The segment will be driven by rising demand for serums among various age groups due to their light and fast-absorbing properties. The growing popularity of customized skincare and cosmetic products in the area and their availability across online and offline channels drive the market. Over the forecast era, Asia Pacific is projected to rise faster, with a CAGR of 8.3 percent. China, Japan, Australia, and India are the primary sources of demand. Leading companies include Imagine Labs, EpigenCare, Caligenix, SkinGenie, Danskin, ALLÉL, SkinDNA, Targeted DNA, Jinomz, and Evergreen Health Solutions Ltd.
Some DNA-Based Cosmetic Industry Products & Technologies in the Market Include:
DNA Face Cream, the first custom-mixed product, was introduced by Lab 21 in the United States, based on a sample of the customer's DNA (taken from a cheek swab). Since there are thousands of active ingredients from which to choose, there are literally millions of different DNA face cream combinations.
Based in the United States, targeted DNA has developed skincare products based on customers' DNA. Targeted skin is taking an innovative approach to solving the skincare industry's most crucial customer confidence issue by making personalized recommendations just for you based on the latest scientific findings in skin genetics, using individual genetic profiles to construct tailored skincare routines.
Chang, a dermatologist at Stanford University School of Medicine in California, is working with Nu Skin, a Provo, Utah-based skincare company, to recognize gene-expression signatures in the skin of naturally younger-looking women.
Brazilian dermatologists now have the option of custom-mixing, thanks to Skingen. Skingen Lab oversees analyzing RNA (which contains DNA information), and Skingen Pharma oversees manufacturing the products.
Harrod's Wellness Clinic provides Gen Identity, a DNA-based skincare regimen that uses cutting-edge Prima Derm Technology.
The Dermal Resonance device, created by the Marie Reynolds Skincare line, measures your DNA and personal frequency to produce a personalized product tailored to your skin's needs.
Barbara Sturm-Waldman, the creator of the famed vampire facial, is known for creating her fabled MC2 cream with the client's plasma aid. It does not get any more personalized than a moisturizer made entirely of your DNA.
Sequential skin helps consumers identify suitable products based on a simple analysis of their DNA and genetic microbiome. The kit evaluates your genetic proclivity for those characteristics, as well as how your skin microbiome and current environment affect them. This gives us a good picture of your skin's current condition and allows us to forecast how it will change over time.
SKINSHIFT uses a groundbreaking DNA analysis for the first time to classify your skin's genetic strengths and weaknesses. They build a personalized skincare routine for you based on your genetic blueprint.
Craith Lab, a skincare brand based in Belgium, was established in 2019 to apply epigenetics research to cosmetics.
Limitations of this technology:
These products and techniques were being utilized perfectly amongst the consumers and yielded good results but were faced with certain limitations such as: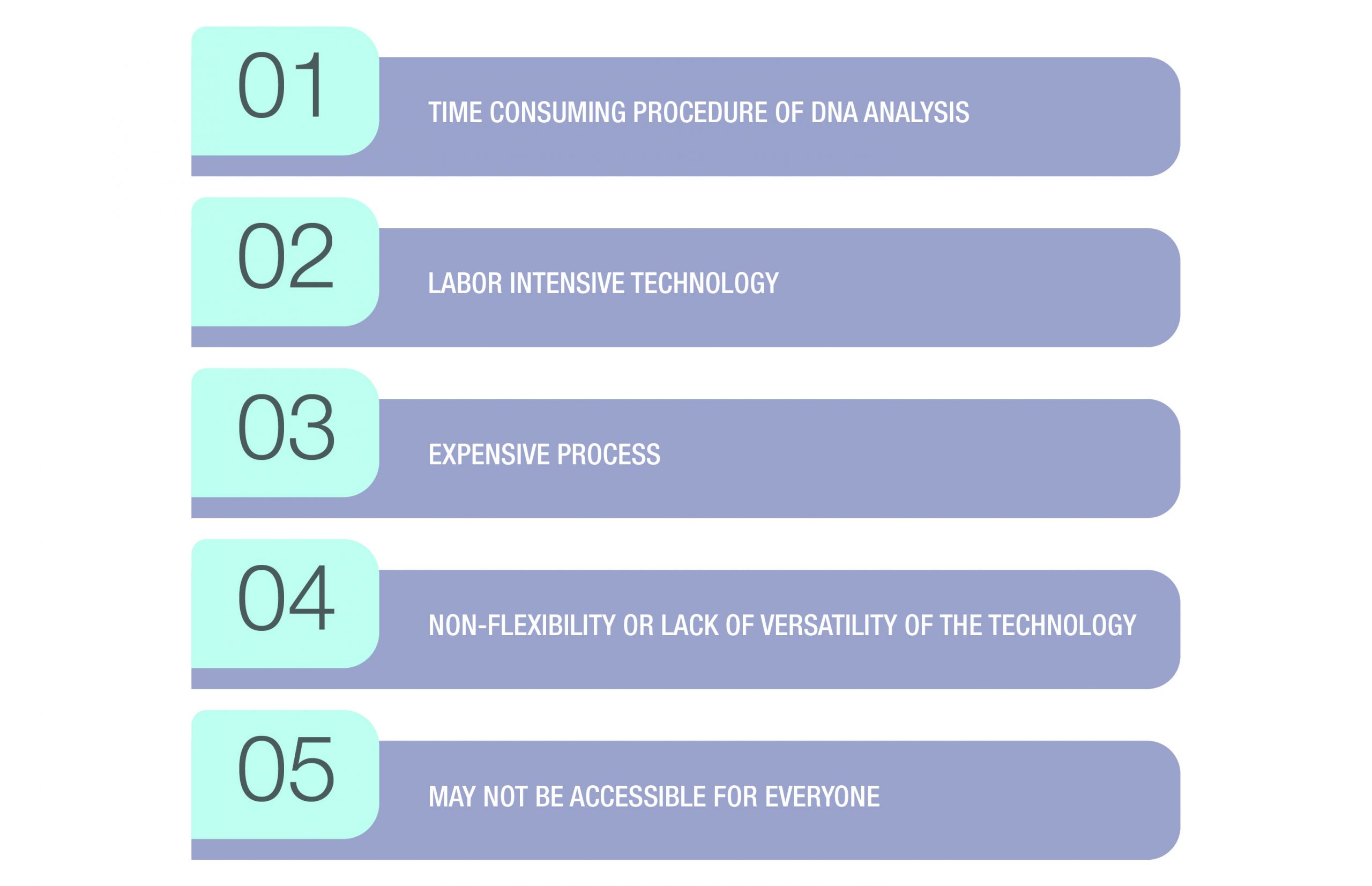 Therefore, recent advancements were made to overcome such limitations and make this easily accessible and precise. Some of the recent improvements include:
SKINTELLI by EpigenCare is a customized skincare app that uses epigenetic testing and ingredient-based machine learning algorithms (AI) to find products that are ideally suited to your skin's current condition. SKINTELLI is a direct-to-consumer personal epigenomics test that assesses the DNA methylation levels of a patented panel of genes linked to main skin quality indicators (e.g., aging, elasticity, moisture retention, etc.). Their at-home kit includes non-invasive adhesives for collecting samples from your skin (rather than saliva), which accurately represents quality improvements following exposure to the environment.
DNA-based AI-assisted beauty products are poised to revolutionize the skincare industry. Executives at SkinGenie claim to have developed the world's first AI and DNA-based diagnostic and personalization network. Since complementary technology like 3D imaging, selfie analysis, and even moisture meters to perfect the experience can be added, this platform is versatile.
GeneU, a London-based company, uses saliva samples from which DNA will be extracted and serums tailored to one's genetic blueprint. A flash-drive-size microchip does a DNA test. GeneU's in-store test is done in 30 minutes. The results, along with responses to a brief lifestyle questionnaire, are fed into an algorithm, which generates the best two of the company's 18 serums.
Imagene Labs offers a cloud-based, enterprise-grade genetic analytics application that provides unrivaled precision in human wellness genetics assessment. Our platform enables healthcare and wellness companies to develop customized products and services based on their customers' DNA profiles. Using machine learning and comparing users' gene data against the most ethnically significant reference genetic datasets, their proprietary ancestry-based genetic risk analytics method improves DNA result accuracy.
Future Perspectives
DNA-based cosmetic technology has a great future potential as personalized skincare and beauty has been a rising trend. With the current advancements in this sector, there are many opportunities and outlooks for all the cosmetic and skincare companies.
CRISPR, for example, is a new emerging technology that will allow us to remove genes physically we no longer want—think acne, eczema, and cancer. With this strength comes the ability to shape our own destiny and reshape our skin. Knowing all of this, it only seems a matter of time before gene editing is used in cosmetics. Would you like to use gene editing to alter the color of your eyes or hair? Could you change it if you knew it would influence your future children and their children? That is the central issue that many members of the community are still debating.
Besides, to make this platform more versatile, complementary technology such as 3D imaging, selfie analysis, and even moisture meters and RNA analysis can be integrated to enhance the cosmetic personalization experience.
When research progresses, and at-home genetic testing becomes more accessible, new opportunities for ultra-personalized skincare emerge. Furthermore, the experiments may be more detailed by investigating more SNPs or DNA segments. Personalization of cosmetics and skincare is the way of the future, and DNA-based skincare is an important part of that.
Online applications based on AI and VR technology will be developed in the coming years. Consumers would have a one-of-a-kind opportunity to have their skin diagnosed, receive cosmetics, and gather data on skin features without ever having to leave their homes. 3D capture, artificial intelligence, virtual reality, and many other cosmopolitan advancements will take over the future trends in the cosmetics industry.
When studies for genes that affect various aspects of skin health and known ingredients are combined with genes and treatments, a new framework for personalized skincare can be developed through an algorithm that offers specific skincare recommendations based on a person's genes. It is still a nascent area and needs efficiency and precision.
The growing use of DNA-based technology, AI, AR, and 3D printing data will continue to change the customer experience, opening new possibilities for greater personalization and tailor-made formulations.