Approaching Sustainability through Energy Harvesting in Electronic Devices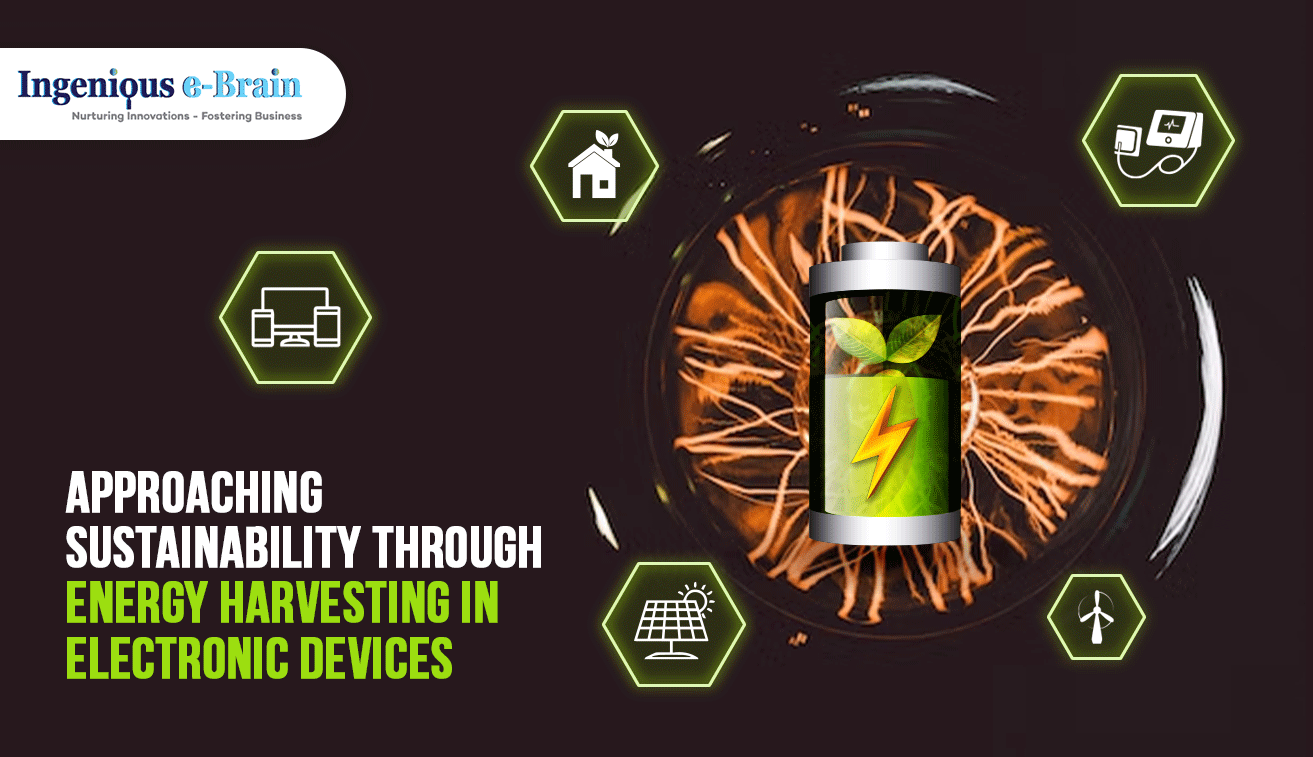 With the growing demand for daily electronic devices, various low-power techniques are emerging for operating devices without dependence on batteries. Researchers have figured out numerous ways to harvest electricity from surroundings and activate low-powered devices, such as IoT, sensors, actuators, etc. These emerging energy harvesting technologies can become the key to sustaining low-powered devices and reducing carbon emissions to fulling energy needs.
Energy Harvesting Techniques
Energy harvesting refers to harnessing insignificant amounts of ambient energy to power low-energy-consuming electronic devices. The earliest energy harvesting technique used a crystal-based radio receiver, where the power of the received radio signals is captured & converted into sound without the need for an external power supply.
Let us look at some of the renowned energy harvesters employing distinct harvesting technologies:
Vibrational Energy Harvester
Vibrational energy harvesters take their power from physical vibrations by using microelectromechanical systems. A low-power design demands an instant energy harvesting solution; thus, vibrational energy harvesters are perfect for this use, especially using wireless nodes. It is the most suitable technology to realize IoT-sensing nodes, as it enables integrated fabrication of sensors/actuators and electronic circuits for processing information.
Some examples of energy harvesting devices include the concept of mechanical energy harvesting.
• Electrostatic devices
• Electromagnetic devices
• Piezoelectric devices
RF Energy Harvesters
Energy stored in the Radio Frequency (RF) can be harnessed easily, owing to the ability of radio waves to travel through the air to reach the antenna and create potential differences across its length. The RF-DC coordinated circuits capture energy from the development of those charge transporters. The power can be put away briefly in a capacitor, which can then be conveyed across the heap.
Triboelectric Nanogenerators
The working principle of these nanogenerators is straightforward. During frictional sliding and bending through mechanical pressure, triboelectric charges are generated on the surfaces between the two dielectrics, creating a potential difference. When the pressure is released, the surfaces are discrete, and the inverse triboelectric charges are recaptured in the middle.
In a recent study, the University of Chinese Academy of Sciences researchers are engaged in harvesting energy from the human body by using triboelectric & piezoelectric nanogenerators. As humans consistently dissipate energy by performing conscious & subconscious activities, such as walking, breathing, blood circulation, etc., that energy can be harnessed to bioelectronic devices. Such an energy recycling form is currently a research hotspot in energy harvesting and bioelectronics.
Organic Solar Cells
Organic solar cells, referred to as organic photovoltaic cells, follow the process of photosynthesis in plants to generate energy. Based on a study conducted by researchers from the South China University of Technology, the power conversion efficiency of an organic cell can be enhanced to over 19% by altering the packaging material at a molecular level. They said an oligomeric strategy was essential in developing organic solar cells and blending morphology. This will help them develop a novel fullerene acceptor for stable, efficient organic cells.
Thermoelectric Harvesters
Thermoelectricity refers to the immediate transformation of heat or temperature difference into power and the other way around. Applications that are being dealt with to use thermoelectric collectors include conditions that contain temperature angles and intensity streams. These are strong-state gadgets that are doped for high currents. These harvesters can also be equipped with wearables for gathering energy from body heat.
Impact of Energy Harvesting technology in creating a Sustainable Future
The realization of carbon neutrality is to balance the transmission & absorption rate of ozone-depleting substances; to extensively use solar, wind, and other sustainable power sources; and to adopt diversified energy-saving measures to mitigate environmental issues. Nowadays, with the development of digital technologies utilizing Artificial Intelligence, IoT, and different innovations regarding energy measures, it is no misrepresentation to say that a change in perspective is in progress regarding the goal of energy and ecological issues.
The concept called "energy harvesting" recently emerged in this energy field. It encompasses harvesting small measures of energy from the climate and afterward changes over it into electric power utilizing voltage materials, modules, and sensors. It is referred to as "environmental power generation." The major benefit of this concept is that it produces electric power from sunlight, vibrations, and different components, implying that it is harmless to the ecosystem.
Challenges in the adoption of Energy Harvesting technologies
One of the key issues with energy harvesting is that the power produced is less, as minimal energy measures are gathered. Nevertheless, extensive consideration is given to climate-determined energy, and applying it to different fields is normal.
The power from energy harvesting is often weak and unstable. Only devices that operate on very little power can be coupled with energy harvesting. Moreover, the devices may encounter sudden shutdowns due to limited power supply. Also, the energy harvesting devices being used are expensive to manufacture and install, and the energy harvesting capacity is not enough to match the cost.
Conclusion
Considering the key arguments, energy-harvesting technology will reshape the future where the need for heavy carbon-emitted machines becomes obsolete. Despite the energy released during a process, which would be further harvested and utilized, is minimal, it can promptly lead to a sound reduction in the carbon index. With some significant advancements in the near future, devices equipped with innovative technologies can utilize a significant amount of waste energy and become self-sustainable.
====================================================================================================================
Article by Ingenious e-Brain Solutions :-
Contact us :-
US Office:-
4 Heinrick Way Bridgewater,
New Jersey 08807, USA
Phone:-
+1 347 480 2054
+1 202 697 9162
India Office:-
207-208 Welldone TechPark, Sohna Road
Sector 48, Gurugram,Haryana 122018, India
Phone:-
+91 124 429 4218
Email:-
queries@iebrain.com