Attaining Sustainability in F&B Industry via Waste Reduction and Recycling Strategies
Sustainability is no longer a trend now; it has become mainstream. It is a balance of economic, environmental, and social concerns. In the food and beverage business, environmental protection is a major concern; already, 53% of Americans prefer to buy ecologically friendly products. Consumers now want enterprises to acquire their products with a clean conscience and to ensure that economic activity is sustainable throughout the entire manufacturing and supply chain.
Are we really moving towards a sustainable tomorrow?
Utilization of food, forest and agricultural waste involves challenge and need in day-to-day life. It is an essential aspect for all the industries (food) for the process of modification and recovery. The main objective is to reduce deterioration and increase utilization of food which will lead to less problems in waste management and environment pollution. In need of increasing demands of high nutritive and low-price foods, requirements are getting high concurrently with increasing world population. Therefore, there is an urgent need of nutrient recovery from waste utilization and sources of food will help to reduce the shortage of world food supplies to the future generation.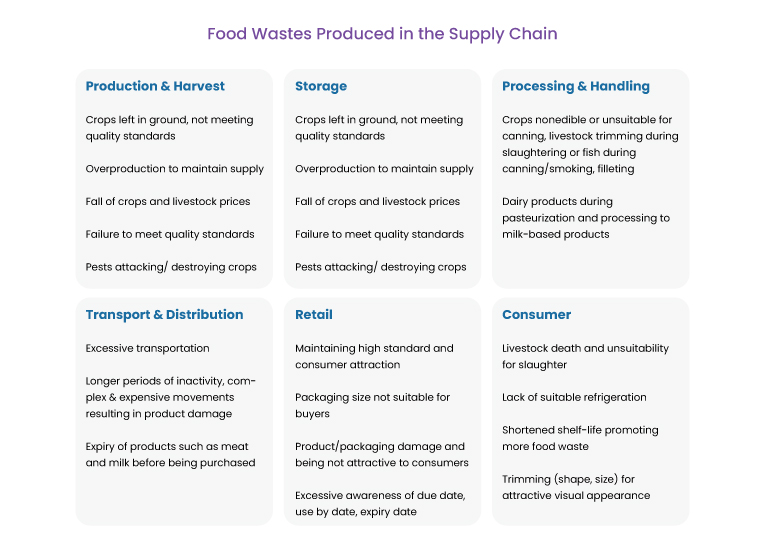 Biomass Waste: A Big Space to Explore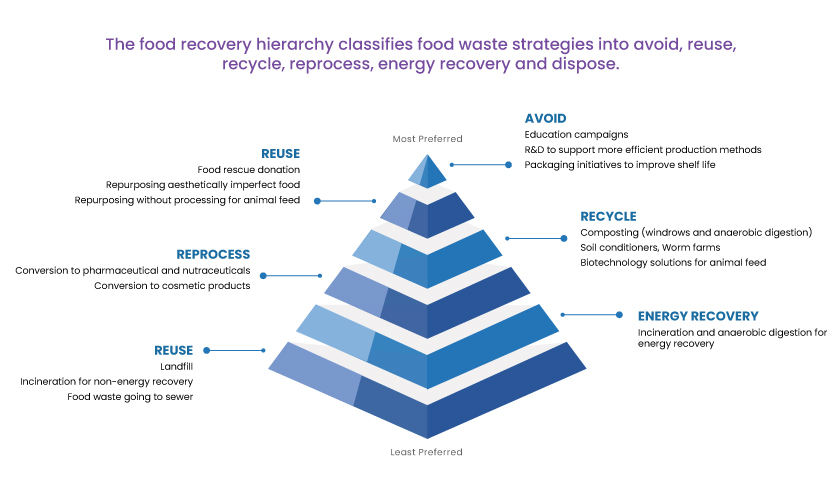 Utilization of Waste: Food Industry Take
As per the Food Loss and Waste Protocol, the food waste destinations are when food ends up in places like incinerators, as animal feed, in landfills, or in anaerobic digestors. Globally, we lose around $1 trillion per year on food that is wasted or lost.
Creative new techniques of recycling so-called "waste" components are emerging as part of a greater industry push toward sustainability. The upcycling movement is not completely new, but it is rising in response to customer desire for socially responsible and environmentally beneficial products. More businesses are turning to technical innovation and processing improvements to attain the highly desirable "zero waste" product promise as consumers continue to reduce their environmental footprints.
Upcycled Cocoa Fruit Waste: Boon for Confectionery, Bakery, and Ice Cream Products
Nestlé has revealed a new chocolate recipe that substitutes refined sugar with cocoa pulp as it begins to explore the possibilities of side-stream utilisation to reduce food waste.
Koa, a start-up is repurposing the pulp and juice of the cocoa fruit for food and beverage manufacturers. Lindt has partnered with Koa to develop a chocolate product made from 82% cocoa bean and 18% cocoa pulp. Italian confectioner Venchi has partnered with Koa to introduce a cocoa fruit sorbet, as well as shake and praline offerings.
Leftover from Soymilk Processing- Okara Flour  
Renewal Mill, an upcycled ingredient provider, has collaborated with Salt & Straw, a small-batch ice cream producer, to create a new non-dairy flavour, chocolate salted caramel cupcake. The cupcakes are baked with Renewal Mill's dark chocolate brownie mix, which includes organic okara flour made from soybean pulp leftover after soymilk processing.
Tia Lupita and Renewal Mill jointly launched upcycled tortillas made from organic okara flour. These are high-fibre, gluten-free flours made from the pulp left over after the preparation of soymilk.
Salmon Skin Snacks
Goodfish has introduced a new healthier snack made from salmon skins (which are typically discarded as a fish industry by-product).
Products Prepared from Barley Leftovers
Regrained SuperGrain flour, prepared from nutrient-rich barley left over from the brewing process in California brewers is used to make Semolina Artisanal Pasta Strozzapreti.
Pizza Products: Using Leftover Veggies
Brooklyn-based company Scraps uses unused vegetable scraps such as broccoli to make pizza sauce with a mission to address the issue of food waste.
84% of the products that are ultimately discarded as food waste (unused ingredients) by restaurants, are used to create a pizza known as "Re Pizzas", in a joint effort with restaurants in Xintiandi Shanghai.
Recycle Waste into Burger
Shake Shack worked with chef Dan Barber to create a juice pulp cheeseburger made almost entirely from recycled food waste.
Sustainable Beverages-Fact or Myth?
Leftover Cereals: Production of Beer
Kellogg's and Seven Bro7hers Brewing have partnered to produce a limited-edition beer made from "non-perfect" grains that do not meet Kellogg's strict quality control standards.
Upcycled Avocado Seeds into Beverage
Philadelphia-based beverage company Hidden Gems has launched the first beverage line, called Reveal, made from upcycled avocado seeds.
Drinks: Prepared from Upcycled Wheat Crop Leftovers
Inner Life!TM released a prebiotic drink mix made from arabinoxylan. Arabinoxylan is a prebiotic fibre derived from upcycled wheat crop leftovers to support digestive and immune system health.
Drinks: Brewed from Dried Upcycled Coffee Fruit
Riff's Alter Ego is a series of drinks brewed from dried upcycling coffee fruits called Cascara. Cascara is a naturally sweet, caffeinated pulp that surrounds coffee beans before processing.
Upcycled Whey into Beverages
Spare Food Lemon and Ginger Probiotics Sparkling Tonic Craft Drinks are based on just four local ingredients- chief among them upcycle whey from a local yogurt maker-which are fermented in a small batch to yield a crisp, tangy flavour and a delicious on-the-go beverage containing both probiotics and protein.
Superfrau Cucumber Lime uses fresh upcycle whey from the Greek yogurt manufacturing facility in New York and adds it to the lightly effervescent beverage for RTD drinks that provides full spectrum electrolytes, vitamin B12, and gut-supporting lactic acid.
Utilizing Food Waste in Packaging
Biopolymer Films from Waste:-
Scientists at the Tezpur University in Assam have created a thin biopolymer film for preserving food from potato skins and fruit waste. The film is biodegradable and can be used for the storage of fresh foods such as bread.
Bioplastic Food Wraps:-
MarinaTex is a bioplastic made from fish scales, algae and crab shells developed by a British designer. In contrast to traditional bioplastics, MarinaTex completely decomposes within a few weeks.
Spray to keep Food Fresh for a Longer Time:-
Apeel Sciences extracts lipids from fruit and vegetable peels, seeds, and pulp to create protective sprays. The spray can keep food fresh for up to 60% longer.
Role of Digitization in Reducing Food Waste
The food consumption market is undergoing digital transformation. One major benefit of digital innovation is to make consumer waste traceable and measurable, thus allowing the problems to become visible. With artificial intelligence, block chain and IoT, producers and consumers would like to be equipped with information that far exceeds what traditional waste collection measurements and survey methods currently offer.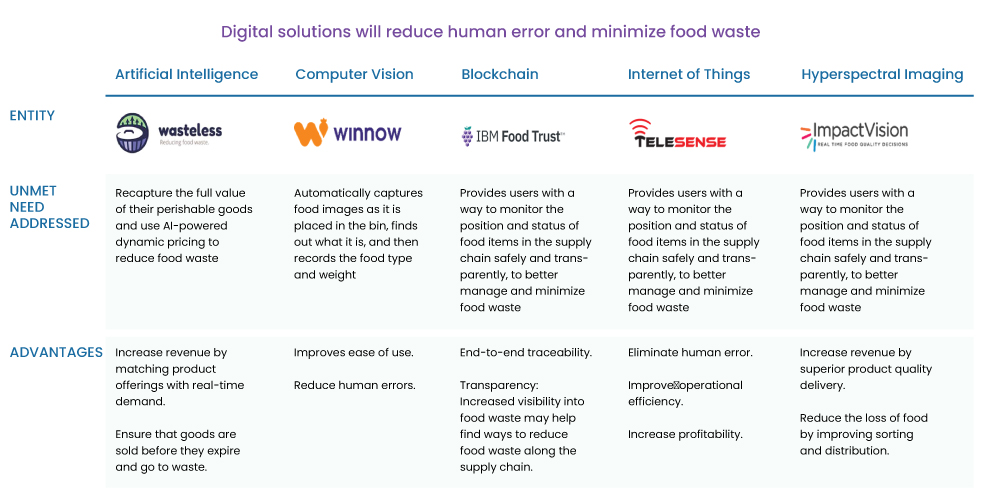 Strategies for Successfully Utilization of Food Waste-Based Products
The first step to a successful waste management strategy is to assess the nature and extent of waste. Once the amount of waste and its position in the food supply chain is known, it is possible to start developing an effective waste management plan. When making an effective plan, there are several key factors including new market opportunities, market trends, current market developments, and how to manufacture competitive products in the market to be considered before successful waste management. Any new products made from the food waste recovery process entering the market must be economically and environmentally sustainable and decisive factor lies in acceptance of new products by consumers.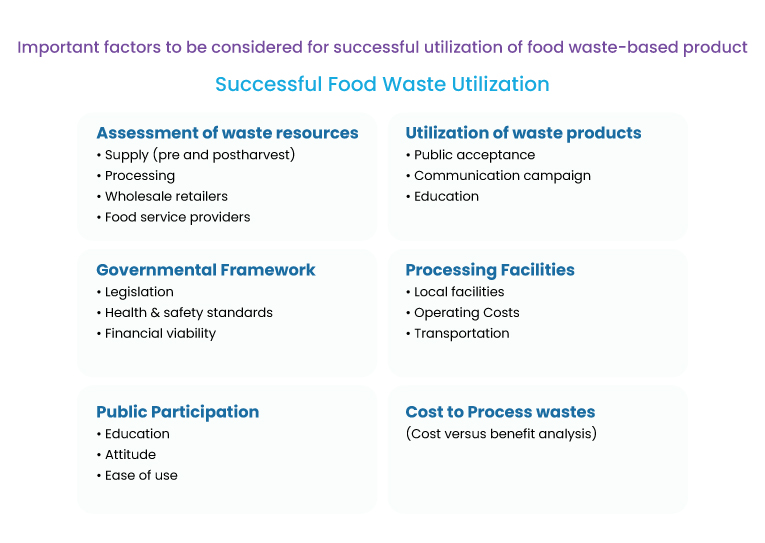 Consumer Acceptance in Repurposing Food Waste
Recent estimates indicate that at least one-third of the food produced worldwide is wasted. In the United States, an estimated 40 percent of the food produced is wasted. The Environmental Protection Agency (EPA) argues that the most effective way to tackle the problem of food waste is to reduce waste at the source. The commercial success of upcycled foods depends on the consumers' acceptance.
Consumers' willingness to pay product prices play a central role in assessing consumers' willingness to buy products and understanding the acceptable prices for such products. Since consumers evaluate a product in comparison to a reference product, an upcycled food is likely to be compared with conventional food. In addition to price, the transmission of such offers, i.e., messaging, is another important variable when marketing a new product. The study of advertising messages shows that consumers often buy goods and services for two reasons, emotional and rational. The rational appeal of the message provides consumers with a logical discussion of why the product may be of value to them. The emotional appeal of the message stimulates the positive or negative emotions associated with the product being advertised and supports the causes that influence the purchase of that product. A study conducted by Pennsylvania State University has shown that rational messaging is more effective than emotional messaging.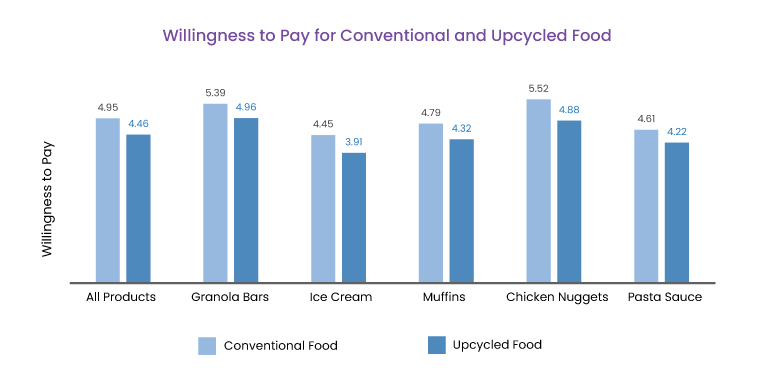 Fighting Food Waste VS Government Policies
As public awareness of the food waste issue has increased, federal, state, and local governments have considered policy options for reducing and managing food waste. The ban on organic waste is a type of regulation that has evolved in recent years at the state and local levels to combat food waste. A broadly defined organic waste ban is a rule that limits the amount of food or organic waste that a particular company can dispose of, and a policy that requires diversion or payment to organic waste treatment services.
In 2015, the United States Department of Agriculture (USDA) and the United States Environmental Protection Agency (EPA) set a goal of halving food waste by 2030.
The EPA's Food Recovery Hierarchy ranks the most beneficial activities first. Donation, animal feeding, industrial uses such as anaerobic digestion, and composting will take place after source reduction.
The Food Recovery Act (H.R. 3444/S. 1680) was introduced after Congress held its first parliamentary hearing on food waste in 2016.
The federal government also backs activities in the private sector. General Mills, Sodexo, Unilever and Walmart are one of the 2030 US Food Loss and Waste Champions, all of which are making significant efforts to minimize food waste.

Designing Policy
This section outlines some of the decisions that a state or municipality may face while developing appropriate food waste reduction and management policies.
To Ban or Not to Ban
The state or municipality must first decide whether to pursue an organic waste ban or mandatory organic recycling law, or to pursue alternative solutions such as zero waste plans, ordinances, and program collection. Factors to consider when making this decision are the political feasibility of enacting a ban, the availability of resources such as finance and human resources, and the use of existing infrastructure to process organic products.
Organic Waste Ban or Mandatory Recycling Law
If a state or municipality chooses to pursue an enforceable policy, it will need to decide whether to structure its legislation or regulatory requirements as an organic waste ban or as a mandatory organic law. Both are enforceable policies by legislation or regulation but the ban on organic waste prohibits affected facilities from disposing of organic or food waste. On the other hand, mandatory organic recycling law requires affected facilities to take serious actions to recycle organic waste, i.e., subscribing to the collection service.
Types of Generators to Cover
Policy makers need to determine the categories of food waste producers/generators to regulate. Most organic waste bans apply only to large commercial producers/generators of food waste, but some also apply to producers/generators of institutions such as educational institutions, prisons, and hospitals. Some states and regions also impose requirements on residents.
Barriers and Challenges
Political Considerations
Like most political measures, waste bans raise political concerns and can create significant opposition. Some states and local governments have reported that political compromises are needed to pass the law, or political challenges have suspended plans to pass, implement, or expand such bans. Political support for these strategies can be increased by supporting the proposed strategies in economic research and involving a wide range of stakeholders, including food companies, food rescue organizations, haulers, and processors.
Funding
Many states and provinces with waste-free or zero-waste plans suffer from a lack of resources and dedicated funding for operations and execution. Inadequate funding can hinder the effectiveness of waste bans by limiting the state and local capacity to implement, enforce, and publish these laws.
Infrastructure
Many states suffer from a lack of sufficient infrastructure, such as composting and Anaerobic Digestion (AD) facilities, collection equipment, and food rescue infrastructure, to support the ban on organic waste. Many states have observed substantial growth in processing infrastructure since the enactment of organics ban. This is partly due to the increased willingness to invest in treatment facilities after the introduction of policies that stimulate demand for these services. However, several states do not yet have sufficient processing capacity to process all food waste that must be diverted as part of an organics ban.
Enforcement
Execution costs and logistics pose another challenge for states and regions implementing organic waste bans. Some municipalities have attempted to monitor individual producers, such as monitoring source isolation containers at the time of collection, other states have taken alternative enforcement strategies, such as carrying out inspections on the tipping floors at waste transfer stations or at landfills or intervening primarily when they receive a report of possible noncompliance.
Other common challenges faced by states and regions in implementing and enforcing organic waste bans are the dynamics of local markets and the impact of food waste pollution.
Beyond the Ban
Permitting for composting and AD Facilities
To support the development of organic matter processing infrastructure, permitting requirements and procedures that facilitate the development of composting or AD facilities without incurring unreasonable costs or delays are important. Several states, including New York and Rhode Island, have recently revised their licensing regulations to reduce the barriers to obtaining permits.
Pay-As-You-Throw (PAYT) Pricing Structures
Some municipalities use the PAYT model (also known as unit-based or variable price) to charge residents for collection services based on the amount of waste they dispose of. The PAYT model reduces waste generation and encourage more recycling and other forms of waste diversion for residents by increasing the amount charged to residents when disposing of large amounts of waste, or by changing the cost of waste disposal relative to their recycling and composting.
Research and Innovation
The extraction of various chemicals from accumulating food wastes and by-products opens new possibilities for using these extracts in the food industry to improve food quality. Some of the wastes can improve the nutritional qualities of current foods, such as increased antioxidant properties, higher protein or fibre content, and high concentrations of minerals that are vital to human health. All food wastes and by-products have a significant chance to be used in the creation of a variety of foods with improved nutritional properties. Several chemicals found in food residues/waste are better digested in the human system than others. The proper use of these biomaterials can promote human health, progress the food industry, and alleviate a variety of environmental issues caused by the discharge of these wastes.
Technological Perspective
Food waste can be considered a raw resource with enormous potential and multiple applications in food formulations, owing to its nutritional, nutraceutical, and functional qualities, particularly in impoverished nations where this garbage is produced. Biomolecules present in food wastes and by-products, such as proteins, lipids, starch, vitamins, minerals, fibres, and antioxidants, can be separated from the biological matrix (using physical or chemical extraction techniques) or used directly as food to maximise the nutritional and functional components contained in them.
Food wastes and by-products high in dietary fibre can be used as food powders with the right preservation technology. Because of its high solubility, the powder can be utilised straight in liquids.
These biomaterials can also be utilised to make bread products in underdeveloped nations where tropical fruits, buttermilk, and fish waste are cultivated and processed.
There is an urgent need for new research into the production of novel goods based on by-products. Technological innovation can aid in the development of new business opportunities, resulting in an increase in the number of nutritious foods available, reducing hunger and creating more jobs for local communities.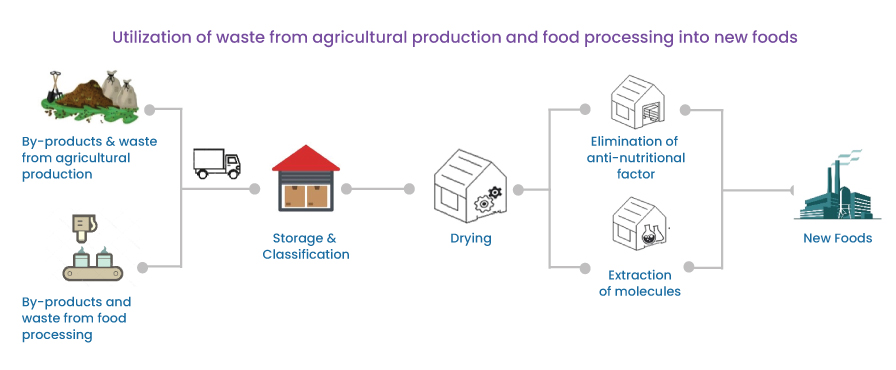 Conclusion
One of the main concerns of modern society is the creation of long-term solutions for the management of by-products and food waste. The size of food waste throughout the food supply chain is complex and can have significant implications in a variety of areas, including agriculture, food safety, the economy, waste utilization and management, environmental protection, and human health. Effective communication and cooperation among all stakeholders including policy and regulation makers are required to solve food waste problems and promote food waste recycling strategies in each country. There are many hurdles that prevent food waste from being turned into value-added products. These hurdles include developing effective and cost-effective strategies for food waste utilization, developing efficient environmentally friendly reprocessing technologies, reducing environmental degradation, and gaining public acceptance. Many countries around the world are addressing issues related to food waste growth and food waste utilization and management. The key to successful utilization and management of food waste is to create an appropriate environment that can convert all the valuable ingredients in the waste into valuable products and ultimately reduce the amount of waste landfilled. Consumer awareness and education is one such challenge. Without consumer acceptance of food waste reduction approaches, sustainable, environmentally friendly food waste recovery and management strategies cannot be successful.
How Can IEBS Help You?
Ingenious e-Brain Solutions is a global provider of intellectual property, technology, commercial, and market research solutions. Ingenious e-Brain creates solutions that are adapted to your company's needs. Our staff assists clients in all parts of their business with a unique blend of skills, proven processes, and knowledge base. With the help of our experience in drug life cycle management, IEBS can provide actionable insights in drug repositioning space by identifying drug-target receptor pathways, emerging repositioned drugs, and competitors' strategies. IEBS can also provide answers to various other queries using a variety of problem-solving techniques.
Article by Ingenious e-Brain Solutions :-
Contact us :-
US Office:-
4 Heinrick Way Bridgewater,
New Jersey 08807, USA
Phone:-
+1 347 480 2054
+1 202 697 9162
Email:-
queries@localhost
India Office:-
207-208 Welldone TechPark, Sohna Road
Sector 48, Gurugram,Haryana 122018, India
Phone:-
+91 124 429 4218
Email:-
queries@localhost