Evolution Of Non-Alcoholic Spirits & Their Impact On The Beverage Industry
Introduction
Non-alcoholic or alcohol-free spirits emerge as a healthier alternative to alcoholic beverages. Although non-alcoholic spirits resemble actual spirits in terms of flavor and appearance, the alcohol content in the former is extremely low (up to 0.5% by volume) compared to (4-95% by volume) in the latter. Temperance beverages are composed of botanicals, including leaves, roots, flowers, and spices. The societal transformation toward sobriety has led to the accelerated recognition of healthier beverage options and conscientious developments in non-alcoholic beverages.
Need for Alcohol-free Spirits
Globally, alcohol consumption contributes to 3 million deaths (representing 5.3% of all deaths) each year. Alcohol poisoning, liver damage, heart failure, cancer, and road accidents are the leading causes of alcohol-related deaths. All of this has caused consumers' attention to shift from unhealthy drinking options to healthier ones. Considering the customers' rising need for alternatives to soft drinks and generic mocktails, established brands create non-alcoholic versions of popular alcoholic beverages, such as gin, whiskey, rum, beer, and wine. They focus on building visibility in the non-alcoholic beverage segment across most regions, mainly Europe and North America. Many start-ups are tapping into this market because they recognize the significant opportunity the moderation drinking trend brings. Among all the available options, non-alcoholic beers have gained the maximum traction among consumers, followed by alcohol-free wines.
Evolution of the Alcohol-free Spirit Sector
The brewers must stay on top of consumer interests and needs while developing novel spirits.
Exhibit 1: Evolution of alcohol-free spirit, the booze got a boost since a decade

The industry has seen a flurry of no/low-alcohol spirit launches from well-known spirits companies like Gordon's, Ballantines, and Sipsmith through 2020 and 2021, as well as zero alcohol line extensions into RTD products (Seedlip, Lyres, Clean Liquor Co., and Caleño). All these manufacturers aim towards explosive growth in outdoor, on-the-go drinking occasions outside the on-trade. Budweiser recently promoted Budweiser Zero, an alcohol-free beer in the World Cup (hosted by anti-alcohol Qatar).
Value Chain
Exhibit 2: The value chain of non-alcoholic spirits operates similarly to alcoholic beverages

Key Developers and Their Technology Focus
Japan leads the innovation in the sector, wherein key firms such as Asahi, Sapporo, Kirin, Suntory, Kao, and Anheuser-Busch have grown their patent portfolio by 600% since 2010. An analysis of the recent patents highlights methods to filter and remove ethanol without altering the flavors and colors of the finished product.
Exhibit 3: Key invention without compromising the sensory profile of non-alcoholic spirits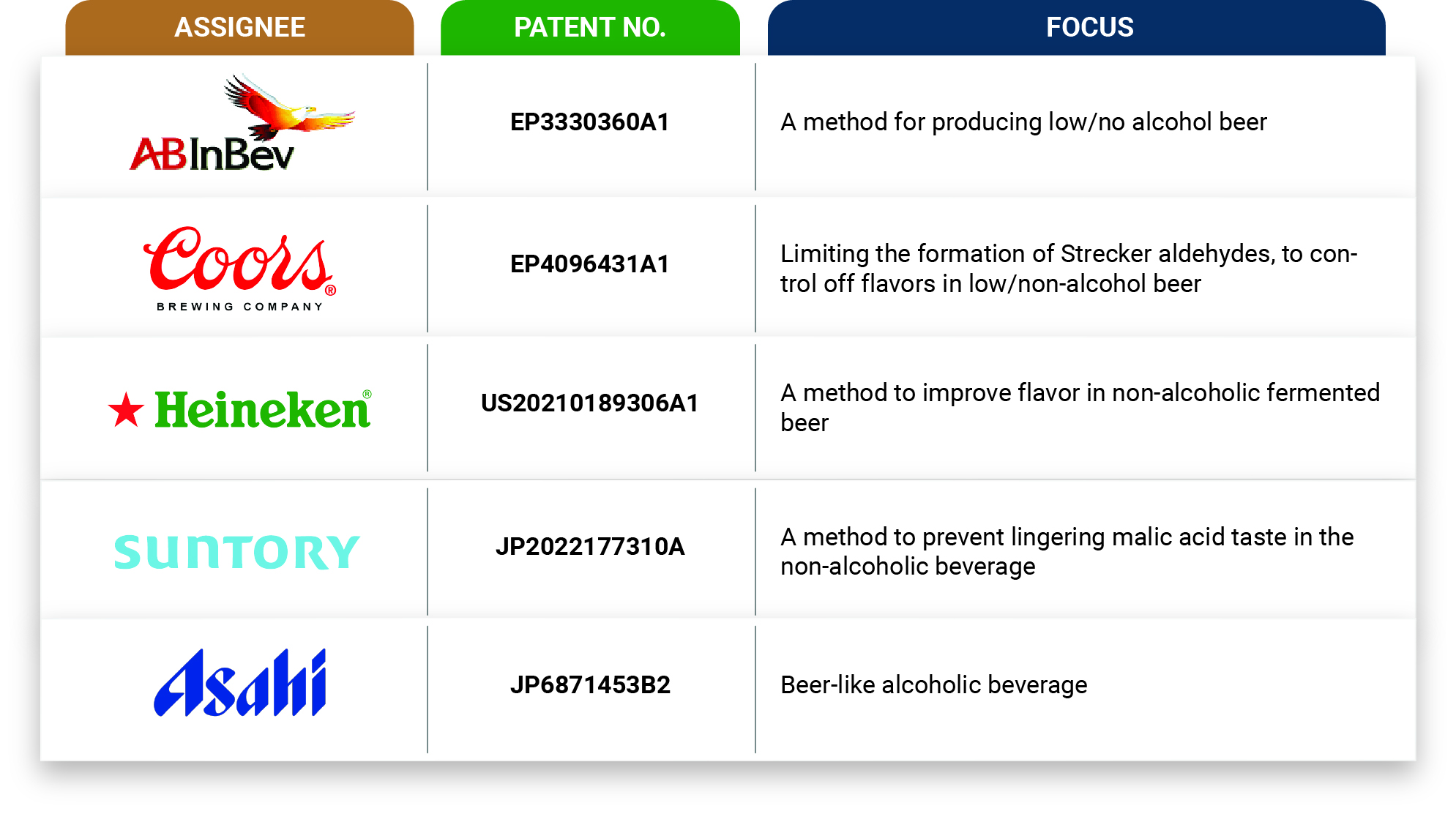 Recent Investments, Acquisitions, and Partnerships
The non-alcoholic beverage sector has recently witnessed numerous inorganic initiatives by brewery companies to meet evolving interest and demand for zero-alcohol beverages.
Exhibit 4: Consolidation among companies to increase market share and profitability

Key Drivers, Inhibitors, and Market Opportunities
Exhibit 5: The market is witnessing drivers and inhibitors across both emerging & developed regions

The market is growing thanks to a variety of non-alcoholic beverages with cutting-edge labeling and distinctive flavors. These drinks provide customers a chance to cut back on their alcohol consumption. These beverages are becoming increasingly popular, particularly with Gen Z and Millennial customers.
Non-alcoholic beer continues to be the most popular substitute among the numerous categories and styles of low/non-alcoholic beverages in the market, followed by punch and cocktails.
Exhibit 6: Non-alcoholic drinks popularity segmentation of which beer category tops the list.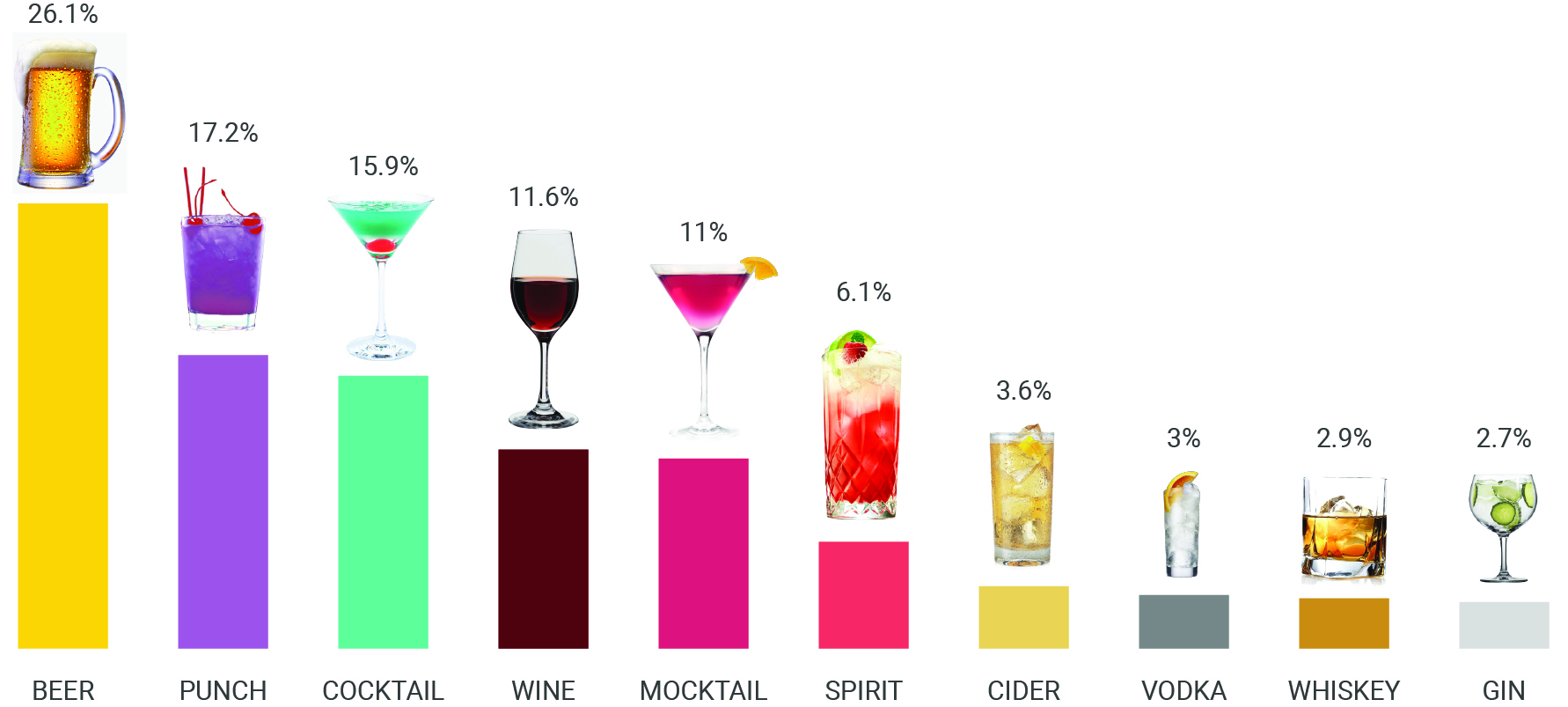 According to combined statistics from IRI and NielsenIQ; spirits, wine, beer, and other malt-based beverages contributed to a 3.6% increase in total beverage alcohol revenue in October 2022 compared to October 2021. However, during the same year, sales of alcohol-free beverages rose by 17.6%, much faster than the growth of total traditional beverages such as soda, tea, coffee, sports drinks, etc.
In 2020, among other categories, including beer, cider, and wine; non- and low-alcoholic "spirits" and "Ready-To-Drinks" (RTDs) witnessed the most substantial growth (almost 33% and 49%, respectively), reflecting consumers' appetite for a range of tastes and product formats.
With a volume share of 75%, beer and cider are the largest category of non- and low-alcohol drinks. Non-alcoholic beer is expected to grow by more than 11% CAGR between 2021 and 2025.
In 2023, the non-alcoholic beer segment is forecasted to generate USD 34.65 billion in revenue. The market is anticipated to grow by 7.5% yearly (CAGR 2023-2027).
Future Outlook
Leading beverage firms are penetrating and innovating around the low-alcohol and zero-alcohol areas in response to changing consumer preferences. The market for low-and no-alcohol products has grown and has room to expand, owing to the general trend of people seeking more variety, flavor, and lifestyle optimization.
Non-alcoholic spirits have their market segment in Australia, Europe, and the US; although the trend is new in the APAC market, it is developing incredibly fast.
Existing industry players are developing new items and undertaking several efforts. Consumers continue prioritizing taste, flavor, and mouthfeel despite a trend toward healthier options. As a result, the brands that could overcome these obstacles would rule the zero- and low-alcohol market.
References:-[1], [2], [3], [4], [5], [6], [7], [8], [9], [10], [11], [12], [13], [14], [15], [16], [17], [18], [19]
Article by Ingenious e-Brain Solutions :-
Contact us :-
US Office:-
4 Heinrick Way Bridgewater,
New Jersey 08807, USA
Phone:-
+1 347 480 2054
+1 202 697 9162
India Office:-
207-208 Welldone TechPark, Sohna Road
Sector 48, Gurugram,Haryana 122018, India
Phone:-
+91 124 429 4218
Email:-
queries@localhost