Transforming the Dairy Industry with Digital Technology
Dairy has traditionally been an integral and necessary part of the global food system. It is central to earning income and providing a livelihood for millions of people around the world. For consumers, dairy products are an essential part of the staple diet across the globe.
With the advent of Dairy 4.0 technologies, the dairy industry is exploring and implementing intelligent digital solutions to transform various aspects of its operation.
Exhibit 1: Industrial evolution from industry 1.0 to industry 4.0

The strategic positioning of these technologies across the dairy value chain may enhance efficiency, sustainability, and product quality, thereby reaping better revenue and profit margins.
Exhibit 2: Dairy value chain – farm to consumer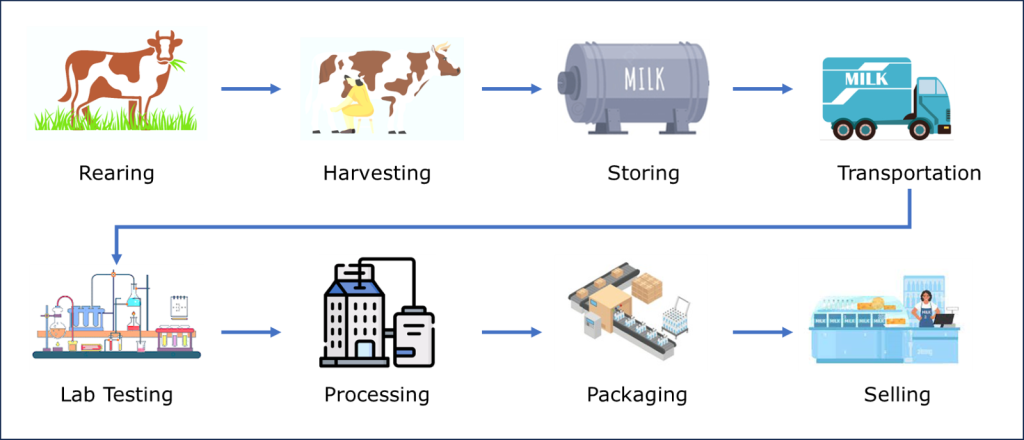 By deploying and integrating digital technology at every stage of the value chain, the visibility and transparency of the entire operations increase significantly and provide the necessary power and tools to take preventive and corrective measures to avoid any delay or disruption in production.
Role of Digital Technology Across the Value Chain
Digital technology significantly transforms the dairy value chain throughout the entire process from farm to consumer. Here's how digital technology impacts different stages of the dairy value chain.
Using artificial intelligence and computer vision in connected cloud-based networks, Cainthus by Ever.Ag is transforming how dairy farmers manage their herds, refine their processes, and optimize output with the help of integrated solutions, including Digi Remote Manager® and Digi IX routers.
Lely is a well-known company in the dairy industry, offering robotic milking systems under the brand name Astronaut. Their milking robots are designed to handle the milking process autonomously, allowing cows to be milked whenever they choose.
A milk level monitoring system offered by Biz4Intellia is a sensor-enabled solution to resolve the problems associated with monitoring bulk milk levels. It is designed with IoT concepts to determine the accurate amount of milk levels in storage containers, keep up with the necessary inventory stock, and provide better management facilities to the dairy authorities.
Milk Moovement, a software as a service (SaaS), provides innovative digital solutions for the dairy supply chain. The solution manages the supply chain with transportation monitoring, production tracking, quality monitoring & producer payment.
MilkoScan™ FT3, an analytical solution developed by Foss, offers a new, intelligent approach to the analysis of dairy, including the power to test a wide variety of liquid and semi-solid products with exceptional uptime and unprecedented consistency of results.
MindSphere, an open, cloud-based IoT operating system developed by Siemens, enables connection to all industrial devices and provides real-time data to help the dairy manufacturer in product designing, production planning, production engineering, and production execution.
The Tetra Pak® Connected Package supports the digital transformation of dairy businesses by creating and managing unique digital identities for every packaged product. The connected packaging platform brings new benefits to dairy producers, retailers, and consumers.
Exhibit 3: Benefits of connected packaging to different dairy stakeholders

Digital technology enables the creation of online marketplaces and e-commerce platforms, allowing dairy producers and retailers to sell their products directly to consumers. These platforms facilitate convenient and seamless purchasing experiences, reaching a broader customer base beyond traditional brick-and-mortar stores. Dairy producers can further develop mobile applications that enable customers to browse products, place orders, and receive updates and promotions directly on their smartphones.
Concluding Remarks
By embracing digital technology, the dairy industry can become more resilient, sustainable, and consumer-centric. However, several obstacles related to digital infrastructure and connectivity, the cost of implementing these technologies, the need for skilled labor, and greater collaboration among supply chain actors have come along the way. These difficulties must be addressed as a priority to realize their full potential in the dairy business.
About Ingenious e-Brain:-
Ingenious e-Brain provides high-quality, customized, and cost-effective Technology Research, Business Research, and Intellectual Property Research solutions to industry leaders, and innovative companies across the globe. Innovation, knowledge, and transparency form the basis of our company's mission and vision. Along with cost benefits, we provide highest quality results ensuring fool-proof confidentiality and security. We are an ISO certified company with offices in India and USA.
Ingenious e-Brain has a strong team of analysts, and subject matter experts with domain proficiency which is devoted to help clients grow. Our highly qualified professionals offer tailored, value-added and cost-effective services to our clients. We believe in building long term relationships with our clients who include national and international corporations, Fortune 500 companies, world's leading research institutes and universities as well as independent inventors.
Get in Touch:-
USA Office:
646 Sutton Way#1006
Grass Valley, CA 95945 United States
+1-347-480-2054
India Office
207-208 Welldone TechPark, Sohna Road
Sector 48, Gurugram, Haryana 122018, India
+91 124 429 4218
Email: contact@iebrain.com