Green Hydrogen As A Key To Carbon Free Economy
As more and more countries are now interested in adopting decarbonization strategies, hydrogen has a critical role. Applying this feat will be particularly difficult in sectors where direct electrification is a challenge, for example, in harder-to-abate sectors, such as steel, chemicals, long-haul transport, shipping, and aviation. The pre-requisite for this is for the hydrogen production to be involving lower carbon and ultimately a green mode of production. This green hydrogen is produced by water electrolysis using renewable forms of electricity.
In addition to system regulations and market design, production costs are considered a significant barrier to green hydrogen uptake. Prices of renewable power sources are falling, but green hydrogen is still double as expensive as the blue hydrogen produced from fossil fuels, including carbon capture and storage, making it unsustainable. Further cost reductions are needed to broaden the use of green hydrogen by companies.
The largest production cost component for green hydrogen on-site generation is the renewable electricity cost powers the electrolyzer unit. This cost challenge makes green hydrogen production more expensive than blue hydrogen, irrespective of the electrolyzer's cost. Therefore, a lower price of electricity is necessary to produce competitive green hydrogen in the current scenario. Locations with optimal renewable resources can effectively produce green hydrogen to achieve a carbon-free advantageous edge.
Lowering the cost of electricity supply is not enough to achieve a competitive green hydrogen production. Along with this, reductions in the price of electrolysis facilities are also needed. This is considered the second largest cost component in green hydrogen production; it identifies critical strategies that reduce investment costs for electrolysis plants. These strategies are multifaceted and can range from the electrolyzer stack's fundamental design to broadening the system-wide elements.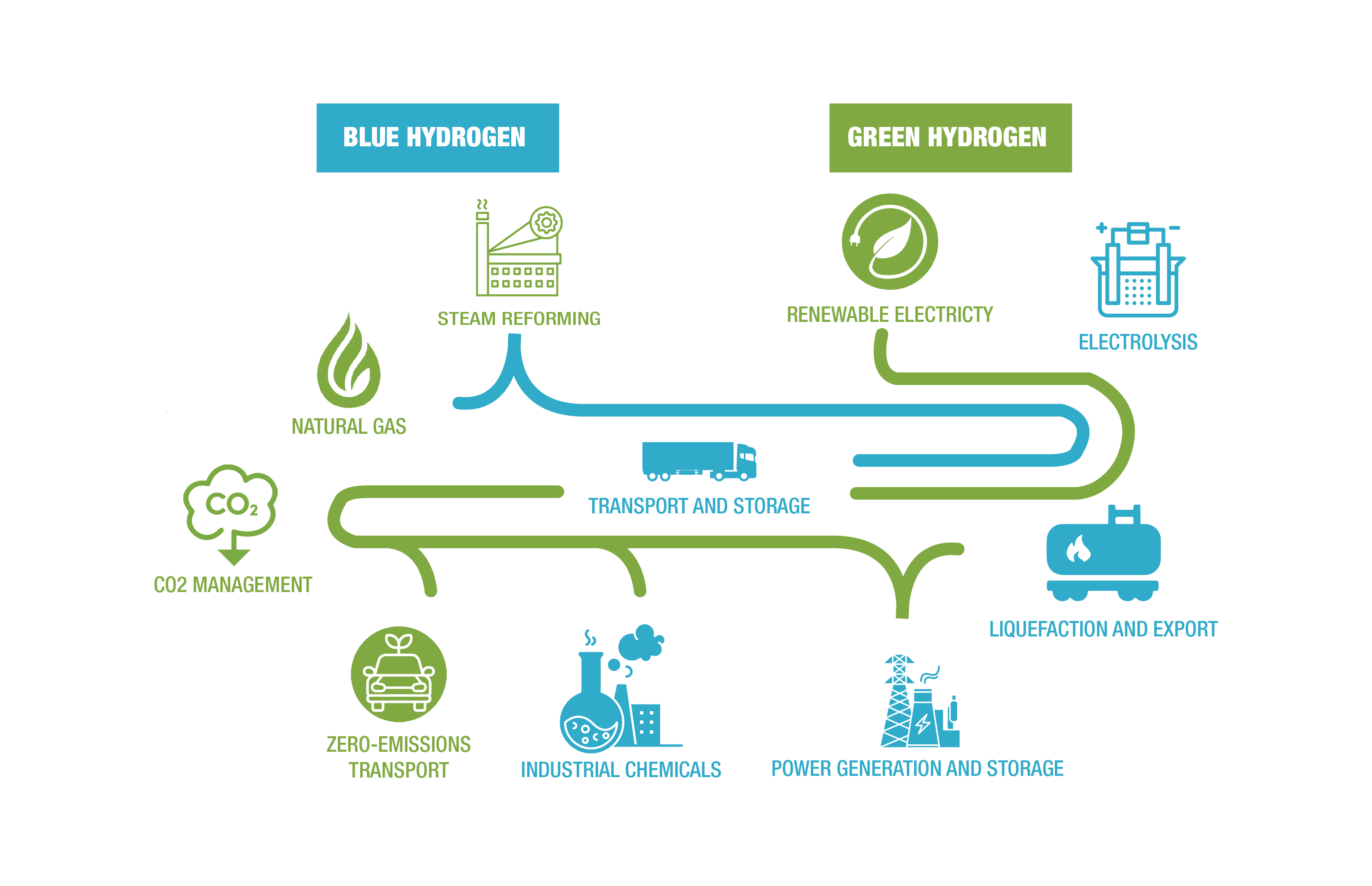 Production of Green Hydrogen
Hydrogen production using water electrolyzers can be equipped with an anion exchange membrane (AEM), a water feed, and several cheap components like platinum metal-free catalysts and stainless steel bipolar plates (BPP). The AEM electrolyzer's optimum performance must have a compact design, stability, H2 purity, and high current densities of PEM systems. The current technology in AEM water electrolysis is defined by sporadic reports, mostly dealing with catalyst or membrane development. This technology's growth needs a roadmap for the systematic development and commercialization of AEM systems and their components.
The development of catalysts, membranes, and ionomers for AEM electrolysis has been sporadic, focusing on integrating the various MEAs and cell testing components. As a result, the best performance data shown in AEM cells has been obtained with commercially available materials. Hence, developing these critical components of this technology is essential for the systematic development and commercialization of AEM systems and components.
Once the challenges of materials development are covered, AEM water electrolysis can drive hydrogen as an energy source in the future, especially in developing countries.
Efficiency is only indirectly indispensable; what bothers is the cost. The electrolysis process's overall cost comprises the electrolyzer system's fee, including its maintenance and replacement of damaged membranes, the cost of the electricity, and additional costs for drying, cleaning, gas compression, and transport.
The experts make certain assumptions about the measures to reduce the cost associated with green hydrogen production. Some of these are:
Production cost will likely fall once electrolyzers are in demand. The low level of market demand is holding back the manufacturers from making the needed investments.

For AEM electrolysis, the replacement of precious metals with other alternatives can make distributed generation feasible for the mass market.

Several companies are working towards cutting down investment costs. The joint venture ITM Power and Linde plans to open a semi-automated factory in Sheffield, U.K., to produce 1 GW of energy per year.

Along with project size, stack performance is equally important to reduce production costs. Currently, stacks are available at an electrical power of 400 kW. Several of the players are looking forward to increasing this capacity to 1 MW. Scaling this size would reduce production costs for green hydrogen.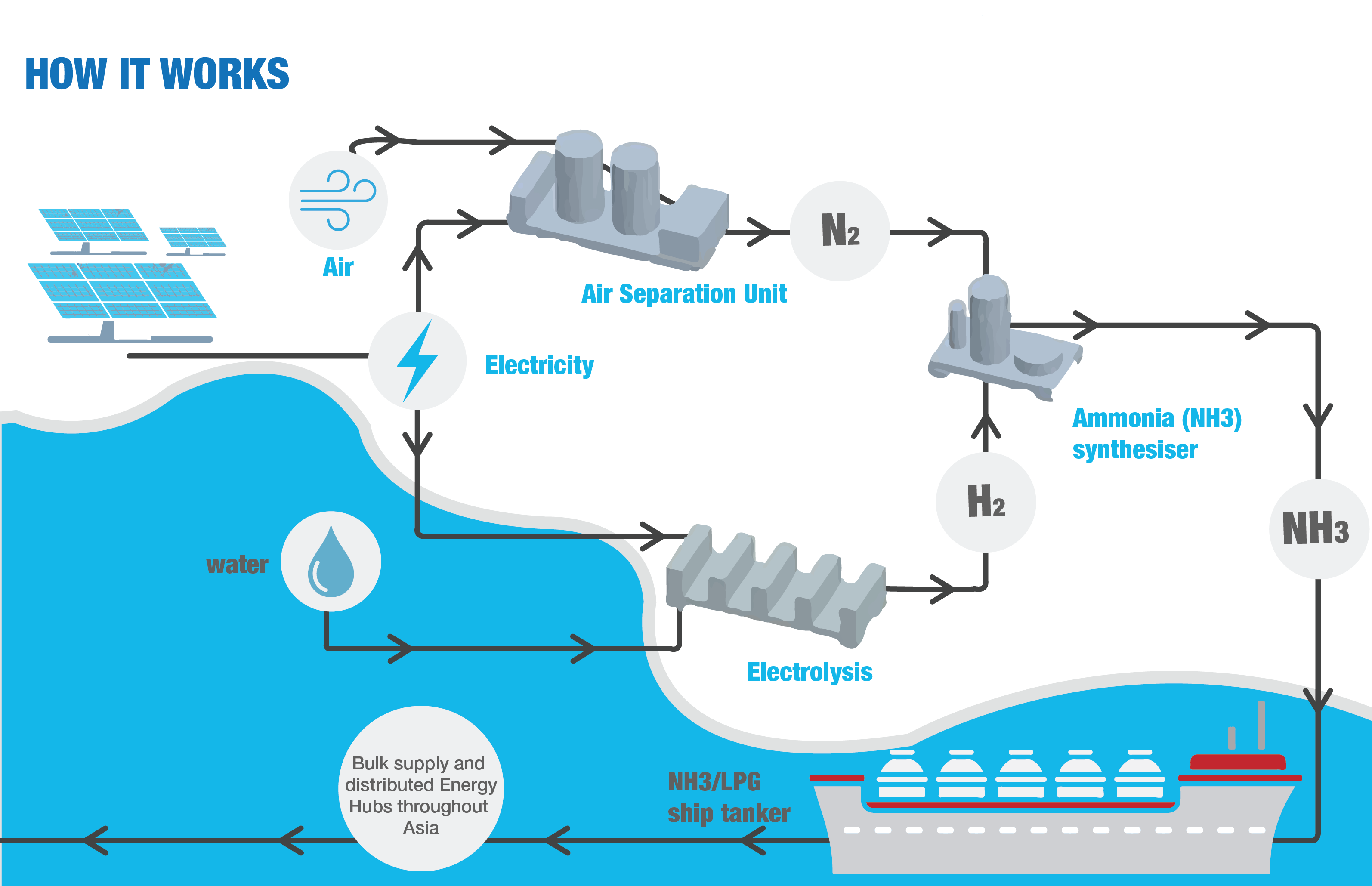 Applied Areas of Green Hydrogen
Hydrogen can be used in two ways: burnt to produce heat or fed into a fuel cell to produce electricity. According to 2018 CSIRO report, potential applications for hydrogen are:
As a raw material for synthetic fuel production
hydrogen fuel-cell-powered electric cars and trucks
container ships powered by liquid ammonia produced from hydrogen
"green steel" refineries burning hydrogen rather than coal
hydrogen-powered electricity turbines generating electricity at peak times to help firm the electricity grid
as an alternative to natural gas for cooking and heating in homes
The CSIRO report predicted Australia's opportunity to export green hydrogen to energy-demanding countries with no access to cheap renewable energy.
According to investment management firm Goldman Sachs, by 2050, green hydrogen could suffice up to 25 percent of the world's energy demands and also become a US$10 trillion market.
Putting Green Hydrogen to Use
Even after all this hype, green hydrogen's future use is not yet assured. For this energy source to become a major export commodity, storing and transporting hydrogen needs to be resolved.
For hydrogen to altogether swipe away the carbon-emitting fuels, we'd need to develop the infrastructure required to distribute, store, and employ this energy source effectively. The need is also to produce vehicles and ships running on fuel cells converting hydrogen into electricity, and even fuel stations and the ports. Another requirement is to stack up fuel cells or retrofit power plants to use the fuel to electrify the grid directly. All of these initiatives require a lot of time and money.
Recently In the Headlines
The following companies have recently been found in the headlines. These companies are taking significant steps towards broadening the base of green hydrogen worldwide. Some of these initiatives are:
Greenstat is a Bergen-based startup that aims to use green hydrogen, wind, and solar in a way that is comparable to Statoil (giant oil and gas company), which is two-thirds owned by Norway's government. Greenstat has also partnered with Nel Hydrogen, an Oslo-based company manufacturing electrolyzers that employ two competing technologies.

Uniper and the Port of Rotterdam Authority are eagerly looking for possibilities of large-scale green hydrogen production plants at the Maasvlakte area in Rotterdam. The plan is to build a hydrogen plant on Uniper's site by 2025. This plant would have a capacity to produce 100 MW of energy that expandable up to 500 MW.

OMV's 10-megawatt plant is planned to be built in conjunction with Kommunalkredit Austria AG (an infrastructure and energy lender), working with municipalities. The plant will cost around 25 million euros ($30.3 million) and is expected to be completed in 2023.

Thirty pioneering European energy players plan to deliver 100% green hydrogen across Europe at €1.5/kg before 2030. This plan comprises companies like McPhy Energy, Enagás, OGE, Snam, and more. The collective ambition is to achieve 95GW of solar and 67GW of electrolysis capacity by 2030. This energy would deliver 3.6 million tonnes of green hydrogen per year to users via the gas transmission and storage network, the energy equivalent of 1.5 months of oil consumption in France.

Goldman Sachs has referred to green hydrogen as a "once-in-a-generation opportunity." Given such economic potential, realpolitik mentions, like nuclear weapons, whoever lacks a foothold in the green hydrogen economy will be at a significant geopolitical disadvantage.

In Neom, a planned megacity of the future, the green hydrogen project investors think they can deliver the chicken and the egg. This joint venture of Neom, U.S. chemical company Air Products & Chemicals In, and Saudi Arabia's ACWA Power is planning to invest $5 billion to build the world's largest green hydrogen production facility.
In the present scenario, green hydrogen seems to have taken a space in everyone's mind, with at least ten countries looking forward to the hydrogen gas for future energy assurance along with its export to energy-deficient countries. Recently Portugal is noted as the nation to bandwagon a national hydrogen strategy that is predicted to be worth €7 billion ($7.7 billion) up to 2030.
Along with oil and gas firms, renewable developers visualize green hydrogen as an emerging market with export options and offshore wind power generating company, Ørsted last month marking the beginning of the first significant project that exclusively targets the automotive sector.