Hybrid Meat Analogues – A Middle Ground between Plant-based & Traditional Meat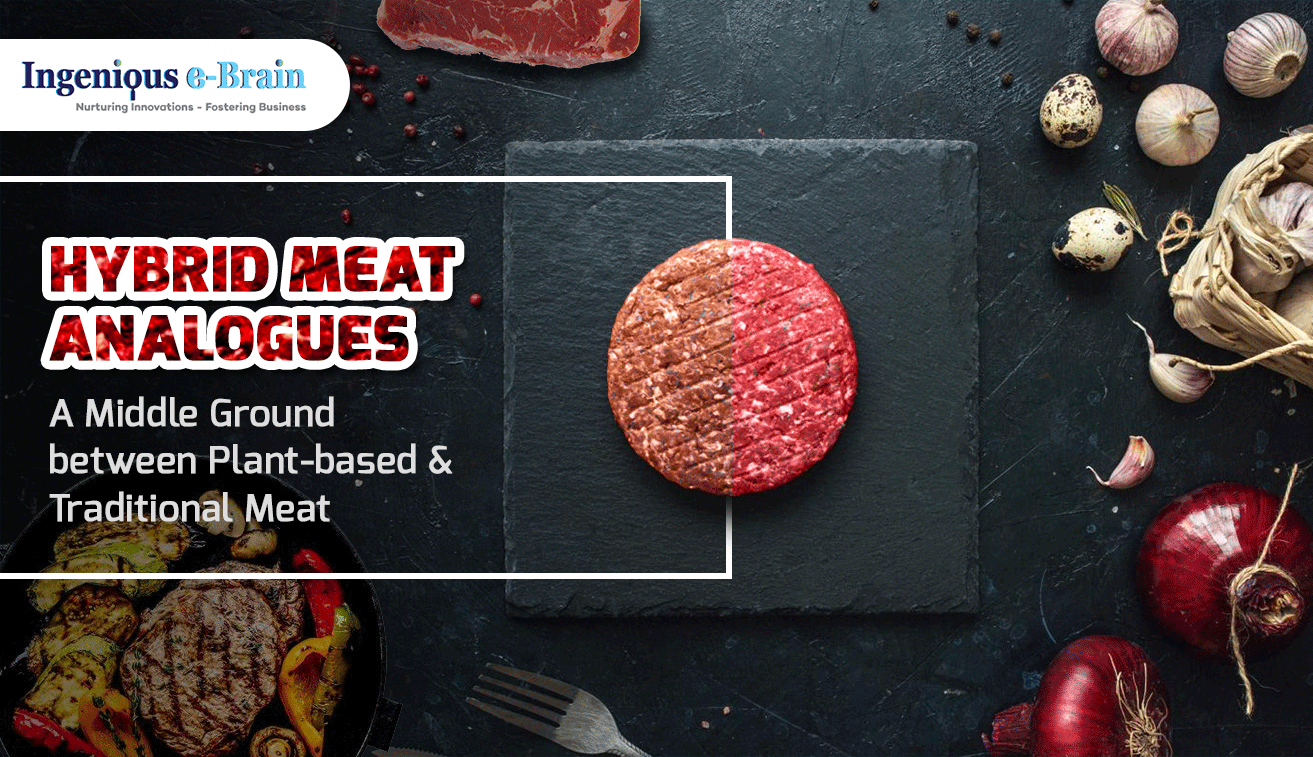 In the context of semi-vegetarian choices, hybrid meat analogues are emerging as an alternative to traditional meat products. These are produced using blends of plant and animal ingredients in varying proportions to provide a meaty taste and texture, with the added nutritional benefits from plants. Compared to plant-based alternatives, hybrid analogues such as burgers, sausages, meatballs, and mince have the potential to reduce GHG emissions by 32% if 50% of meat is replaced by plant proteins. The development of hybrid meat analogues begets opportunities and challenges due to the alterations in technical & sensory properties (texture, appearance, taste, etc.) of the meat matrices caused by plant portion.
Technical challenges
Major technical challenge faced while blending plant-based proteins with meat proteins is the formation of elastic gels through the enclosure of water and fat particles in the protein network upon heating due to the high emulsifying capacity of myofibrillar meat proteins. Therefore, a compatible matrix of plant and meat proteins can be built by adding suitable binders and optimising pH. Further, the ingredients used; the ratio of both meat and plant protein; and choosing the optimum process, such as temperature, ionic strength, and amount & time point of salt added during the process; play a significant role in optimising the resulting hybrid meat analogues.
Sensory challenges
Although few studies have concluded that hybrid analogues taste good or even better than traditional meat products, their wide-scale acceptability remains a challenge. Further extensive research is required to design hybrids that deliver desirable flavour and texture. Contrary to popular belief, environmental concerns are not the top priority for most consumers. Instead, they prefer switching to hybrid meat analogues due to the health benefits. Among all the hybrid analogues available, burgers outperform due to their right technical and favourable consumer choices. Therefore, efforts should be prioritised to optimise the model for creating hybrid burger formulations, as these would fall under the most acceptable consumable product.
Commercial challenges
Manufacturers struggle to find commercially viable trade-offs between improving the texture and flavour of hybrid meat analogues to resemble natural meat products. The approach towards commercialising hybrid meat analogues is majorly driven by technology and investor push, which can be R&D intensive & add up to the cost. The complexity isn't high, and these challenges can be easily addressed by investing resources in the right direction.
Opportunities
New technologies such as high-moisture extrusion; 3D printing; and exploring different meat-protein compatible plant-based proteins, which include underutilised sources & by-products and use of ingredients derived from fish and poultry by-products, seaweed, microalgae, and insect larvae; may open new avenues for hybrid meat analogues. Further, these may address the technical, sensory and sustainability challenges to gain large-scale commercial success in the mid-to-long term.
Article by Ingenious e-Brain Solutions :-
Contact us :-
US Office:-
4 Heinrick Way Bridgewater,
New Jersey 08807, USA
Phone:-
+1 347 480 2054
+1 202 697 9162
India Office:-
207-208 Welldone TechPark, Sohna Road
Sector 48, Gurugram,Haryana 122018, India
Phone:-
+91 124 429 4218
Email:-
queries@iebrain.com