NEXT GENERATION NETWORK (NGN)
INTRODUCTION:
Nowadays, Information and communication technology has become the hottest topic in society. Now it's clear that ICT will bring unexpected change in a few years. There is continuous up-gradation of a network from 1G to 5G in a telephonic communication network. The next-generation network is an emerging trend that shows significant development in business design and the web.
Next-Generation Networking is a broad term used for the technological innovation in telecommunication and access networks to be deployed over the next decade. NGS is an IP-based network that transports all Information and services related to data, voice, and video. It is suitable for residential and corporate customers, which receive a wide range of services from a single shared network.
ITU defines NGS as a packet-based network that can provide service, including Telecommunication, and use multiple broadbands and QoS-enable transport technologies. It offers complete access by users to different service providers. Service-related functions are independent of underlying transport-related technologies.
FUNDAMENTAL CHARACTERISTICS OF NGS:
Packed-based transfer.
It supports generalized mobility.
It promotes unrestricted access to different service providers.
Separation of control functions for bearer capabilities, calls, and services.
Decoupling of service and network and providing an open interface (I/F).
Converged service between fixed and mobile networks.
SERVICE SUPPORTER IN NGS:
Data communication service
Multimedia service
Public Switched Telephone Network (PSTN)
Wireless network
NEXT-GENERATION NETWORK LAYER:
The functional architecture of NGN shows four layers.
Access Layer: Access Layer connects subscribers and converts information format.
Transport Layer: Transport Layers offer connectivity and participate in transforming Information.
Control layer: Control Layer offers software switching to accurate time control on call and media gateway.
Service Layer: Service Layer provides many services such as supporting operating systems and media servers.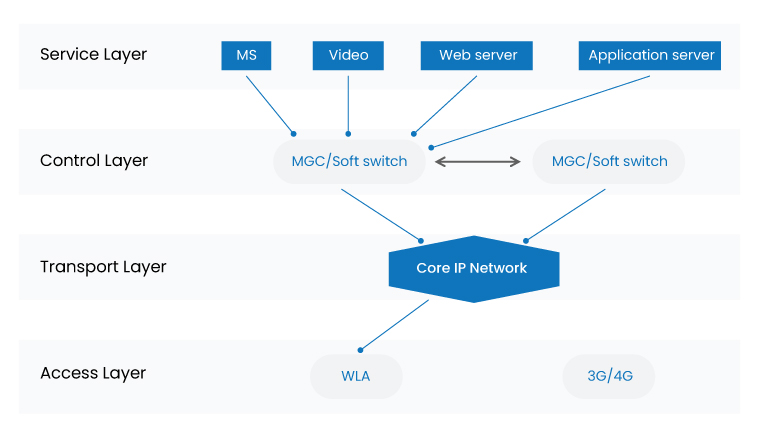 ADVANTAGES :
NGN offers several benefits at various levels.
Unified Messaging
Data Connectivity
Multimedia
Public Network Computing
Home Network
Interactive Gaming
Virtual Private Network
Ecommerce
CHALLENGES :
Unique Identity: Unique name for millions of IoT devices
End to End service: Seamless end user to service assurance.
Security in system or service design.
Quality of service
NEXT-GENERATION NETWORK-PAST, PRESENT, AND FUTURE:
The Internet has been used for around 20 years. And it is an essential part of our life now. Without the Internet, our day is not have started. In the 70s and 80s, we started using the Internet. In the '90s, there was a significant shifting of networks where LANs and WANs introduce. 90's internet protocol (IP) originated, and this phase is the second platform.
Today is the phase known as the third platform. There is an upgrade on the Internet where we can use Google, YouTube, Netflix, Spotify, Facebook, Instagram, and many other websites. All these companies are using cloud features to provide their services. Cloud is the server from which you can access things all over the Internet. Also, nowadays, we can make payments through Internet, i.e., e-commerce. There is also an up-gradation of network speed. Now 4G and 5G networks are available in the market.
There is a new concept known as Software-defined networking (SDN). SDN is the next-generation network, also known as new IP. With the use of software efficiency and performance of the network will check. Also, 6G and 7G are on the way to introduce in the market.
CONCLUSION:
Demand and need are the main driving factor in Next Generation Network. NGN gives full IP packed based, multimedia open service network and guaranteed QoS. NGS is fulfilling all the demands and requirements of today's generation. Security is the key challenge in Next Generation Network. And the primary concern is cyber security.