Smart City: A Reality With 6G
"Smart city" a widespread term used throughout the industries, but it is to be understood what makes a city smart? A city which is sustainable makes inhabitants life easy and efficient, improves the quality of life, reduce wastage of resources, based on real-time sensor data collection throughout the city is smart.
Name an industry, and it is directly or indirectly contributing to building a "Smart City." All the industry leaders like CISCO: CISCO Kinetics provides a location monitoring technology for surveillance, Huawei: providing a fully connected and integrated world, L&T Infotech: Working towards digital transformation, and the list goes on. This trend of smart cities brings in start-ups like Optibus, Enevo, clarity movement, and many more working on different areas of a smart city like transportation, waste management, air pollution, etc. The question is, why now? What changed that the focus shifted to building new smart cities, revamping the existing cities? And the last how? How are they going to do it?
The pace of urbanization has increased manifold in recent times, creating a gap between the resources available and the demand, pushing everyone to squeeze the resources to make the most out of them. The solution is automation! But how to automate, that is state of the art. Installing the hardware is easy, but the trick is to utilize the data efficiently in real-time and be sure of its reliability; that is where thinking needs to be done. The next big question is how to make this automation more reliable and efficient? How to control all the city automation centrally in real-time? How to use the data from so many sensors installed efficiently and smartly? How to be sure of the latency of data received?
Is 5G the answer to all the questions? NO!
With the feasibility of 5G, industrial automation is on its boom. What 5G offers is a latency of 1-5 ms over 20-30 ms of 4G LTE systems making it more reliable in real-time, up to 100 times faster speed than 4G making it more efficient, and many other advantages like enhanced security, less interference, more connected devices, etc.
If 5G has it all, then why is the idea of smart cities, not a reality? The answer is that 5G is not fast enough, 5G is not robust enough, 5G is not secure enough, 5G does not have enough capacity. But if not 5G, then what?
The evolution of the next generation of telecommunications standard "6G"
What 6G may offer would have no comparison to 5G. The peak speed is expected to be 100 times that of 5G networks touching 1Tbps. It is also expected that the latency rate will drop to 0.1 ms, at least ten times less than that of the 5G network. The work on 6G has already begun, and the vision is to roll out 6G is by 2030.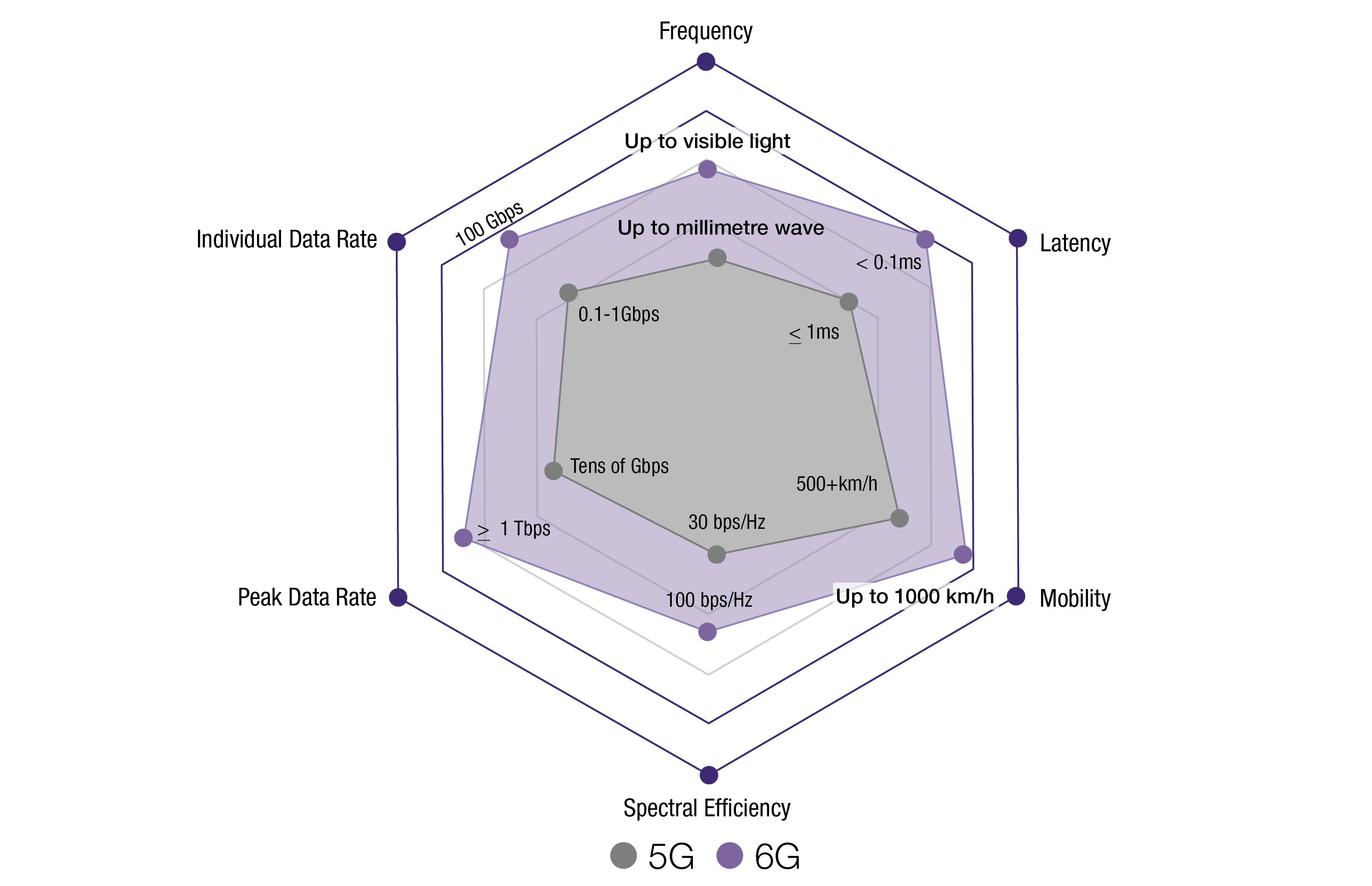 6G aims to merge communications and sensor data more robustly. To make the smart city a reality, all the aspects of a city like city infrastructure, health, security, traffic, waste management, air pollution, and various other areas need to be integrated. The 6G network makes it possible.
The 6G network involves the implementation of various technologies like Artificial Intelligence helping in imitating human behavior and full automation, using the terahertz band (100GHz – 3THz) for higher capacity, Visible Light Communication (VLC), which uses 400 & 800 THz for information transmission, High security & privacy implementation and many more.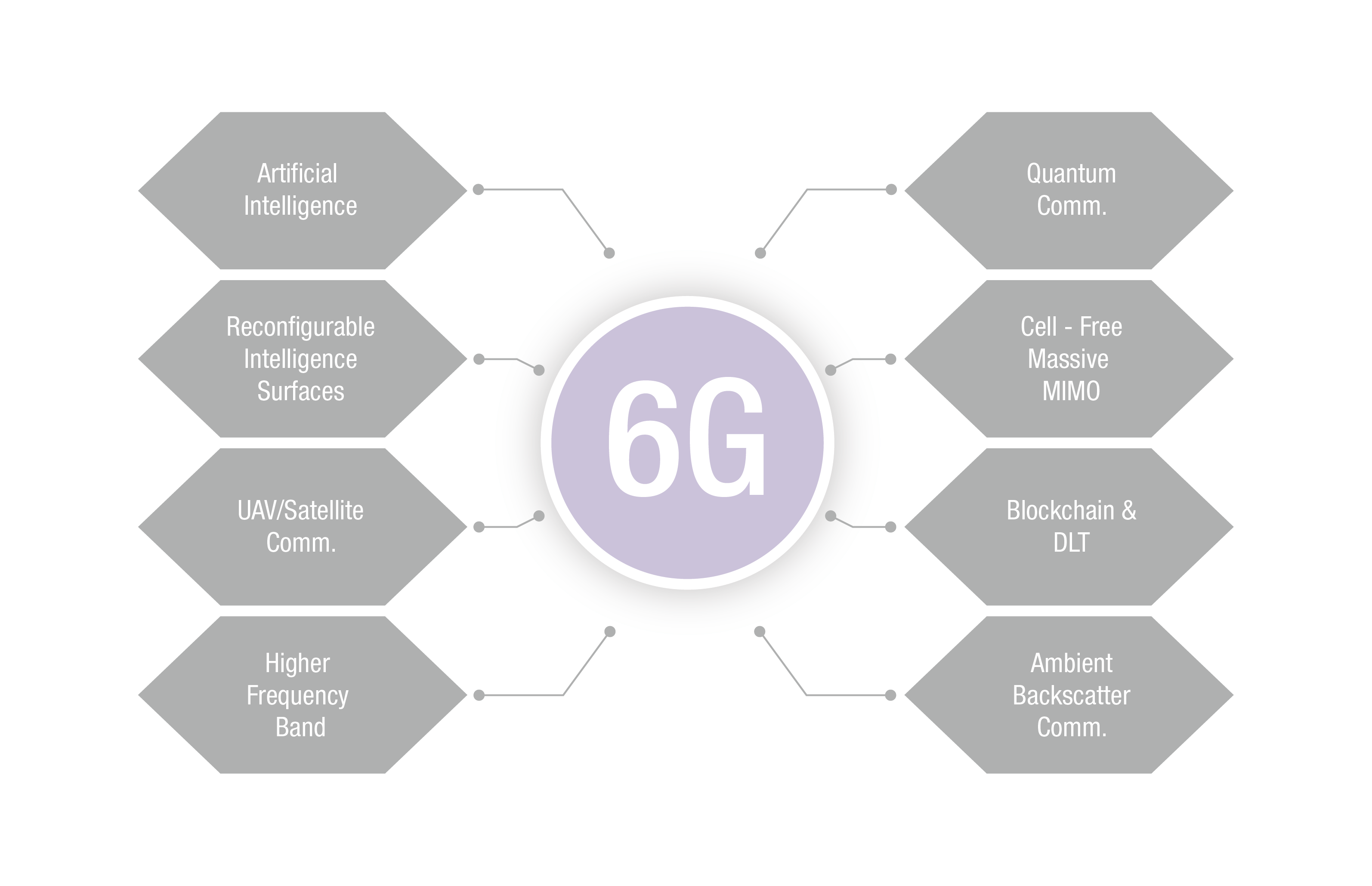 The race to 6G began in late 2019, with China being the first to announce the R&D in 6G officially. A year later, China successfully launched a test satellite into orbit to verify the terahertz (THz) communication technology in space as per the BBC.
The ATIS next G Alliance launched the 6G technology work program on 14th May 2021, which includes most of the information and communication companies that work across infrastructure, semiconductors, device vendors, operators, etc.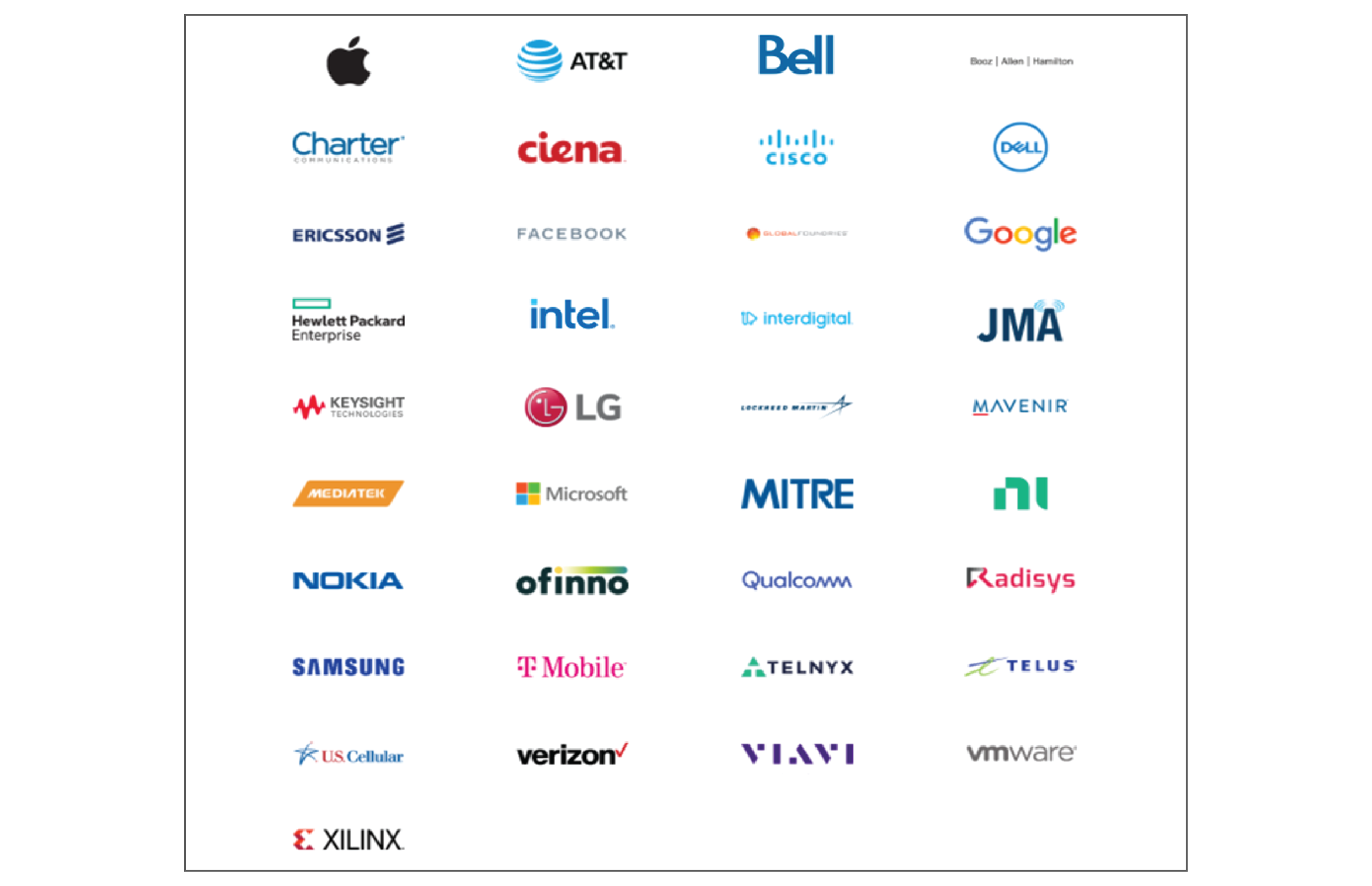 As of 26th April 2021, 38,000 patents have been filed on 6G, out of which 13,449 patents belong to China, clearly dominating the technology area by constituting the 35 percent share, followed by the USA with 18 percent. Talking about Artificial Intelligence, an integral technology for the evolution of 6G, 75 percent of current patents belong to China as per the latest study published by Telecoms.
The companies leading in IP related to smart cities with 6G implementation are as follows:
With the feasibility of 6G, it will be possible to connect 10 devices per meter cube leading to a huge number of connected devices with ultra-high reliability and efficiency, which means a huge number of devices can be connected in a house or a building or on the street. The data is integrated in real-time to assess the situations and probabilities of an outcome using quantum computing. Once 6G becomes a ground reality, smart cities will follow.
As per the current studies, 6G is long away from being a reality, and so do the full-fletched smart cities! The vision is to roll out 6G by 2030 and the smart cities by the late 2030s.