Industry News » Tyson Ventures will partner with six start-ups selected for their breakthrough innovations
Tyson Ventures will partner with six start-ups selected for their breakthrough innovations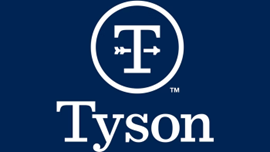 News Source:- >> | Image Source:- >>
Tyson Ventures, the Tyson Foods' venture capital division presented its first-ever Demo Day event for entrepreneurs and startups in the sustainability sector to present creative ideas for a more sustainable food system. Tyson Foods has chosen six startups: AgThera, Biolonix Inc, FR8relay, Grain4Grain, Tangible Robotics Inc., Vanguard Renewables for mentorship and other cooperation opportunities. These startups presented a variety of ideas, such as those for lowering greenhouse gas emissions, cutting down on food waste, improving animal welfare, practicing regenerative agriculture, improving soil health, managing water resources, and more and will help Tyson Foods to achieve its sustainability goals.
=========================================================================================================
About Ingenious e-Brain Solutions:-
Ingenious e-Brain Solutions provides high-quality, customized and cost-effective Technology Research, Business Research, and Intellectual Property Research solutions to industry leaders, and innovative companies across the globe. Innovation, knowledge and transparency form the basis of our company's mission and vision. Along with cost benefits, we provide highest quality results ensuring fool-proof confidentiality and security. We are an ISO certified company with offices in India and USA.
Ingenious e-Brain Solutions has a strong team of analysts, and subject matter experts with domain proficiency which is devoted to help clients grow. Our highly qualified professionals offer tailored, value-added and cost-effective services to our clients. We believe in building long term relationships with our clients who include national and international corporations, Fortune 500 companies, world's leading research institutes and universities as well as independent inventors.
Get in Touch:-
India Office
207-208 Welldone TechPark, Sohna Road
Sector 48, Gurugram,Haryana 122018, India
+91 124 429 4218
Email:-
queries@iebrain.com