Cellular IoT Connectivity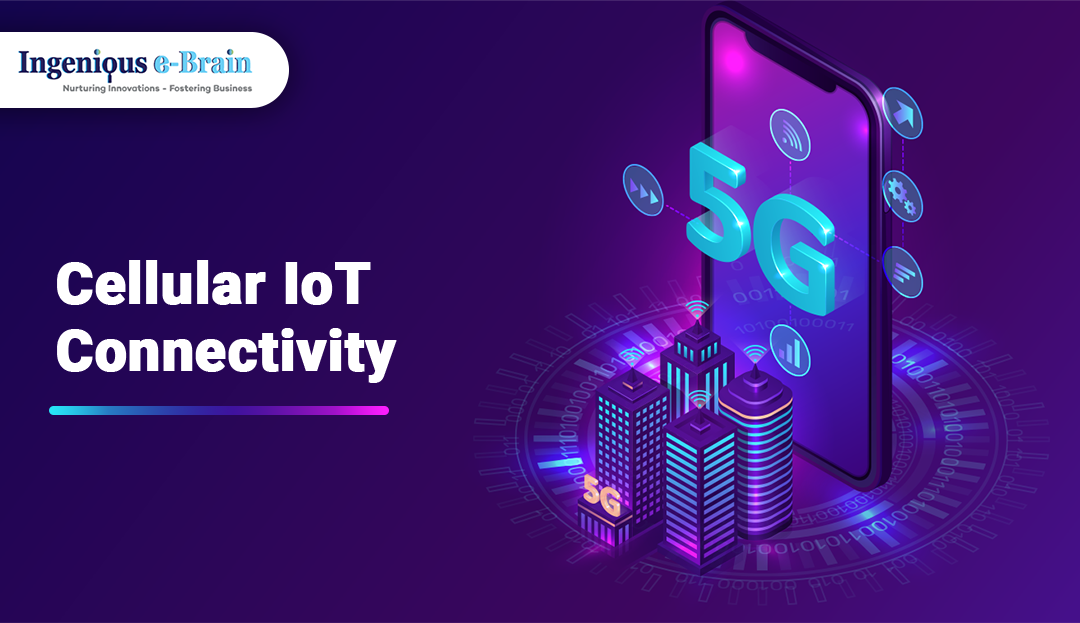 Manufacturing industries worldwide are transforming their business with the Industrial Internet of Things (IIoT) to increase productivity, reduce downtime, and improve the industry's efficiency. The implementation of Industrial IoT (Internet of Things) projects is affected by the choice of connectivity on how the solution performs, like effective range, reliability, device battery, the speed at which data is transferred, the amount of data, and so on. Although options for connectivity are available, cellular IoT has become popular because of its simple, secure, and scalable ways of connecting devices.
Cellular IoT is becoming widespread as it increases in popularity as its devices are becoming cheaper. Many organizations and industries use cellular IoT networks for various business problems and to enable smart manufacturing. Organizations are establishing connectivity to secure data from devices for many projects.
Cellular connectivity in Industrial IoT application
In Industrial engineering, it has always been a goal to link connected devices to cellular networks, such as autonomous manufacturing equipment and factory automation systems, as mobile technologies have provided to seemingly increase the speed and expansion of data processing capabilities for company systems. Cellular connectivity has given the ability to transmit and process a large amount of data for companies within seconds and does not need to send all data to a centralized IT infrastructure. With this, organizations can implement strategies for monitoring machine health, with some help from wireless industrial IoT sensors, without needing to build their infrastructure.
Impact of different cellular standards on IoT connectivity
Cellular connections are highly flexible with various protocols as vendors introduce new devices for cellular IoT like IoT apps, IIoT system integration, and device analytics solution fit for IoT-ready routers and gateways and new solutions. Incorporating cellular connectivity for scaling IoT solutions can increase the efficiency of industrial IoT rollouts and fast reconfiguring to meet evolving business needs.
The need for reliable connectivity is essential for obtaining critical information about the condition of machines, like their health and performance. Therefore, companies are pushing newer technologies to offer faster and more accurate information. These have become popular among businesses for smooth global deployment and scalable IoT solutions. The deployment of a cellular IoT system can only be effective when companies of solution providers and users are looking for information for worldwide support.
E-sim
Cellular standards can directly impact the performance, range, ease of development, security, reliability, and cost of implementation for scaling IoT in the manufacturing industry. Traditional sim cards used in cellular IoT devices are restricted to single network carriers and require a technician to manually insert/replace sim cards, which leads to deployment bottlenecks, especially in remote locations. These challenges are resolved with newer e-sim platforms, which consist of a non-removable chip that downloads the carrier profile over the air and allows for multiple telecom providers to be programmed in advance so that the device can select the best connection.
IoT devices with E-sim come with one sim card and cellular module. These devices offer the flexibility of deploying anywhere worldwide and ensure reliable connectivity due to their capability to swap carriers without physical human interaction. These devices are a boon for monitoring machines in complex and hard-to-reach locations and help to avoid logistical challenges during movement. All these features facilitate faster scalability for IoT applications.
Benefits of cellular IoT connectivity
Cellular connectivity is becoming increasingly popular for implementing integrated machine-to-machine communications that facilitate wireless condition monitoring of industrial assets. This is because Cellular IoT connectivity offers high network reliability. The high data rates (10-100 Gbps) in which cellular IoT devices transmit data are not affected by adverse weather conditions. Also, the distance between the base station and the device has much less impact than many other wireless communication options. This is important as cellular connectivity has the best coverage and can avoid overload problems. It also offers greater mobility freedom, which helps obtain connectivity even in complex environments where equipment is not stationary.
Mobile technology is increasingly transforming Industrial IoT applications and solutions due to its advantages. In the field of industrial IoT, different manufacturing verticals will continue to use cellular IoT devices as the most successful implementation.
Conclusion
Cellular Networks offer organizations the opportunity to leverage technology, to fast-track their Industry journey. Digitalization of manufacturing operations ensures reduced downtime & improved productivity, and cellular networks play crucial in accomplishing it. The availability of cellular network coverage makes it quicker and less expensive for manufacturers to monitor industrial assets, even in remote and hard-to-reach areas. As cellular networks move towards 5G, it offers greater opportunity for organizations to leverage data, with faster connections enabling greater capacity for real-time handling information to unleash the full potential of Industrial IoT.
Article by Ingenious e-Brain Solutions :-
Contact us :-
US Office:-
4 Heinrick Way Bridgewater,
New Jersey 08807, USA
Phone:-
+1 347 480 2054
+1 202 697 9162
India Office:-
207-208 Welldone TechPark, Sohna Road
Sector 48, Gurugram,Haryana 122018, India
Phone:-
+91 124 429 4218
Email:-
queries@iebrain.com